Earnings Expectations For The Week Of January 19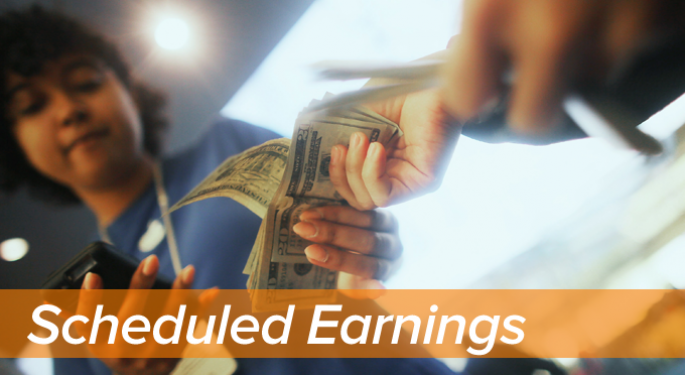 After a quick breather on Monday, the earnings season that's just begun is off to the races the rest of the week.
Among the flurry of quarterly reports include results from eBay Inc (NASDAQ: EBAY), General Electric Company (NYSE: GE), Halliburton Company (NYSE: HAL), Kinder Morgan Inc (NYSE: KMI), Starbucks Corporation (NASDAQ: SBUX), United Continental Holdings Inc (NYSE: UAL) and Verizon Communications Inc. (NYSE: VZ).
The forecasts for Advanced Micro Devices, Inc. (NASDAQ: AMD) and McDonald's Corporation (NYSE: MCD), in particular, call for earnings shrinkage.
Here's a quick day-by-day run down of analyst expectations.
See also: Are Bank Of America's Earnings As Bad As They Seem?
Monday
U.S. markets are closed for the Martin Luther King holiday and no significant earnings releases are scheduled.
Tuesday
Among Tuesday's highlights will be the early morning report from Halliburton and the after-hours report from AMD. Consensus forecasts have earnings per share (EPS) up more than 6 percent to $1.10 for the former and down five cents to $0.01 for the latter.
Note that the EPS estimate for Halliburton has dropped by a dime in the past 60 days.
Fourth-quarter revenue for the oilfield services giant is expected to be up almost 15 percent to $8.78 billion, while for the semiconductor maker, it is almost 22 percent lower to $1.24 billion.
Tuesday's other anticipated earnings gainers include Baker Hughes, Delta Air Lines and Johnson & Johnson. The forecasts for Morgan Stanley and Netflix include an earnings decline.
Wednesday
The forecast for eBay calls for an almost 9 percent rise in earnings to $0.89 per share, as well as for revenue of $4.93 billion, which would be up nearly 9 percent from the same period of last year. The online commerce leader will share its results after the closing bell.
Also in a post-session report, energy infrastructure giant Kinder Morgan will post per-share earnings of $0.34 on revenue of $4.30 billion, if the consensus forecast for the first report since its consolidation is correct. That would be up from EPS of just $0.33, and $3.87 billion in revenue in the year-ago period. Note that analysts underestimated EPS in the previous four quarters.
In addition, analysts believe American Express, UnitedHealth Group and U.S. Bancorp will report earnings growth in the middle of the week. EPS numbers are expected to be lower than a year ago at Fifth Third Bancorp and SanDisk.
Thursday
Before the markets open, the spotlight will fall on United Continental and Verizon Communications. The consensus forecast calls for EPS from the former to have jumped from $0.78 a year ago to $1.20 in the fourth quarter.
From the latter, earnings of $0.74 per share are anticipated, up from the $0.66 per share posted a year ago.
Revenue at the airline operator is expected to be $9.30 billion, or about the same as a year ago. But revenue growth of more than 5 percent to $32.67 billion is predicted for the communications giant. Full-year revenues will be marginally higher for United and up less than 5 percent for Verizon, if forecasts are accurate.
Later in the day, Starbucks is expected to post a profit of $0.80 per share, which would be nine cents more than in the same quarter of last year. Note that its earnings have not fallen short of consensus estimates in the past four periods. The anticipated quarterly revenue of $4.80 billion would be more than 13 percent higher year-over-year.
Also on Thursday, look for anticipated earnings gains from Covidien, Huntington Bancshares, Keycorp and Union Pacific, as well as for lower EPS from Travelers Companies.
See also: Warren Buffett And Jim Cramer See Eye-To-Eye On This Big Bank
Friday
The fourth-quarter forecast for General Electric calls for per-share earnings of $0.55 on revenue of $42.12 billion. In the same period of last year, the conglomerate posted a profit of $0.53 per share and $40.38 billion in revenue.
GE is also expected to top last year's full-year EPS by a penny, on marginal revenue growth.
The revenue picture is not expected to get any prettier when McDonald's shares its results first thing in the morning. The consensus estimates have year-on-year declines of more than 5 percent to $6.07 billion and almost 2 percent to $27.58 billion for the fourth quarter and the full year, respectively.
EPS are projected to have retreated more than 12 percent to $1.23 in the quarter.
Bank of New York Mellon is also expected to show bottom line growth on Friday morning.
Posted-In: Advanced Micro Devices AMD EBAY GEEarnings News Previews Trading Ideas
View Comments and Join the Discussion!