#PreMarket Primer: Friday, June 13: US Threatens To Get Involved As ISIS Presses Forward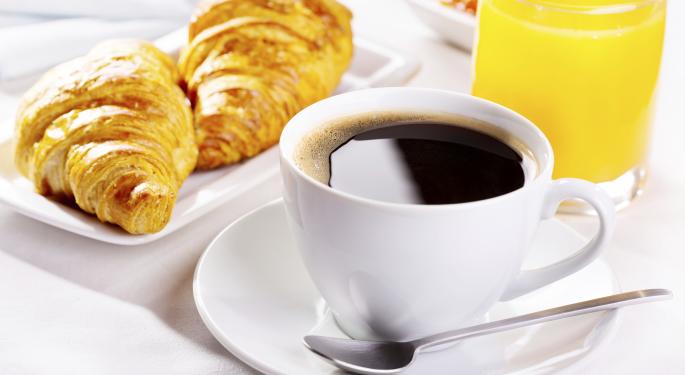 After Sunni-led Islamist militants pressed closer to Baghdad on Thursday night, US President Barack Obama threatened to intervene through military air strikes if the movement continues further.
The Islamic State in Iraq and the Levant overtook Mosul, Iraq's second largest city, at the beginning of the week and have since made their way south towards Baghdad.
Trucks filled with Shi'ite volunteers have lined the capital's borders in preparation for what many believe could be a bloody battle with many casualties.
In other news around the markets:
Ukranian forces continued their efforts to reclaim the eastern part of the nation on Friday as the military moved in on the separatist held city of Mariupol. The city has strategic importance as it serves as a steel export hub and is well connected to major roads leading to the Russian border. Pro-Moscow rebel leaders have reported five casualties since the fighting in Mariupol began.
Twitter's Chief Operating Officer Ali Rowghani surprised markets on Thursday with a sudden resignation that many believe is related to his tense relationship with Chief Executive Dick Costolo. Two hours after Rowghani's departure became public, the company's Head of North American Media Chloe Sladden tweeted her own plans to follow in his footsteps.
Spanish language broadcasting company Univision Communications Inc. has been in talks with CBS and Time Warner Inc. about a possible sale. According to the Wall Street Journal, Univision's owners are looking for an exit and are asking for more than $20 billion for the company.
On Wednesday, Seimens AG said it was working with Mitsubishi Heavy Industries to potentially bid for Alstom SA's energy assets. The two will have until Monday to make their pitch to Alstom, which has tentatively approved General Electric's $17 billion offer despite push back from the French government.
Asian markets were mixed; the KOSPI was down 1.03 percent, Australia's ASX 200 fell 0.44 percent and New Zealand's NZ50 fell 0.47 percent. However the NIKKEI was up 0.83 percent, the Shanghai composite gained 0.93 percent, the Shenzhen composite was up 1.13 percent and the Hang Seng index rose 0.62 percent.
European Markets
European markets were down across the board; the UK's FTSE lost 0.49 percent, the eurozone's STOXX 600 was down 0.26 percent, the German DAX fell 0.57 percent and the CAC 40 was down 0.43 percent.
Energy futures found support from the unfolding crisis in Iraq with Brent futures up 0.78 percent and WTI futures up 0.69 percent. Gold and silver were relatively flat with gold down 0.01 percent and silver up 0.01 percent. Industrial metals were lower with aluminum down 1.23 percent, zinc down 2.24 percent and tin down 1.20 percent.
The euro picked up steam after better than expected economic data helped boost the region's outlook. The common currency gained 0.17 percent against the dollar and 0.34 percent against the yen, but lost 0.15 percent against the pound. The dollar was also lower against the pound, down 0.31 percent, but the greenback gained 0.16 percent against the yen and the Australian dollar.
Earnings
Notable earnings released on Thursday included:
Finisar Corporation (NASDAQ: FNSR) reported fourth quarter EPS of $0.36 on revenue of $306.00 million, compared to last year's EPS of $0.20 on revenue of $243.42 million.
lululemon athletic (NASDAQ: LULU) reported first quarter EPS of $0.34 on revenue of $385.60 million, compared to last year's EPS of $0.32 on revenue of $345.78 million.
Stocks moving in the Premarket included:
Notable earnings expected on Friday include:
Culp (NYSE: CFI) is expected to report first quarter EPS of $0.39 on revenue of $73.30 million, compared to last year's EPS of $0.41 on revenue of $70.38 million.
Economics
Friday's economic calendar will be relatively busy with producer price data with the US, Germany, Italy, and Spain all set to release. Other notable releases include Chinese retail sales, Chinese industrial production and the UK's CB leading index.
For a recap of Thursday's market action, click here.
Tune into Benzinga's #PreMarket Prep today to hear Sam Parikh, Ralph Acampora and Todd Schoenberger by clicking here!
View Comments and Join the Discussion!
Posted-In: Earnings News Eurozone Futures Commodities Previews Forex Events Best of Benzinga