#PreMarket Primer: Thursday, May 1: Fed Brushes Off Disappointing GDP And Moves Forward With Taper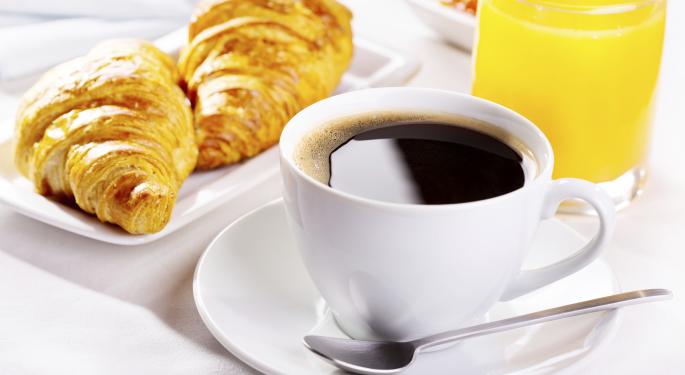 The US Federal Reserve shrugged off disappointing GDP data and elected to continue cutting its asset purchases by $10 billion per month. First quarter growth came in below even the lowest expectations at 0.1 percent.
The figure was largely attributed to the nation's harsh winter, and the Fed pointed to signs of improvement in March and April. A statement released by the bank indicated that the nation's central bankers have seen an improvement in recent weeks, although the housing market has continued to struggle.
The statement also reiterated the bank's promise to keep interest rates low for a "considerable time" after it finishes tapering the bond buying program.
In other news around the markets:
China's April manufacturing PMI came in below expectations at 50.4, up only slightly from March's reading. The figure raised questions about the nation's ability to bounce back after its first quarter slowdown. Still, the number remained above the 50 point mark which separates growth from contraction.
AT&T has approached DirecTV with an acquisition proposal which could be worth more than $40 billion. The deal would put AT&T at about 26 million subscribers, nearly as large as Comcast Corp will be, if it completes its acquisition of Time Warner Cable.
Despite calls from the French government to hold off on selling its power business to General Electric Co, Alstom SA has decided to move forward with the deal. Alstom CEO Patrick Kron cited the losses he suffered when the company was forced to take a state-backed bailout for his decision to ignore the government's disapproval. However, the deal will still need to overcome regulatory obstacles that will likely take a month to sort out, which will allow Siemens AG, the government's first choice to buy Alstom's assets, to make a formal bid.
Warren Buffett may get his way with Coca-Cola after recently expressing his concerns about the company's executive compensation plans. Buffett has long been opposed to plans that are heavy on stock options, and he has publicly commented that Coca-Cola's proposed plan is excessive. Although shareholders approved the company's plan last week, the Wall Street Journal reported that the company is expected to change the plan before it is implemented next year.
Asian markets proved resilient and wobbled only slightly after disappointing Chinese data. The NIKKEI was up 1.27 percent, the Shanghai composite gained 0.30 percent, and the Shenzhen composite was up 0.44 percent. However, the Hang Seng index lost 1.42 percent and the South Korean KOSPI was down 0.15 percent.
European Markets
European markets were mostly lower with the exception of the UK's FTSE, which gained 0.15 percent. The eurozone's STOXX 600 was flat while France's CAC 40 was down 0.23 percent, the Italian MIB lost 0.88 percent and the Spanish IBEX fell 0.02 percent.
Energy futures were steady after suffering losses following disappointing economic data and rising US inventory reports. Brent was steady a$108.07 per barrel while WTI maintained a price of $99.74 per barrel. Gold and silver were down 0.47 percent and 0.02 percent respectively, and industrial metals were lower across the board. Copper fell 1.55 percent, aluminum was down 0.72 percent and tin lost 1.06 percent.
Currency markets had another quiet day on Thursday; the euro gained 0.14 percent against the dollar, which has been on the decline due to disappointing GDP data. The greenback lost 0.17 percent against the franc and 0.09 percent against the pound, but gained 0.02 percent against the yen.
Earnings
Notable earnings released on Wednesday included:
Stocks moving in the Premarket included:
Pepco Holdings Inc. (NYSE: POM) was up 17.90 percent in premarket trade after gaining 24.41 percent over the past week.
Sealed Air Corp (NYSE: SEE) gained 16.60 percent in premarket trade after rising 5.28 percent on Wednesday.
Garmin LTD (NASDAQ: GRMN) gained 6.75 percent in premarket trade after rising 3.65 percent on Wednesday.
Express Scripts Holding Co. (NYSE: EXRX) was down 6.98 percent in premarket trade after falling 6.24 percent on Wednesday.
eBay Inc. (NASDAQ: EBAY) was down 4.82 percent in premarket trade after falling 5.66 percent over the past week.
Notable earnings releases expected on Thursday include:
Economics
Thursday's economic calendar will be a busy one, topped off by a speech from Federal Reserve Chair Janet Yellen. Notable releases will include, British manufacturing PMI, British consumer credit, US initial and continuing jobless claims, US consumer confidence, and US manufacturing PMI.
For a recap of Wednesday's market action, click here.
Tune into Benzinga's #PreMarket Prep show with Dennis Dick and Joel Elconin here.
Posted-In: Earnings News Guidance Eurozone Futures Commodities Previews Forex Best of Benzinga
View Comments and Join the Discussion!