Earnings Expectations For The Week Of April 21: Apple, Facebook, GM And More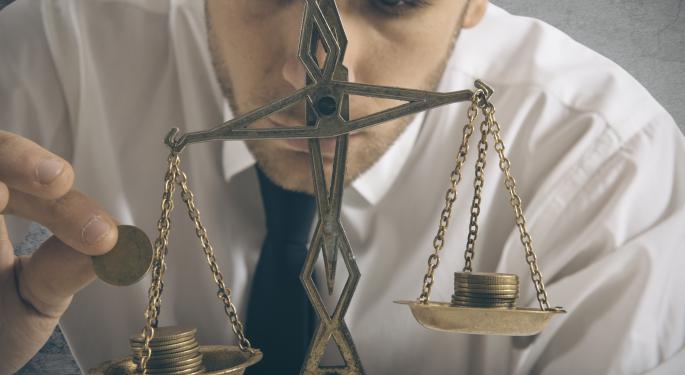 The earnings crunch is underway.
Highlights this week include scheduled quarterly reports from Amazon.com, Apple, Facebook, Netflix and Starbucks, which are all expected to post earnings growth, as well as from Ford, McDonald's and Microsoft, for which earnings declines are forecast.
Here is a quick day-by-day run down of analyst expectations for some of the week's most prominent reports.
See also: Benzinga Weekly Preview: Earnings Season Kicks Into High Gear
Monday
Late Monday, Netflix (NASDAQ: NFLX) is expected to say that it had earnings per share (EPS) of $0.83 and that revenue totaled $1.27 billion in the first quarter. That would be up from $0.05 per share earnings and $1.02 billion in revenue in the year-ago period. Note that Netflix exceeded consensus EPS estimates by almost 20 percent in the previous period.
Monday's other anticipated earnings gainers include Halliburton and Hasbro, while EPS at Kimberly-Clark are expected to have slipped.
Tuesday
AT&T (NYSE: T) and McDonald's (NYSE: MCD) are scheduled to step into the earnings spotlight. Analysts are looking for EPS from the former to have increased from $0.64 a year ago to $0.70 in the most recent quarter when it reports late in the day. The forecast for the latter has EPS down two cents to $1.24 in its report before the markets open.
Revenue for the first quarter is expected to have grown more than three percent to $32.41 billion for the tech giant and to have risen less than two percent to $6.73 billion for the fast-food giant. Both companies so far are expected to show some growth on the top and bottom lines in the current quarter.
In addition, Comcast, Gilead Sciences, Juniper Networks, Lockheed Martin and Yum! Brands are expected to show earnings gains on Tuesday, while EPS are believed to be lower at Discover Financial and Xerox. A wider net loss is predicted for Arch Coal.
Wednesday
The forecast for Apple (NASDAQ: AAPL) calls for a minuscule gain in its profit to $10.17 per share, as well as for revenue of $43.55 billion, or essentially flat compared to the same period of last year. Note though that 60 days ago, the consensus EPS estimate was just $10.13. The iPhone maker shares its results Wednesday afternoon.
Analysts are looking for Facebook (NASDAQ: FB) to post EPS for its first quarter that are double a year ago to $0.24. Revenue is expected to have risen more than 61 percent to $2.35 billion. The social media giant is also scheduled to share its results after the closing bell.
If analysts are correct, Delta Air Lines, Dow Chemical, Gannett, Procter & Gamble, Qualcomm, SUPERVALU and Texas Instruments will report earnings growth in the middle of the week. Quarterly EPS are expected to have slipped at Boeing, and analysts are looking for a net loss from Zynga.
Thursday
General Motors (NYSE: GM) posted earnings of $0.67 per share in the year-ago period, but they are expected to have fallen to just $0.09 per share in the three months that ended in March. However, analysts expect revenue growth of more than four percent to $38.43 billion. GM reports before the opening bell.
After the markets close, the earnings spotlight will be on Amazon.com (NASDAQ: AMZN) and Microsoft (NASDAQ: MSFT). Earnings are expected to have grown about 25 percent to $0.24 for the former and to have declined by more than 14 percent to $0.63 for the latter.
For revenues , the forecasts see $19.44 billion from Amazon, or up almost 21 percent, as well as $20.39 billion from Mister Softee (MSFT), or about the same as a year ago. So far, Microsoft is expected to show some revenue growth in the current quarter, though.
The fiscal second-quarter forecast for Starbucks (NASDAQ: SBUX) calls for $0.56 EPS and revenue of $3.95 billion. That would be up year-on-year from $0.51 per share and sales of $3.56 billion. But analysts on average underestimated its per-share earnings in the previous four quarters.
Also on Thursday, look for earnings gains from Aetna, Altria, American Airlines, Celgene, D.R. Horton, Las Vegas Sands, Southwest Airlines, 3M, Time Warner Cable, UPS, Verizon Communications and Visa, as well as for lower EPS from Broadcom, Caterpillar, Freeport-McMoRan Copper & Gold, Newmont Mining and Potash Corp.
However, Sirius XM and Baidu are forecast to post earnings that are about the same as a year ago, while a wider net loss is predicted for Pandora Media.
See also: How Not To Be A Patsy During Earnings Season
Friday
When Ford (NYSE: F) shares its latest results early Friday, it is expected show a more than 24 percent decline on the bottom line to $0.31 per share, on revenue that is marginally higher a year ago. But the Big Three automaker exceeded consensus EPS expectations in the previous four periods by double-digit percentages.
Colgate-Palmolive and State Street are among other anticipated end-of-the-week earnings gainers. EPS are expected to be flat year over year at AbbVie and to have drooped at Weyerhaeuser.
The following week, many more quarterly reports are due, including from Coach, eBay, Exxon Mobil, Merck, Nokia, Sprint, Time Warner and Twitter.
Keep up with all the latest breaking news and trading ideas by following us on Twitter.
View Comments and Join the Discussion!
Posted-In: 3M AbbVie Aetna altriaEarnings News Previews Trading Ideas Best of Benzinga