#PreMarket Primer: Wednesday, March 5: Markets Recover But Tension Still Running High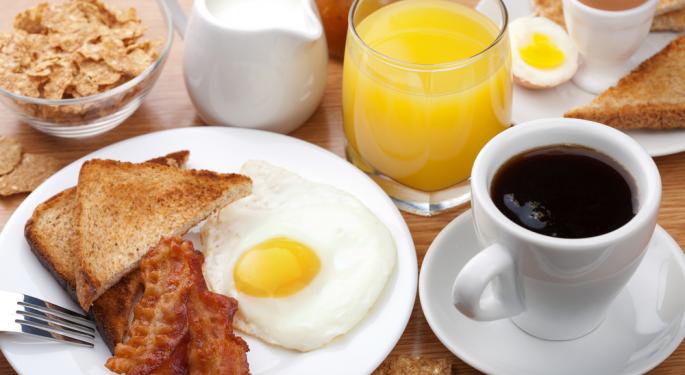 Equity markets recovered and the demand for safety lessened after Russian President Vladimir Putin said he was only planning to use military force in Ukraine as a last resort.
Putin defended his right to protect Russians living in Ukraine, but said worries about an imminent military clash were unfounded. On Tuesday, he recalled some of his troops from Western Russia where they were performing military exercises near the Ukrainian border.
The situation between Russia and Ukraine remained heated; however Putin's remarks helped calm markets and allowed investors to turn back to the fundamentals and focus on the upcoming ECB meeting on Thursday and US non-farm payrolls report due out on Friday.
In other news around the markets:
The relative calm between Democrats and Republicans in Washington looked to be a thing of the past after the two sides clashed yet again, this time over the Obama administration's latest budget proposal. Republicans criticized the 2015 budget, saying it was simply a campaign pitch for the approaching election year. At November's elections, Democrats will be working to secure the majority in the US Senate and avoid losing ground in the Republican controlled House of Representatives.
US payrolls data due out on Friday is expected to show that US job growth increased in February; but the rise was likely stifled by the nation's severe winter weather. Economists see the report showing an increase of 150,000 workers, up from January's 113,000 rise.
Chinese policymakers kept their economic growth forecast for 2014 unchanged from last year's target of 7.5 percent, but showed some concern as to how they will reach it. This year, China may change its approach to allow more lending in order to support growth and shift the nation's focus to lowering unemployment and alleviating social tension in the country.
Data out on Wednesday showed that China's services industry improved in February and confirmed previous reports which showed services had picked up despite the nation's manufacturing slowdown. The HSBC/Markit Services Purchasing Managers' Index increased to 51.0 in February from 50.7 in January, indicating that China's business activity may improve in 2014.
Asian markets rebounded with the dissipating risk in Ukraine. The Japanese NIKKEI was up 1.20 percent, the South Korean KOSPI was up 0.88 percent and Australia's ASX composite was up 0.85 percent. However China's Shanghai composite lost 0.89 percent and the Hang Seng index was down 0.34 percent.
European Markets
European markets were shaky ahead of Thursday's ECB meeting. The UK's FTSE was down 0.43 percent and the Eurozone's STOXX 600 lost 0.15 percent. The German DAX fell 0.20 percent and France's CAC 40 was down 0.26 percent.
Energy futures were moderately lower with Brent futures down 0.31 percent and WTI futures down 0.04 percent. Gold and silver were down 1.18 percent and 1.09 percent respectively, while industrial metals improved. Copper gained 1.50 percent and aluminum was up 2.73 percent.
The euro lost ground as expectations that the ECB would ease further grew. The common currency lost 0.23 percent against the dollar while the pound gained 0.05 percent against the dollar. The dollar was up 0.21 percent against the yen and lost 0.22 percent against the Australian dollar.
Earnings
Notable earnings released on Tuesday included:
AutoZone, Inc. (NYSE: AZO) reported second quarter EPS of $5.63 on revenue of $2.00 billion, compared to last year's EPS of $4.78 on revenue of $1.86 billion.
Bob Evans Farms, Inc. (NASDAQ: BOBE) reported third quarter EPS of $0.30, compared to last year's EPS of $0.56 on revenue of $434.44 million.
Radioshack Corporation (NYSE: RSH) reported a fourth quarter loss of $1.29 per share on revenue of $935.40 million, compared to last year's EPS of $0.04 on revenue of $1.30 billion.
Stocks moving in the Premarket included:
Bank of America Corp (NYSE: BAC) gained 0.48 percent in premarket trade after rising 2.39 percent over the past five days.
Carnival Corp (NYSE: CCL) lost 1.03 percent in premarket trade after gaining 2.86 percent on Tuesday.
Procter & Gamble Co (NYSE: PG) was down 0.34 percent in premarket trade after rising 1.25 percent on Tuesday.
Notable earnings releases expected on Wednesday include:
PetSmart, Inc. (NASDAQ: PETM) is expected to report second quarter EPS of $1.12 on revenue of $1.83 billion, compared to last year's EPS of $1.21 on revenue of $1.88 billion.
Brown Forman Corporation (NYSE: BF-B) is expected to report third quarter EPS of $0.76 on revenue of $1.08 billion, compared to last year's EPS of $0.73 on revenue of $1.03 billion.
MYR Group, Inc. (NASDAQ: MYRG) is expected to report fourth quarter EPS of $0.40 on revenue of $227.46 million, compared to last year's EPS of $0.46 on revenue of $247.76 million.
Economics
Wednesday's economic calendar will include Australian retail sales, the US beige book, US crude oil inventories, US services PMI and eurozone retail sales.
For a recap of Tuesday's market action, click here.
Tune into Benzinga's pre-market info show with Dennis Dick and Joel Elconin here.
Posted-In: Earnings News Eurozone Futures Commodities Previews Forex Global Best of Benzinga
View Comments and Join the Discussion!