#PreMarket Primer: Tuesday, March 4: US Takes Steps To Limit Putin's Forces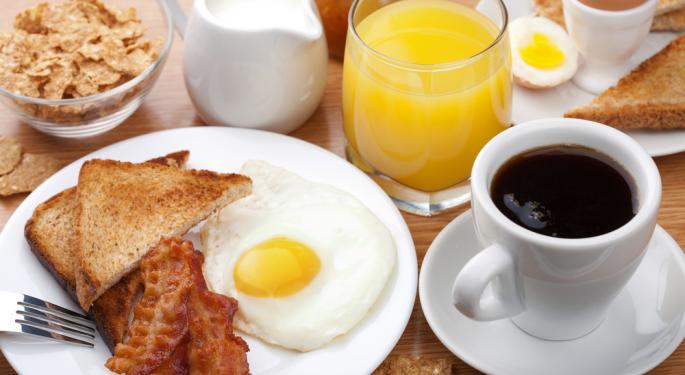 Although Russian President Vladimir Putin showed no signs of letting up on his military initiatives on Monday as he amassed armored vehicles in Ukraine's Crimean peninsula, he has since ordered troops near Ukraine border to return to bases.
Ahead of this initiative, investors had pulled money from stock markets and fled to perceived safer bets like oil and gold.
Russia's markets were also suffering as the Obama administration began the process of isolating Russia as part of a non-military response to Putin's declaration of war.
The US withdrew military cooperation with Russia and canceled negotiations on increasing trade and investment between the two nations. The US State Department issued a warning to Russia saying that if Putin did not pull back, the US and its European allies would punish the nation economically.
In other news around the markets:
The Obama administration is set to release its budget proposal later on Tuesday, which is expected to require $4 trillion in spending. Among other things, the proposal implements higher tax credits for childless workers, a higher minimum wage and reduces tax credits for Americans in higher income brackets.
The Chinese government is set to announce its official GDP target on Wednesday. With the most recent economic indicators showing that the Chinese economy has slowed, policymakers are stuck between setting a high target and delivering the message that the nation is focused on growth at all costs; or a lower goal which would indicate that the nation's focus will be on lowering debt and fixing structural problems. Local media has reported that the goal is likely to be 7.5 percent, the same as last year's target.
Japan's Financial Services Agency is leaning on regional banks to consolidate, and to do so quickly. A process which was expected to take decades will likely be accelerated as officials from the FSA meet with the nation's more than 100 regional banks to get details on their long-term strategy and push banks without an airtight plan to speed up the consolidation process.
Recent US data helped assuage worries that the nation's economy was faltering following a spate of poor data. US factory activity recovered in February after falling to an eight month low and another report showed consumer spending was also improving. The data may encourage the US Federal reserve to move forward its tapering plans as the US economy gains momentum.
Asian markets were mixed on Tuesday; the Japanese NIKKEI gained 0.47 percent and the Hang Seng index was up 0.87 percent. However, China's Shanghai composite was down 0.18 percent and the South Korean KOSPI lost 0.54 percent.
European Markets
Europe's markets were down across the board; the UK's FTSE lost 1.49 percent and the eurozone's STOXX 600 was down 3.02 percent. The German DAX lost 3.44 percent, France's CAC 40 fell 2.66 percent and the Spanish IBEX was down 2.33 percent.
Energy futures leveled off on Tuesday morning with Brent futures down 0.61 percent and WTI futures down 0.80 percent.  Gold lost 0.68 percent but silver gained 0.18 percent. Industrial metals were down across the board with tin posting the largest loss, down 2.51 percent.
The euro remained above $1.37 and gained 0.20 percent on Tuesday morning. The pound was up 0.08 percent against the dollar and the Australian dollar gained 0.09 percent against the greenback. The dollar gained 0.39 percent against the yen and lost 0.74 percent against the Russian ruble
Earnings
Notable earnings released on Monday included:
Stratasys, Inc. (NASDAQ: SSYS) reported fourth quarter EPS of $0.50 on revenue of $155.10 million, compared to last year's EPS of $0.40 on revenue of $71.15 million.
Rockwood Holdings, Inc. (NYSE: ROC) reported fourth quarter EPS of $0.53 on revenue of $347.00 million, compared to last year's EPS of $0.47 on revenue of $829.00 million.
QR Energy, LP (NYSE: QRE) reported fourth quarter EPS of $0.25 on revenue of $119.30 million, compared to last year's loss of $0.24 per share on revenue of $97.41 million.
Stocks moving in the Premarket included:
Notable earnings releases expected on Tuesday include:
AutoZone, Inc. (NYSE: AZO) is expected to report second quarter EPS of $5.54 on revenue of $1.97 billion, compared to last year's EPS of $4.78 on revenue of $1.86 billion.
Bob Evans Farms, Inc. (NASDAQ: BOBE) is expected to report third quarter EPS of $0.57 on revenue of $350.54 million, compared to last year's EPS of $0.56 on revenue of $434.44 million.
Radioshack Corporation (NYSE: RSH) is expected to report a fourth quarter loss of $0.14 per share on revenue of $1.12 billion, compared to last year's EPS of $0.04 on revenue of $1.30 billion.
Economics
Tuesday's economic calendar will include British construction PMI, eurozone PPI, the US redbook, Australian GDP, and US oil and gasoline inventory data.
For a recap of Monday's market action, click here.
Tune into Benzinga's pre-market info show with Dennis Dick and Joel Elconin here.
View Comments and Join the Discussion!
Posted-In: Earnings News Emerging Markets Eurozone Futures Commodities Options Forex Best of Benzinga