#PreMarket Primer: Thursday, December 19: Fed Taper Begins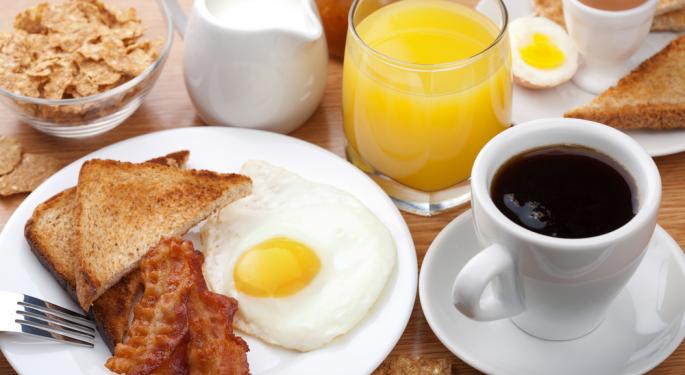 At the close of its December policy meeting on Wednesday, the US Federal Reserve announced that it was going to cut down on its stimulus spending.
The bank elected to reduce its $85 billion per month asset purchases by $10 billion and promised to keep its key interest rate low even longer than was promised.
The move, although unexpected by some, did not cause the turmoil that many thought it might. Instead, investors saw it as confirmation that the US economy was back on track and that the labor market was showing sustainable improvement.
In other news around the markets:
On Wednesday, eurozone finance ministers agreed on a proposed system for winding down failing banks, the final piece of the region's banking union plans. The ministers have said the agreement will keep taxpayers from funding banking errors, but EU lawmakers still need to approve the proposal which could prove difficult.
Anti-government protestors took aim at the US on Thursday as they refused to participate in elections until their demands were met. Thai Prime Minister Yingluck Shinawatra called for snap elections in order to calm the region's crisis; however the opposition leader has said he won't participate until the political and electoral reforms the protestors are demanding are carried out. After the US endorsed the elections, protestors marched to the US embassy and called for the current Ambassador to be transferred.
Fighting in South Sudan has spread to the northern town of Bor, where government forces have lost control. The reversal has many worried that the nation may slide into a civil war, which could potentially disrupt the nation's oil fields and cut down on crude supply.
On Wednesday, Angela Merkel was sworn in for her third term as German Chancellor. In her inaugural address, she called for a more integrated Europe with Germany having more oversight of member nation's economic policies. Merkel said such integration would improve the bloc's competitiveness, but after four years of austerity and sky high unemployment, countries like Spain and Italy are likely to see Merkel's objectives as a loss of sovereignty.
Asian markets were mostly higher following the Fed's decision. The Japanese NIKKEI gained 1.74 percent and Australia's ASX 200 was up 2.08 percent. However China's Shanghai composite lost 0.95 percent and the Hang Seng index fell 1.10 percent.
European Markets
Europe's markets were up across the board, the UK's FTSE gained 0.84 percent and the eurozone's STOXX 600 was up 1.36 percent. The German DAX gained 1.41 percent and France's CAC 40 was up 1.35 percent.
Energy futures were mixed, Brent futures were down 0.14 percent but WTI futures gained 0.05 percent. Gold lost 2.57 percent and silver fell 3.81 percent. Industrial metals were mostly lower with copper down 0.84 percent and zinc down 0.45 percent.
The dollar gained 0.05 percent against the euro and 0.18 percent against the pound. However the greenback lost 0.24 percent to the yen and 0.07 percent to the Australian dollar.
Earnings
Notable earnings released on Wednesday included:
Stocks moving in the Premarket included:
Notable earnings reports expected on Thursday include:
Economics
Thursday's economic calendar will be relatively quiet with notable releases including US existing home sales, US initial and continuing jobless claims, British retail sales and the eurozone's current account.
For a recap of Wednesday's market action click here.
Tune into Benzinga's pre-market info show with Dennis Dick and Joel Elconin here.
Posted-In: Earnings News Eurozone Futures Forex Global Economics Federal Reserve Best of Benzinga
View Comments and Join the Discussion!