#PreMarket Primer: Wednesday, November 13: Will Or Won't The Fed Taper?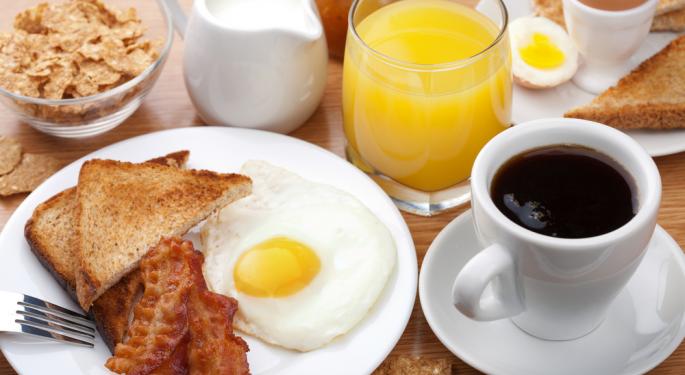 Atlanta's Federal Reserve Bank President Dennis Lockhart told reporters on Tuesday that the bank has not ruled out the possibility of beginning to taper its stimulus spending at the Fed's December meeting.
Lockhart also commented that monetary policy should continue to be accommodative for "quite some time"; adding to growing confusion about the bank's direction.
In other news around the markets:
Chinese shares slid after investors were disappointed with the Chinese government's initial release of the nation's blueprints for the coming decade. The reform agenda did not include many specific details and instead offered a more general overview of the nation's direction.
US Airways and American Airlines have come to an antitrust settlement with the government, allowing them to move forward on their $17 billion merger. When the two combine, they will become the world's largest airline.
After a partnership between Kraft Foods and Starbucks went sour in 2010, Starbucks terminated the agreement without Kraft's consent, resulting in a bitter, 3 year legal battle. On Tuesday the fight ended with Starbucks ordered to pay $2.23 billion in damages as well as $527 million for attorney's fees.
As Africa becomes more tech savy and urbanized, Samsung is hoping to gain market share and double its sales on the continent in 2014. The company expects to sell 50 percent of Africa's smartphones next year; with usage of the mobile devices on the continent forecast to increase to 20 percent of the market.
Asian markets were down across the board, the Japanese NIKKEI lost 0.15 percent, China's Shanghai composite fell 1.83 percent and the Shenzhen composite lost 1.93 percent. The Hang Seng index was down 1.91 percent and the JSX composite fell 1.80 percent.
European Markets
Europe's markets were started the day on a low note; the UK's FTSE was down 0.83 percent and the eurozone's STOXX 600fell 0.41 percent. The German DAX was down 0.23 percent and France's CAC 50 lost 0.33 percent.
Energy futures gained on Wednesday morning, Brent futures were up 0.59 percent and WTI futures gained 0.19 percent. Gold was up 0.28 percent, but silver lost 0.09 percent. Industrial metals were down across the board with copper posting the largest losses, down 1.30 percent.
The euro was steady at $1.34, and the pound gained 0.10 percent against the dollar. The dollar lost 0.10 percent to the yen but gained 0.09 percent on the Australian dollar.
Earnings
Notable earnings released on Tuesday included:
D.R. Horton, Inc. (NYSE: DHI) reported fourth quarter EPS of $0.40 on revenue of $1.82 billion, compared to last year's EPS of $0.30 on revenue of $1.30 billion.
YRC Worldwide, Inc. (NASDAQ: YRCW) reported a third quarter loss of $4.45 on revenue of $1.25 billion, compared to last year's loss of $4.30 on revenue of $1.24 billion.
DISH Network Corporation (NASDAQ: DISH) reported third quarter ESP of $0.68 on revenue of $3.60 billion, compared to last year's loss of $0.35 on revenue of $3.52 billion.
Stocks moving in the Premarket included:
Earnings reports expected on Wednesday include:
Cisco Systems, Inc. (NASDAQ: CSCO) is expected to report first quarter EPS of $0.51 on revenue of $12.36 billion, compared to last year's EPS of $0.48 on revenue of $11.88 billion.
Macy's Inc. (NYSE: M) is expected to report third quarter EPS of $0.39 on revenue of $6.20 billion, compared to last year's EPS of $0.36 on revenue of $6.08 billion.
Pinnacle Foods (NYSE: PF) is expected to report third quarter EPS of $0.35 on revenue of $563.16 million.
Economics
On Wednesday, all eyes will be on the Fed as Chairman Ben Bernanke is set to speak. In Europe, several economic releases are due out including the Bank of England's inflation report, the British unemployment rate, eurozone industrial production and Spanish CPI.
For a recap of Tuesday's market action click here.
Tune into Benzinga's pre-market info show with Dennis Dick and Joel Elconin here.
Posted-In: Earnings News Eurozone Futures Commodities Previews Forex Events Best of Benzinga
View Comments and Join the Discussion!