Market Primer: Tuesday, October 1: Markets Resilient As US Government Shuts Down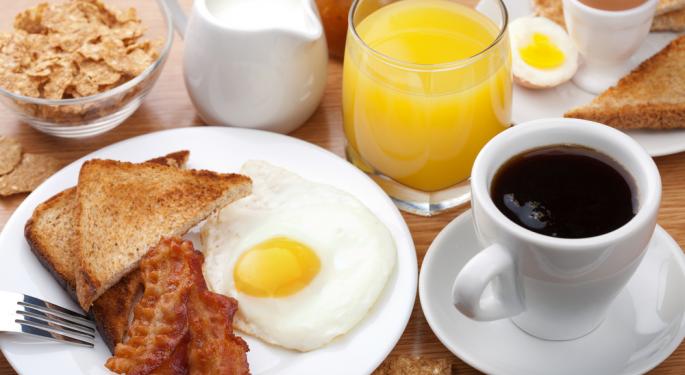 The Republican-led House and Democratic-led Senate failed to come to an agreement on Tuesday evening, leaving the US government no choice but to shut down for an undetermined period.
However, most are expecting the shutdown to be short lived and markets responded calmly with the dollar maintaining much of its strength and the S&P 500 up 0.2 percent.
In other news around the markets:
Japanese Prime Minister Shinzo Abe has decided to go ahead with his government's planned sales tax increase which will take the tax from 5 percent to 8 percent in April. This will be Japan's first hike since 1997 and will come along side a stimulus package expected to be worth 5 trillion yen.
Silvio Berlusconi could face some obstacles as he tries to topple Italy's coalition government. Although Berlusconi has called for all of his People of Freedom Party Ministers to resign, Reuters reported that some members of the party are planning to back Prime Minister Enrico Letta at a confidence vote on Wednesday.
Israeli Prime Minister Benjamin Netanyahu has called for stronger sanctions on Iran despite recent progress towards resolving the dispute over the nation's nuclear program. Netanyahu has called for Iran to completely dismantle its nuclear facilities, while the US has taken a softer stance saying Iran can maintain its uranium enrichment program if it is subject to inspection to verify it is being used for peaceful purposes.
As expected, the Reserve Bank of Australia decided to keep its interest rates unchanged at 2.5 percent on Tuesday. The bank said the benefits of its earlier cuts were still trickling through the economy and that the full effects of the cuts wouldn't be seen "for a while". The bank also said the economy is likely to continue growing at a below average pace as the country adjusts to the lack of mining investment.
Asian markets gained on Tuesday; the Japanese NIKKEI was up 0.20 percent, China's Shanghai composite was up 0.68 percent and the Shenzhen composite was up 0.91 percent. Hong Kong's Hang Seng index suffered a 1.50 percent loss.
European Markets
European markets were up across the board, except the UK's FTSE which was down 0.21 percent. The eurozone's STOXX 600 gained 0.33 percent and the Spanish IBEX was up 0.72 percent. Italy's MIB had the largest gains, up 0.97 percent.
Energy futures were down across the board, Brent futures fell 0.35 percent and WTI futures were down 0.19 percent. Gold and silver gained 0.35 percent and 0.33 percent respectively, and industrial metals were also higher with zinc posting the largest gains, up 0.58 percent.
With the US government shut down, the dollar was under some pressure however there wasn't a great deal of movement. The euro gained 0.13 percent on the dollar and the yen was up 0.40 percent against the dollar. The pound was up 0.33 percent against the greenback.
Earnings
Notable companies that reported earnings on Monday included:
Park Electrochemical Corporation (NYSE: PKE) reported EPS of $0.29 on revenue of $45.00 million, compared to last year's EPS of $0.28 on revenue of $46.43 million.
OMNOVA Solutions Inc. (NYSE: OMN) reported EPS of $0.19 on revenue of $261.20 million, compared to last year's EPS of $0.16 on revenue of $288.20 million.
Stocks moving in the pre-market included:
Earnings Reports Expected On Tuesday Include:
Walgreen Co. (NYSE: WAG) is expected to report EPS of $0.72 on revenue of $17.95 billion, compared to last year's EPS of $0.63 on revenue of $10.07 billion.
Actuant Corporation (NYSE: ATU) is expected to report EPS of $0.76 on revenue of $1.71 billion, compared to last year's EPS of $0.86 on revenue of $1.77 billion.
Sonic Automotive, Inc. (NYSE: SAH) is expected to report EPS of $0.50 on revenue of $2.27 billion, compared to last year's EPS of $0.40 on revenue of $2.15 billion.
Economics
On Tuesday, most US economic data is expected to be released despite the government's shutdown. US data due out includes construction spending and the ISM manufacturing index. Other notable economic releases from around the world include eurozone unemployment and manufacturing PMI, South Korean CPI, Italian, French, German and Spanish manufacturing PMI and Germany's unemployment rate.
Good luck with your trades!
For a recap of Monday's market action, click here
Tune into Benzinga's pre-market info show with Dennis Dick and Joel Elconin here.
Posted-In: Earnings News Eurozone Futures Previews Forex Global Econ #s Best of Benzinga
View Comments and Join the Discussion!