Market Primer: Friday, September 27: US Budget Showdown Outweighs Positive Data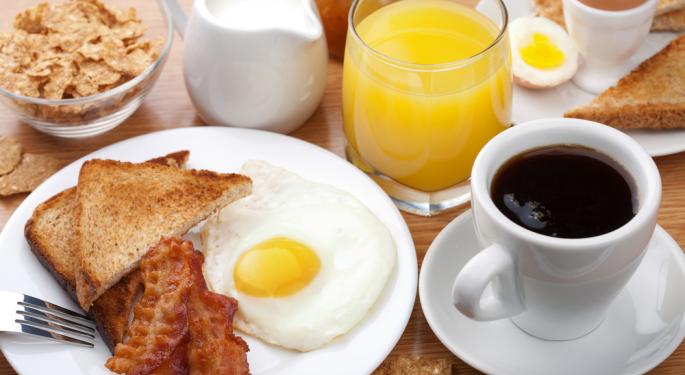 US markets were lifted by positive jobs data which added to the case for a Federal Reserve taper in the coming month. Initial jobless claims fell by 5,000, which beat expectations and marginally boosted US shares.
However, global shares will likely be depressed in the coming weeks as rocky US congressional negotiations over the nation's budget have put the US in an uncertain position. A short government shutdown is looking likely as Democrats and Republicans are at odds over an emergency spending bill that will keep the government running past October 1.
A shutdown that lasts a few days isn't expected to make a huge dent in markets, but it sets a very uncertain tone for negotiations about the US debt ceiling, which, if not resolved will lead to a sovereign debt default.
In other news around the markets:
US and Iranian officials met on Thursday for talks about Iran's long disputed nuclear program. The talks, described as high-level and substantive, are the first of their kind in nearly a decade. Iran's willingness to work together with the West to find a diplomatic solution indicates a turning point in the US and Iran's troubled relationship, but the meeting's participants all stressed the difficulty of solving such a complicated and long standing dispute.
The Managing Director of the European Stability Mechanism Klaus Regling told The Wall Street Journal that the debt targets laid out for Greece in its bailout plan are essentially meaningless. Regling's comments back up several eurozone nations' resistance to debt forgiveness and could create conflict with the IMF, which has clearly defined sustainable debt levels. The pushback on debt forgiveness could endanger Greece's funding from the IMF.
The US and Russia have finally agreed on the terms of a UN draft resolution that will destroy Syria's chemical weapons supply. The plan will not include the threat of military force if the Syrian government fails to comply as US officials originally called for.
The Bank of England's Governor Mark Carney told the Yorkshire Post that he doesn't see the need for any further quantitative easing. Although the BOE's members unanimously voted against bond buying at their last meeting, some thought the bank may try to reduce interest rates through an asset purchasing plan.
Asian markets ended the week on a high, only the NIKKEI faltered, down 0.26 percent. The Hang Seng index was up 0.33 percent, China's Shanghai composite gained 0.20 percent and the Shenzhen composite was up 0.30 percent.
European Markets
European markets were down across the board on Friday. The UK's FTSE lost 0.35 percent and the eurozone's STOXX 600 was down 0.08 percent. Italy's MIB lost 0.38 percent and the Spanish Ibex was down 0.23 percent.
Energy futures lost out on easing tension in the Middle East. Brent futures were down 0.28 percent and WTI futures were down 0.35 percent. Gold gained 0.29 percent and silver was down 0.51 percent. Industrial metals were mostly higher with aluminum up 1.00 percent and tin up 0.22 percent.
The euro lost a bit of ground against the dollar and traded at $1.34 but the pound gained 0.22 percent against the dollar. The yen was up 0.35 percent against the dollar and the Australian dollar lost 0.29 percent against the greenback.
Earnings
Notable companies that reported earnings on Thursday included:
Accenture plc. (NYSE: ACN) reported fourth quarter EPS of $1.01 on revenue of $7.09 billion, compared to last year's EPS of $0.88 on revenue of $6.84 billion.
Nike, Inc. (NYSE: NKE) reported first quarter EPS of $0.86 on revenue of $6.97 billion, compared to last year's EPS of $0.64 on revenue of $6.47 billion.
McCormick & Company (NYSE: MKC) reported third quarter EPS of $0.78 on revenue of $1.02 billion, compared to last year's EPS of $0.78 on revenue of $977.70 million.
Stocks moving in the pre-market included:
Nike, Inc. (NYSE: NKE) gained 6.91 percent in pre-market trade after releasing better than expected earnings on Thursday
JC Penney Company Inc. (NYSE: JCP) was down 4.99 percent in pre-market trade after reports that the company confirmed an 84 million share public offering.
Earnings Reports Expected On Friday Include:
BlackBerry (NASDAQ: BBBY) is expected to report a loss of $0.15 per share on revenue of $3.06 billion, compared to last year's loss of $0.27 per share on revenue of $2.87 billion.
Vail Resorts, Inc. (NYSE: MTN) is expected to report a loss of $1.70 on revenue of $118.90 million, compared to last year's loss of $1.50 on revenue of $113.54 million.
Economics
Economic releases expected on Friday include, US consumer sentiment, core price index and personal spending data, German CPI, eurozone consumer confidence and industrial sentiment data, Spanish business confidence and retail sales, Italian business confidence, and French GDP and consumer spending.
Good luck with your trades!
For a recap of Thursday's market action, click here
Tune into Benzinga's pre-market info show with Dennis Dick and Joel Elconin here.
View Comments and Join the Discussion!
Posted-In: Earnings News Eurozone Futures Commodities Previews Forex Global Best of Benzinga