Market Primer: Wednesday, September 18: FOMC Meeting Wraps Up, New Worries Arise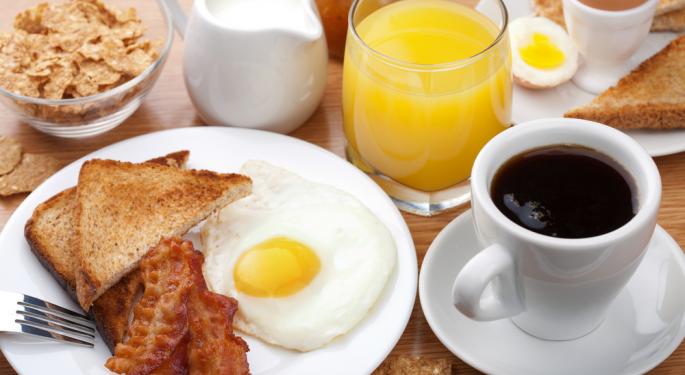 As investors wait to hear from the US Federal Reserve about whether or not the bank is going to cut its $85 billion per month stimulus plan, economists warn that the US debt ceiling will step into the spotlight.
Months of anticipation about the Fed cutting its stimulus spending by $10 to $15 billion will likely keep markets from volatility if the bank does announce a taper.
However, the US debt ceiling has been quietly approaching in the background and could create a real problem in October. Many see the debt ceiling being more detrimental to markets than the talk of tapering if Congress doesn't pass legislation to raise the ceiling over the next few weeks.
In other news around the markets:
Cypriot President Nicos Anastasiades told reporters that his country will lift capital controls on January 14, almost one year after they were implemented. The tiny island nation was the first eurozone member to use capital controls to keep investors from pulling their money out of the nation and collapsing its financial system.
On Tuesday, Microsoft announced that it would return cash to shareholders by increasing its quarterly dividend by 22 percent and reauthorizing $40 billion to buy back shares.
Apple (NASDAQ: AAPL) has come under fire for its high pricing even as its sales growth wanes. The company is refusing to pass the falling cost of flash-memory chips on to consumers, making the cost of an iPhone much higher than its competition. The company's stock has fallen 8 percent since it revealed its latest iPhone models, as most see even the low cost iPhone 5c as priced too high.
Despite mounting evidence that the Syrian government was behind the August 21 chemical weapons attack, Russia is backing Syrian President Bashar al-Assad's claims that rebels are responsible for the attack. Russia's stance on the issue is in stark contrast to that of the US and has raised questions about Russia's commitment to destroying Syria's chemical weapons supply. Most believe that if Russia doesn't help enforce the UN's disarmament plan, the US may renew its push for military force.
Asian markets were mixed as the Federal Reserve meeting neared its end. The Japanese NIKKEI was up 1.35 percent, China's Shanghai composite gained 0.29 percent and the Shenzhen composite was up 0.49 percent. The South Korean KOSPI lost 0.39 percent and the Hang Seng index was down 0.25 percent.
European Markets
European markets were quiet on Wednesday morning, the UK's FTSE was flat with just 0.03 percent gains and the STOX 600 was up 0.13 percent. The DAX gained 0.16 percent, and both the Spanish IBEX and Italy's MIB were up 0.35 percent.
Brent futures for November delivery rose 0.13 percent and WTI futures gained 1.02 percent. Precious metals were down; gold lost 0.21 percent and silver was down 0.06 percent. Industrial metals fared better with copper up 0.54 percent and tin up 0.31 percent.
The euro to dollar ratio remained flat ahead of the Fed taper, but the pound gained 0.16 percent against the greenback. The yen rose 0.23 percent against the dollar and the rupee gained 0.37 percent against the dollar.
Earnings
Notable companies that reported earnings on Tuesday included:
Adobe Systems Incorporated (NASDAQ: ADBE) reported third quarter EPS of $0.32 on revenue of $995.10 million, compared to last year's EPS of $0.58 on revenue of $1.08 billion.
FactSet Research Systems Inc. (NYSE: FDS) reported fourth quarter EPS of $1.20 on revenue of $219.98 million, compared to last year's EPS of $1.08 on revenue of $218.98.
Stocks moving in the pre-market included:
Notable companies expected to report earnings on Wednesday include:
Oracle Corporation (NASDAQ: ORCL) is expected to report EPS of $0.56 on revenue of $8.48 billion, compared to last year's EPS of $0.53 on revenue of $8.21 billion.
FedEx Corporation (NYSE: FDX) is expected to report EPS of $1.52 on revenue of $11.00 billion, compared to last year's EPS of $1.45 on revenue of $10.79 billion.
General Mills, Inc. (NYSE: GIS) is expected to report EPS of $0.70 on revenue of $4.30 billion, compared to last year's EPS of $0.66 on revenue of $4.05 billion.
Economics
On Wednesday's economic calendar, the US FOMC statement and rate decision will dominate the markets. Also notable will be US housing starts and building permits, the Bank of England's MCP meeting minutes and the Japanese trade balance.
Good luck with your mid-week trades!
For a recap of Tuesday's market action, click here
Tune into Benzinga's pre-market info show with Dennis Dick and Joel Elconin here.
Posted-In: Earnings News Futures Commodities Global Econ #s Economics Federal Reserve Best of Benzinga
View Comments and Join the Discussion!