The following post was written and/or published as a collaboration between Benzinga's in-house sponsored content team and a financial partner of Benzinga.
In 2008, an SEC rule change made it possible for depositary banks to create U.S.-traded instruments of foreign companies without the sponsorship of the companies themselves.
These instruments, known as unsponsored American Depositary Receipts (ADRs), allow for a depositary bank to facilitate the trading of a foreign company's shares for U.S. investors to easily access those companies.
What Is An Unsponsored ADR
Unlike sponsored ADRs such as Roche Holdings RHHBY and Adidas ADDYY, unsponsored ADRs are created without formal approval from the company. In some cases, they may not even know about it.
A depositary bank may choose to create an unsponsored ADR program if they observe a certain level of market demand. Sometimes an unsponsored ADR will have more than one depositary bank, meaning foreign companies could unknowingly have as many as four U.S. banks competing for assets.
Some ADRs are listed on exchanges, but the vast majority of ADRs—both sponsored and unsponsored—trade on the OTCQX Market in the U.S.
The Global Unsponsored ADR Market
The four main depositary banks in the U.S. are BNY Mellon BK, Citigroup C, Deutsche Bank DB, and JP Morgan Chase & Co JPM.
Since the SEC allowed for the creation of Unsponsored ADRs in 2008, those four banks have issued nearly 1,400 such securities.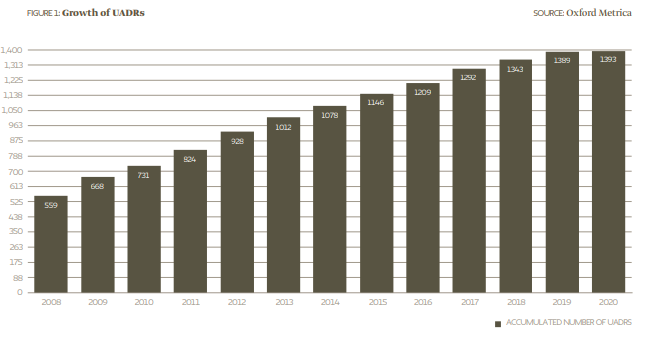 Source: Oxford Metrica
As of February 2020, roughly half of the world's unsponsored ADRs come from Asia.
REGION NUMBER OF FIRMS WITH AN UNSPONSORED ADR
Asia-Pacific 702
Continental Europe 605
Central & Eastern Europe 29
Middle East & Africa 53
Latin & South America 4
Source: Oxford Metrica
Benefits To Shareholders
The main benefit of unsponsored ADRs—and ADRs in general— for investors is it makes shares of a foreign company easily accessible. Without it, a U.S. investor would have to create an account with a foreign broker and have to worry about foreign exchange rates. This gives investors access to key foreign markets and also allows them to diversify.
Holders of unsponsored ADRs also receive dividends in U.S. dollars and may be able to participate in corporate actions.
Benefits To Companies
Whether or not an ADR is sponsored by the company or unsponsored does not typically have an effect on share price performance. But a recent study by Oxford Metrica found that when it comes to unsponsored ADRs, it can matter which market the security trades on.
"The management of those companies are challenged in that they don't have any idea who's buying or selling their shares, which means they are challenged with respect to how to have a complete and coherent investor strategy without knowing who owns the shares," said Rory Knight, president of Oxford Metrica. "One immediate step that we're seeing them take is to consider standing out from the crowd and upgrading to the OTCQX, where they would start to get a much better idea, increased flow of information, etc."
According to the study, there are three distinct benefits of having an unsponsored ADR trade on the OTCQX Market: an increased percentage of U.S. ownership increased trading volume and liquidity, and share price appreciation.
The study found that, on average, 128 basis points of value is created for shareholders in the 180 days after an unsponsored ADR is launched on OTCQX, while the percentage of U.S. shareholders in a company could double in the first year. It also found that European issuers exhibited a 13% increase in daily trading volumes on their respective home exchanges and Asia-Pacific issuers experienced a 26% daily trading increase.
"We hypothesize that due to the increased transparency, disclosure requirements, and corporate governance practices required by OTCQX, a positive signaling effect is generated in the issuer's home market, translating to a reduced cost of capital and increased shareholder value," the study said.
At the end of the day, unsponsored ADRs are just one more tool that can help investors diversify their portfolio. An investor should always do their own research on the underlying company and its home market before deciding whether to invest.
The preceding post was written and/or published as a collaboration between Benzinga's in-house sponsored content team and a financial partner of Benzinga. Although the piece is not and should not be construed as editorial content, the sponsored content team works to ensure that any and all information contained within is true and accurate to the best of their knowledge and research. This content is for informational purposes only and not intended to be investing advice.