Study: Twitch Grows With 'Fortnite,' 25% Of Gamers Paying To Watch Other Players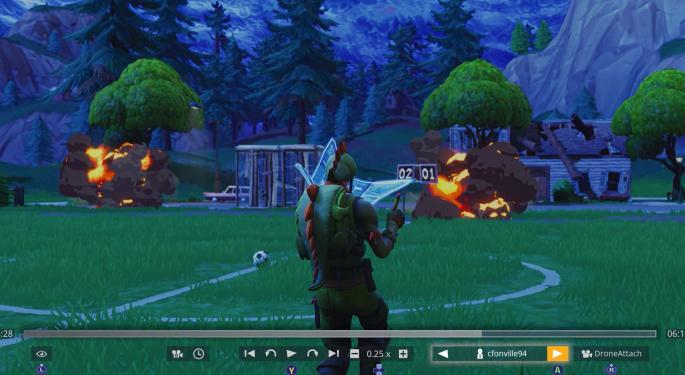 "Fortnite" might be a free-play game, but that does not stop it from being an absolute cash cow.
The viral game could be in the middle of a seminal moment in gaming, where more developers embrace a free play model to acquire a large gamer base and then eventually monetize through ancillary sales.
The Most Profitable Free Game Ever?
According to SuperData Research, "Fortnite" brought in $318 million in May, more revenue than any other free game has generated.
In a study from LendEDU, 68.8 percent of "Fortnite" players said they've spent money on in-game purchases; the average amount spent per player was $84.57, far above the $60 upfront cost of a traditional game.
Over one-third of the gamers surveyed said "Fornite" was the first time they spent money on an in-game purchase — speaking to the traction the game has gained with players.
"Fortnite" has done a excellent job of acquiring paying users while maintaining the integrity of the game: simply put, a player cannot buy their way to victory. Nearly 20 percent of players surveyed were unaware that in-game purchases do not provide an advantage over other players.
The Rise Of Video Game Streaming
The rise of the video game streaming service Twitch coincides with the explosion in popularity of Battle Royale-style gaming, and the platforms have a mutually beneficial relationship.
"Because 'Fortnite' is so explosive, it brought a whole bunch of new users to Twitch," said Erin Wayne, a community manager at Twitch.
Amazon.com, Inc. (NASDAQ: AMZN)-owned Twitch said it experienced a huge influx of subscribers after partnering with "Fortnite" developer Epic Games to offer exclusive in-game products.
LendEDU said more than 25 percent of "Fortnite" players surveyed pay for Twitch to watch other people play the game. Twitch Prime, the service's premium offering, is included in an Amazon Prime membership.
Fortnite Driving Headset Sales
Fortnite's rise has also been a boon to gaming headset sales, which saw 78-percent year-over-year growth in the first quarter, according to NPD Group data. The surge in headset sales has driven headset manufacturer Turtle Beach Corp (NYSE: HEAR) stock up over 1,000 percent year-to-date.
"'Fortnite' and 'Pub G' started taking off and that has brought in a bunch of new gamers," Turtle Beach CEO Juergen Stark told Benzinga in a recent conversation.
"Even higher than first-person shooters where people were using headsets, a bunch of them are buying headsets for 'Fortnite' and that has driven more than 100 percent increase in our sales. For four months running, we have gained significant market share."
Related Links:
4 Reasons Why 'Fortnite' Has Won Over Gamers
How Video Game Developers Are Taking On 'Fortnite' — And Why KeyBanc Remains Bullish
Screenshot courtesy of Epic Games.
View Comments and Join the Discussion!
Posted-In: Epic Games Erin Wayne Fortnite Juergen Stark lendeduNews Crowdsourcing General Best of Benzinga