Turtle Beach CEO Talks 'Fortnite,' Battle Royale Gaming: 'It's A Great Place To Be'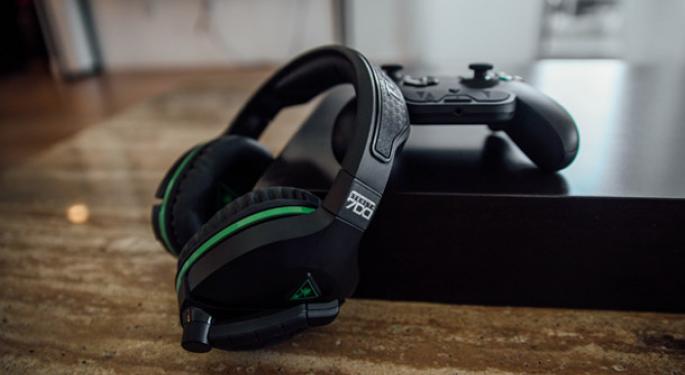 "Fortnite" emerging as the biggest video gaming story of the year has had a profound effect on Turtle Beach Corp (NASDAQ: HEAR), a gaming headset manufacturer that has seen its shares rise a remarkable 770 percent in 2018.
Huge Success
Turtle Beach is seen as a nearly pure play to invest in the success of "Fortnite,"with the Battle Royale-style free play game driving a huge increase in headset sales.
Gaming headset sales grew 78 percent in the first quarter, according to NPD data. Turtle Beach is outpacing the market by nearly two times, with sales up 110 percent in the first quarter.
"'Fortnite' and 'Pub G' started taking off and that has brought in a bunch of new gamers," Turtle Beach CEO Juergen Stark told Benzinga in a recent conversation. "Even higher than first person shooters where people were using headsets, a bunch of them are buying headsets for 'Fortnite' and that has driven more than 100 percent increase in our sales. For four months running, we have gained significant market share.
"We are the dominant provider of gaming headsets on Xbox and PlayStation with 42 percent market share. Part of the reason we have the share we have is because we have high quality products for every type of gamer," he said.
New Gamers
The head of the San Diego-based company said Battle Royale gaming popularity took everybody by surprise. Not only has the game brought in an estimated 40 million gamers to the shooter genre, a genre were gamers are more likely to use headsets, a new study from BTIG showed nearly one in five "Fortnite" players were not previously gamers.
The social aspect of the games lend itself to users clamoring for a more immersive experience where communication is essential. Simply put, gaming headsets make gamers perform better.
"It allows you communicate on teams. It helps you survive, because you are picking up audio cues of people sneaking up on you," said Stark. "Our understanding is that it is pretty well known that wearing a headset helps your performance in the game. We actually amplify the sounds of twigs breaking so you have even more competitive advantage. Nobody else has that. It makes the game more immersive and it makes the game more fun."
Financial Impact
Turtle Beach on May 9 released its first-quarter earnings report, which saw sales come in at $40.9 million, up from $14.4 million in the same quarter of 2017. The company also saw $5.3 million in EBITDA, which Stark said is even more notable for a generally seasonable business.
"For us to be positive income in Q1 is record setting and unusual for a business like this," he said. "If we hit our guidance, we will have a record Q2. We have not adjusted the back half of the year, which we acknowledge is likely to be somewhat conservative. The underlying market is doing well and we are doing way better than the overall market."
Turtle Beach is committed to keeping up with the significant growth in demand of its product and planning for upside scenarios, spending $4 million to airfreight its product because demand was so strong.
Here To Stay?
The CEO believes the Battle Royale format is here to stay, which would be good news for headset sales moving forward. Prior to "Fortnite," Stark said a large percentage of gaming headset sales were typically replacements or upgrades, but now the market is fundamentally growing.
"A lot of people like it [Battle Royale format]. It is more snackable. You don't have to play a multi-hour campaign," said Stark. "There are rumors that others will introduce Battle Royale formats to their games as well. I think over time, VR and AR will introduce even more immersive gameplay. It's a great place to be."
Related Links:
The Success Of 'Fortnite' Is Driving Massive Gaming Headset Sales
View Comments and Join the Discussion!
Posted-In: battle royaleSports Top Stories Exclusives Tech Media Interview General Best of Benzinga