The Success Of 'Fortnite' Is Driving Massive Gaming Headset Sales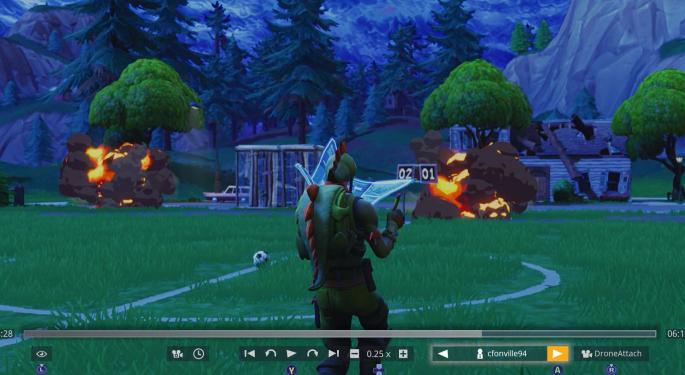 Five months into the year, "Fortnite" is unquestionably the biggest story in gaming. The battle royale-style free play game continues to spread through word of mouth and a virality that has touched numerous aspects of society. And now it's driving hardware sales.
Video game headset sales were up 78 percent year-over-year in the first quarter, with March alone seeing 9-percent sales growth, according to a recent report from research firm NPD Group.
A Unique Player Experience
What's responsible for this remarkable growth? All signs point to the rapid success of "Fortnite" and the overall rise in popularity of battle royale-style video games, where players are pitted against each other in an every-man-for-themselves battle until one player is left standing.
Battle royale games appear to have a wide impact on the sales of headsets, gamepads, game cards and other peripheral products, NPD Group's video game software analyst Mat Piscatella told Benzinga. Total spending on Accessories and Game Cards saw 20 percent year-over-year growth in March alone to $372 million, according to NPD Group.
"These sales increases have correlated to the rise in popularity from games like 'Fortnite' and 'PlayerUnknown's Battlegrounds,'" Piscatella said. In Q1, Accessories and Game Card spending grew 29 percent year over year to $956 million.
Why is "Fortnite" so popular? It's a highly social game that plays well on YouTube and Twitch, where it continues to break streaming records. Every individual game is unique, which allows players to create their own stories, as opposed to traditional games where every player has the same experience, Piscatella said.
"Each game is unique and each game has its own story. The experiences that can happen can be unique each time it is played. The chat and how people communicate within the game leads to some really fun scenarios."
The communication aspect of battle royale games is something to watch closely given the uptick in gaming headsets. Industry leader Turtle Beach Corp (NASDAQ: HEAR) shares have gained a remarkable 300 percent year-to-date and have more than doubled within the last month. Other notable gaming headset makers include Logitech International SA (USA) (NASDAQ: LOGI), Sony Corp (ADR) (NYSE: SNE) and Microsoft Corporation (NASDAQ: MSFT).
'We Know It's Really Big'
Just how influential will "Fortnite" be in gaming? Given how fickle gamers can be, that remains to be seen — and it's a relatively new trend. "Fortnite" has only been around for a few months, but Piscatella said he anticipates a number of competitors will emerge at E3 this year.
"It is fair to put it in a bucket of 'Guitar Hero' or 'World of Warcraft' — games that changed all the rules. For the moment, it's fair to say it could be one of those seminal industry game-changing type of games or it could fade out; it could be the biggest thing or it could completely go away."
The industry as a whole is experiencing massive growth. Of the $1.8 trillion in consumer spending NPD tracked in 2017, video games were the fastest-growing category, led by the release of Nintendo Ltd/ADR (OTC: NTDOY)'s Switch, which was the best selling game console of all time over its first 10 months.
"Fortnite" maker Epic Games hasn't released any sales information, but Piscatella said it's thought to be massive.
"We know it's really big — we just don't know how big it is."
Related Links:
4 Reasons Why 'Fortnite' Has Won Over Gamers
How Video Game Developers Are Taking On 'Fortnite' — And Why KeyBanc Remains Bullish
Screenshot courtesy of Epic Games.
View Comments and Join the Discussion!
Posted-In: Analyst Color News Retail Sales Top Stories Exclusives Tech Media Interview Best of Benzinga