Media Analyst: NBA Could Be As Popular As The NFL In 10 Years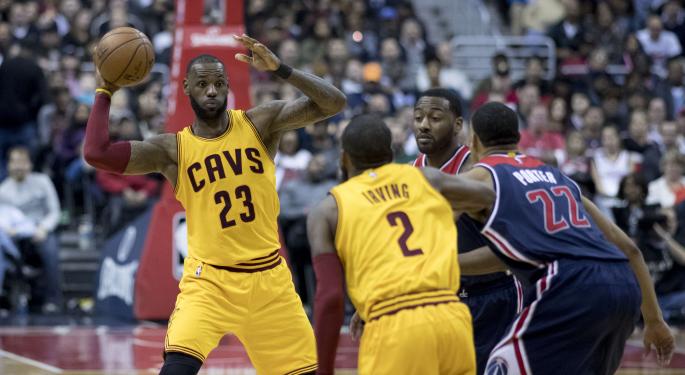 The NBA just posted its most watched season in four years.
With the playoffs underway, ratings are as healthy as ever, posting the best Saturday playoff opener in five years. If the expected matchup between the Golden State Warriors and the Houston Rockets comes to fruition, one media consultant predicts this series could break Western Conference Finals records for cable.
"Houston and Golden State numbers could break cable ratings in the Western Conference for a basketball series," industry consultant Brad Adgate told Benzinga.
With NFL ratings down and the NBA Finals outpacing the World Series despite a stellar postseason, Adgate goes as far as predicting that in the US, the NBA could be as popular as the NFL in 10 years. This echoed what ESPN's Mike Wise said back in December.
Why It's Important
"The league has done a great job of marketing the product. There is a lot of young talent, the sport is exciting and the league has done a great job of creating matchups and putting them on television, putting the star power on broadcast and cable on an ongoing basis," said Adgate, who has spent 20 years in the media industry.
Walt Disney Co (NYSE: DIS), which has both ABC and ESPN under its belt, was the biggest beneficiary of the ratings surge.
"Benefiting the most from the boom season was ABC. The broadcast network's coverage was up a strong 17 percent, besting TNT (up 13 percent), ESPN (up 4 percent) and NBA TV (relatively steady, improved 1 percent)," according to The Hollywood Reporter.
The NBA's affinity in utilizing its star power is no secret, evidenced by the Cleveland Cavaliers having 39 national TV games during the regular season, to relatively star-less Indiana Pacer's one game.
"They were able to really capitalize on some compelling matchups with a lot of stars. They did a great job of just putting on games that you wanted to watch, and that was indicative of why the ratings were so strong, " Adgate added.
"I think the NBA has many things going for it. It's a short season, you can see the players face, it looks good on TV, it's fast paced the games are two hours long. Baseball is trying to fix that."
In a December debate on ESPN, former NBA star Jalen Rose argued, "When you talk about NBA Finals and 16 million watching on average, you have to multiply that by six or seven games. It's not just one game-- it's a seven game series in the NBA. The NBA gets people to come back and watch seven games."
What's Next
"It is really popular with kids. The NBA ratings really do well with younger adults, the 18-34 and 18-49 year old demographic," said Adgate.
Even with Los Angeles and New York teams lackluster performance over the past few years, it doesn't appear to affect the NBA's ratings. Not only is domestic popularity fueling the NBA's growth, but of the big three major sports in the country, it's the most global. There's a bevy of international talent on virtually every team is boosting its presence worldwide.
"Football is trying to market itself outside the US, but basketball is already there," said Adgate. "It's been an Olympic sport since 1936. Next to soccer it is the most popular team sport. There are so many talented players from around the world that are coming to the US, which adds excitement to the sport."
NBA legend Kareem Abdul-Jabbar in a recent column for The Guardian called the NBA the "league of the future," citing how the NBA hasn't restrained players when it comes to talking about social issues. This is in stark contrast to the NFL, when Colin Kaepernick received intense backlash when he used football as his platform to address the police brutality that many minorities face.
"The NFL may still be America's most popular sport, but it's become increasingly clear that football embodies the spirit of a nation as it once was - not as it is today," Abdul-Jabbar wrote.
Related Links:
GumGum Sports: Nike Apparel Deal With NBA Generates $500 Million Annually On Social Media
Study: NBA Jersey Sponsorships Drive $350 Million In Value On Social Media Alone
Image credit: Keith Allison, Flickr
Posted-In: Aaron Rodgers Alan Anderson Brad AdgateSports Top Stories Exclusives Interview General Best of Benzinga
View Comments and Join the Discussion!