Study: NBA Jersey Sponsorships Drive $350 Million In Value On Social Media Alone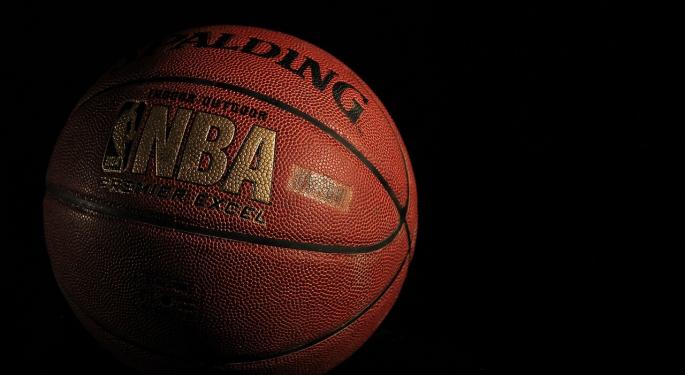 The 2017-2018 NBA season is the first time a sponsorship appeared on a professional sports team uniform in the United States. Given the success these advertisements are having, it may not be long until other leagues follow suit.
The advertising opportunity will generate $350 million in value to the jersey sponsor on social media alone, according to a new report from GumGum Sports.
So far, 19 of the 30 NBA teams have jersey sponsorships. Over the past 30 days, Cleveland Cavalier's jersey sponsor, Goodyear Tire & Rubber Co (NASDAQ: GT), has generated $3.5 million on social media, according to GumGum.
"Social media creates a unique opportunity for brands and teams because there is less regulation and restriction," said Jeff Katz, GM of GumGum Sports. "Value starts with their owned accounts, what we call 'owned and operated' properties, but even more important is value in non team-owned and operated social accounts. Our premium solutions track both."
First six corporate logo deals on NBA jerseys are done. Will appear on game jerseys starting next season. pic.twitter.com/qm0xGfuKVL

— Darren Rovell (@darrenrovell) May 15, 2017
Japanese e-commerce platform Rakuten, Inc. (OTC: RKUNY) has generated $3.36 million in value on social media through its sponsorship with the Golden State Warriors. GumGum says this works out to roughly $20 million in value on social media, and doesn't include the exposure from broadcast and other channels for the company. Rakuten signed a $60 million, three-year jersey sponsorship with the Warriors in 2017. Other notable deals include the Boston Celtics and General Electric (NYSE: GE) and the Utah Jazz and Western Union (NYSE: WU).
'Trying To Provide Transparency Of Value'
GumGum has created a proprietary platform, Scoreboard, where fans, brands, and teams can track how much value they're generating on social media over the past 30 days.
Facebook (NASDAQ: FB)'s Instagram continues to be the leading platform in driving value. Eighty percent of sponsorship value for NBA team accounts comes from Instagram, GumGum says. The Scoreboard has also found engagement on Instagram compared to other social platforms has been greater than 10-15 times for NBA team accounts.
"On our platform, it shows that sponsors are making a killing off the jersey sponsorships," Brian Kim, SVP of Product Management at GumGum told Benzinga. "Rakuten is already making a two to one return on their jersey sponsorship investment. The jersey patch could end up being the biggest value for NBA sponsors as it continues expand to all 30 teams."
The Detroit Pistons uniform, with sponsor Flagstar Bank. Photo by Dustin Blitchok
Nike Inc (NYSE: NKE)'s league-wide jersey sponsorship is the most valuable endorsement in terms of value on social media, generating an estimated $500 million per year on social networks alone. Nike signed a $1 billion, eight-year deal with the NBA to be the first company to ever have its logo placed on an NBA jersey.
"We are trying to provide transparency of value. This stuff has traditionally been a black box. We felt building an application like this is necessary to provide a transparent transaction on both sides," Kim said.
Related Links:
Are Athletic Endorsements Worth It Anymore?
View Comments and Join the Discussion!
Posted-In: Brian Kim Cleveland Cavaliers Golden State Warriors GumgumSports Top Stories Exclusives General Best of Benzinga