Off We Go: Transports Highlight Rally As New Year Gets Off To Strong Start
The New Year got off to a strong start Tuesday, and judging from pre-market futures trading it looks like the rally might continue today. Old-time market watchers probably would be impressed with yesterday's rally because it was led by transports, traditionally seen as a bellwether for Wall Street health.
Transport stocks like FedEx Corporation (NYSE: FDX) and the railroads were off to the races yesterday, in part because they might benefit from the new tax package. In addition, tech stocks climbed 1.41% on Tuesday, but that wasn't even good enough for best, second-best, or third-best on the sector leader board. Those distinctions went to energy, consumer discretionary, and materials. Still, tech's gains helped send the Nasdaq (COMP) to its first-ever close above 7,000.
The focus today might turn to Fed meeting minutes and preparation for Friday's December job data. Stocks ticked higher overnight in Europe, and auto sales come into view over the next few hours (see below). Geopolitics also could be in play as tensions seemed to grow between the U.S. and North Korea. However, those concerns don't seem to be affecting trading yet.
It's a shorter-than-normal week, and we're looking right down the barrel at a big monthly employment report just two days from now. December jobs data are due to hit the tape Friday morning, and Wall Street analysts are looking for a bit of a pullback from November's hefty 228,000-position gain. Consensus on Wall Street now stands at 188,000, according to Briefing.com, still well above the level needed to keep the jobs machine churning.
If you can think back to before the holidays, you might recall that the November report basically fired on all cylinders. Jobs growth charged higher; the unemployment rate stayed low at 4.1%, and the jobs created tended to be in industries where everyone likes to see growth, including construction, manufacturing, and business and professional services. These are job categories where people can often build careers.
One sore spot last time out was the wage side of the picture. Hourly earnings rose just 0.2% in November. This Friday's report is expected to show a 0.3% rise, according to Wall Street analysts, which isn't huge but would represent a slight improvement if that estimate proves accurate. The year-over-year wage growth number is another one to look at. It rose 2.5% last month. That's a little above inflation.
Before we get to employment, the Fed is scheduled to release its December meeting minutes later today. Rates rose at that meeting for the third time in 2017, and the report could provide further insight into what Fed members think their rate strategy might be in the coming months. As you might recall, the Fed signaled three rate hikes ahead in 2018, and the futures market sees the first of those possibly happening in March, with a 59% chance. There's a Fed meeting scheduled later this month, but futures show almost no chance of a hike at that point.
Before the New Year, there was some debate about whether investors who'd scored big advances in the tech sector's nearly 37% gains last year might take some profit in January under the new tax regime. You can never rule that out, and it still might happen, but it certainly didn't look like the case on Tuesday. Those same names we all remember from last year — Facebook inc (NASDAQ: FB), Alphabet Inc (NASDAQ: GOOG) (NASDAQ: GOOGL), Amazon.com, Inc. (NASDAQ: AMZN), Netflix, Inc. (NASDAQ: NFLX), and Apple Inc (NASDAQ: AAPL) — all continued their New Year's celebrations an extra day, as each rose sharply. Maybe it's a case of investors deciding not to switch horses in mid-stream, at least for the moment.
However, the tech sector got outgunned in some instances Tuesday by so-called "brick and mortar" names like Macy's Inc (NYSE;M) and Nordstrom, Inc. (NYSE: JWN) in the consumer discretionary space. This could reflect optimism over the holiday shopping season, which isn't over yet, by the way. A small portion actually tends to spill over into January.
Energy, meanwhile, got off to a rip-roaring start to 2018. Unrest in Iran sent oil prices above $60 a barrel. The weekly government report on crude inventories is pushed back to Thursday this week due to the holiday.
A bit of data came out earlier today that's worth noting: Mortgage applications fell 2.8% in the week ending Dec. 30, according to the Mortgage Banker's Association. With mortgage rates again above 4.2%, keep an eye on this metric in coming weeks to see if higher rates might start nipping the housing market.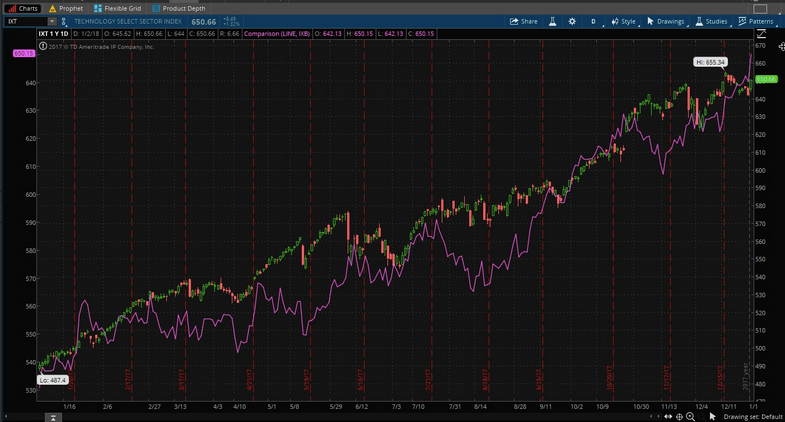 Highlight Reel
We talked yesterday about some 2017 market highlights, but here's one we didn't mention that seems unlikely to repeat any time soon: The S&P 500 (SPX) went the entire year without a negative month. That's something that hadn't happened since 1970, and while Charles Dickens may have coined the phrase, "never say never," it seems hard to expect again, at least not right away. A couple of other recent years — 1995 and 2006 — came close, with 11 months of positive returns, said Sam Stovall, of research firm CFRA.
Stovall also pointed out that in 2017, nine of the 11 SPX sectors rose in price, and 80% of the 124 SPX sub-industries also recorded gains. The question, Stovall asks, is whether investors should "ride the gains" in 2018 or consider looking at some of the sub-sectors that underperformed in 2017 for potential bargains. Some of the worst-performers last year included advertising, agricultural products, alternative carriers, automotive retailers, and brewers. Stovall's research shows that worst performing sectors do tend to bounce back the following year, but past isn't precedent.
Welcome Back, Data
After a brief respite, economic data returns today in a big way with December construction spending, the ISM index, and December car and truck sales. Wall Street analysts look for a 0.7% rise in construction spending, a slight cool-down from the vigorous 1.4% advance in November, according to Briefing.com. And the ISM reading — a key manufacturing touchstone — is seen at 58.0, down from November's 58.2. Both of these would likely be considered solid if the numbers come in at those levels, and we'll find out at 10 a.m. ET today. December auto and truck sales trickle in throughout the day Wednesday as various manufacturers report. November's data showed sales at a seasonally adjusted annual rate of 17.48 million, down slightly from October but still a pretty respectable figure and well above readings below 17 million seen earlier in the year.
In general, light vehicle sales have been steadily rising since bottoming out back in 2009, but are slightly off from near record levels seen in 2015 and 2016. One story to watch in 2018 is whether consumers decide to shell out more money for cars as job growth continues, or if rising interest rates and gas prices start to clamp down on big purchases. Remember to look beyond simply the major auto company stocks and also consider the effect on auto supplier shares.
Budget Countdown Begins
With the New Year underway, the countdown toward a congressional budget deadline begins in earnest. If you recall, Congress passed a bill in late December to keep the government running, but that only lasts until Jan. 19, and it looks like the two parties might be getting into some horse-trading over various items. If this starts getting heated and a shutdown begins to look likely, it's debatable whether that might affect the stock market. Basically, there's a feeling on Wall Street that we've seen this movie before, and it seldom ends in a way that hurts stocks. Even recent shutdowns didn't tend to have long-term market impacts. That said, a prolonged budget war back in 2011 did weigh on stocks, so it might pay to be a little wary until any Washington fires get extinguished.
Information from TDA is not intended to be investment advice or construed as a recommendation or endorsement of any particular investment or investment strategy, and is for illustrative purposes only. Be sure to understand all risks involved with each strategy, including commission costs, before attempting to place any trade.
Posted-In: JJ Kinahan TD Ameritrade The Ticker TapeNews Commodities Federal Reserve Markets General
View Comments and Join the Discussion!