Pizza Politics: Rival Pie Slingers Don't Echo Papa John's NFL Protest Complaints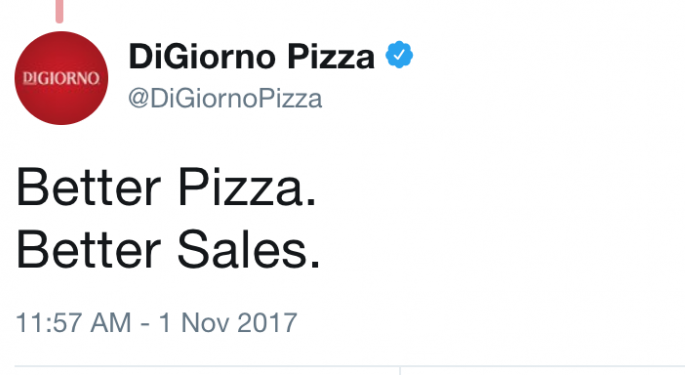 Underperforming? Blame the officials.
Papa John's Int'l, Inc. (NASDAQ: PZZA) attributed its mid-season sales slump to an alleged bad call — one that allowed controversial anthem protests to cripple NFL viewership and corresponding pizza deliveries.
"The NFL has hurt us by not resolving the current debacle to the players' and owners' satisfaction," founder and CEO John Schnatter said on Wednesday's earnings call. "NFL leadership has hurt Papa John's shareholders."
The beleaguered league has suffered a 7-percent ratings decline since players first began kneeling for the anthem.
But Papa John's pie rivals say the problem isn't the protest. It's the playbook.
Papa Drops The Ball
Domino's Pizza, Inc. (NYSE: DPZ)'s third-quarter results made no mention of the league.
"Nothing we reported in the quarter included commentary about the NFL because we saw no reason to call it out," Jenny Fouracre, Domino's director of public relations, told Benzinga.
Yum! Brands, Inc. (NYSE: YUM)'s Pizza Hut said its relationships with the NFL, MLB and NCAA are continued sales boons.
"We are not seeing any impact from any of that [protest] on our business and continue to obviously promote not just pizza but all of our brands on live sports," Yum! President and CFO David Gibbs said on the company's Thursday earnings call. Of note, Pizza Hut is an official sponsor of the NCAA and has less exposure to the NFL.
DiGiorno Pizza, a Nestle SA (ADR) (OTCMKTS: NSRGY) brand, attributed Papa John's sales to nothing more than product quality.
"Better Pizza. Better Sales. It's DiGiorno," the said in a mocking temporary Twitter Inc (NYSE: TWTR) bio.
Papa John's retorted with its own bio update: "Frozen pizza = the pizza equivalent of a participation trophy."
The Stats Speak
But perhaps DiGiorno's has a point. Papa John's stock is down 25.9 percent year to date, while Domino's is up 13.2 percent and Yum! is up 26.4 percent.
Last quarter, Domino's reported domestic SSS growth of 8.4 percent, while Pizza Hut boasted a 0.7-percent consensus beat of 1 percent.
Papa John's reported comparable 1-percent growth but fell short of 1.4-percent estimates.
"We expect it to persist unless a solution is put in place," Papa John's President and COO Steve Ritchie said on the conference call, intimating vulnerability to league policy. Management lowered full-year guidance from 2 to 4 percent to 1.5 percent.
A Biting Response
It is worth noting that the firm has the greatest exposure to the NFL. Papa John's is the league's official pizza, maintains "Preferred Pizza" partnerships with 23 teams and centers marketing on franchisee Peyton Manning.
Despite having praised the NFL in 2014 when domestic same-store sales grew 10 percent, the fair-weather fan is now distancing itself from the team, removing the NFL shield from advertisements and pulling some game-time commercials.
"The controversy is polarizing the customer, polarizing the country," Schnatter said.
He insists the problems lie in the NFL's "poor leadership" and is leveraging league sponsorship to pressure a resolution.
"This should have been nipped in the bud a year-and-a-half ago," he said. "Like many sponsors, we're in touch with the NFL. Once the issue is resolved, we're optimistic the NFL's best years are ahead."
The league's other sponsors, a group that includes PepsiCo, Inc. (NYSE: PEP) and McDonald's Corporation (NYSE: MCD), have not commented on the NFL's strategy.
Related Links:
Wendy's Vs. Wingstop: Twitter Beef Turns Into Rap Battle
Shots Fired! T-Mobile CEO Takes Wireless Wars To Twitter
Frozen pizza maker DiGiorno mocked Papa John's on Twitter this week. Screenshot from Twitter.
Posted-In: David Gibbs domino's pizza John Schnatter nflNews Restaurants Sports General Best of Benzinga
View Comments and Join the Discussion!