Stock Exchange For Sports Aims To Teach Financial Literacy, Empower New Investors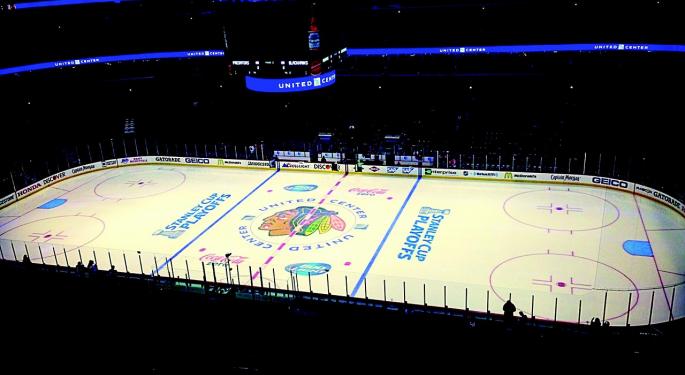 Entrepreneur and Hollywood actor Zack Ward is on a mission to promote financial literacy with the first stock market for sports.
Ward, 47, is passionate about his vision and the potential positive impact his financial technology could have. He said financial literacy can empower a new generation of successful investors.
"The finance world can be intimidating with all the jargon, graphs and statistics. If you talk market fluctuations with your kids, they'll fall asleep or cry," Ward said jokingly. "But ask them who their favorite team is and they're smiling. Buy them shares in that team, let them watch their Sportfolio grow and now you've got an investor. Now you've changed their lives."

Known for his role in the classic film "A Christmas Story," Ward is CEO of Global Sports Financial Exchange, Inc., the California licensee of AllSportsMarket, dubbed the "World's First Sports Stock Market."
Sports Stock Exchange GSFE
GSFE intends to operate a regulated sports stock exchange. This technology would allow NFL, NBA, NHL and MLB fans to buy, sell and trade shares in their favorite teams, receiving dividends each time their team wins and each calendar quarter. ASM's goal is to be a positive disruptor in sports finance around the globe, to get the professional organizations on board at the same time and enable fans to benefit as they're educated in the power of investing.

In 2015, Ward was behind the Sports Integrity Protection Amendment, a Constitutional amendment initiative to create legal alternatives to sports gambling through regulated sports financial markets.
"Never before in history have sports and money been able to interact with integrity and transparency," said Ward.
"AllSportsMarket.com removes the gambling cancer that infects sports and undermines our loftiest goals as a people. Regardless of which country, religion, gender or creed, sports are a beacon to all of us, a shining example of will over adversity. We need to protect it."
Beyond Entertainment: Financial Literacy
Sports are the perfect avenue for building financial literacy but have been associated with gambling until now, Ward said.
"Anyone who's seen 'Back to the Future Part II', will remember Biff Tannen's gambling empire as a cautionary tale of greed and corruption. That is cinematic silly fun. The truth is far more Machiavellian. Gambling wins when you lose. And you always lose and will always lose. If your house isn't as big as Caesars Palace, then you're the loser paying for it. We all are," Ward said.
'Do You Want To Be A Biff Or A Buffett?'
The actor contrasted the gambling path with that of Berkshire Hathaway Inc. (NYSE: BRK-A) (NYSE: BRK-B) CEO Warren Buffett, saying Buffett shows the positive impact investors can have. Stock exchanges profit when stocks rise in value, meaning there's a positive incentive for investors to succeed, Ward said.
"Gambling built Vegas. The stock market built America. Do you want to be a Biff or a Buffett?"
ASM currently operates a learning test market, AllSportsMarket.com, through a royalty-free license to the New Sports Economy Institute, a nonprofit dedicated to personal empowerment through sports and finance.
ASM's goal is to build a stronger fan base, generate tax revenue at all levels of government and foster a collateral economy using open source tools.
"This is a paradigm shift. No longer will people feel ashamed about mixing sports and money. Sports investing creates smart, excited fans that watch every game as they root for their team with their friends, families and children," Ward said.
Related Links:
Millennials, It's Financial Literacy Month: Here's 20 Top Tips
Big Ten Network's Big Tenth Anniversary: How A Conference Schooled Colleges In How To Cash In
Posted-In: AllSportsMarket Global Sports Financial Exchange GSFESports Exclusives Markets Interview General Best of Benzinga
View Comments and Join the Discussion!