Big Ten Network's Big Tenth Anniversary: How A Conference Schooled Colleges In How To Cash In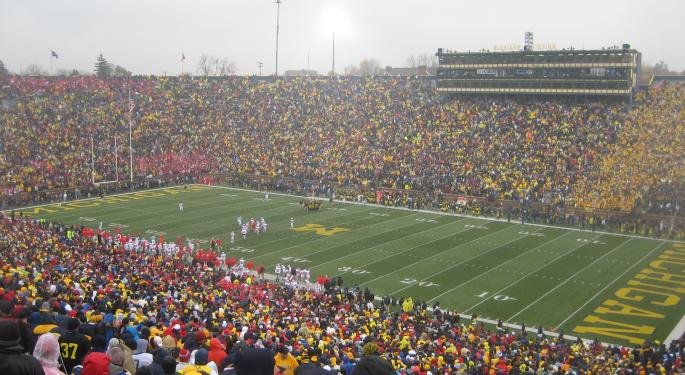 The big idea that made big-time college sports even richer began with a risky, some thought ridiculous concept. An entire television network devoted to a single athletic conference?
Big Ten Commissioner Jim Delany hatched the plan back in 2004, when he tried to get a more-lucrative extension from ESPN, the sports arm of Walt Disney Co (NYSE: DIS).
ESPN balked, and Delany walked.
He got into six months of talks with Comcast Corporation (NASDAQ: CMCSA) before the cable company got cold feet. He finally found a soulmate of sorts in Twenty-First Century Fox Inc (NASDAQ: FOXA).
On Aug. 30, 2007, the widely ridiculed Big Ten Network went live. On Sept. 1, it broadcast its first slate of football games, including No. 5 Michigan at home against tiny Appalachian State. A sports blogger referred to it reverently as "a full slate of s--- games."
What ensued were two of the biggest upsets in sports history.
Big Ten And Its Cash-Rich Copycats
Appalachian State won 34-32 on a blocked kick in the final seconds and the Big Ten Network went on to spur billions of dollars of copycat conferences, which would shed their least popular schools or forge alliances of profitable convenience.
The BTN, as it's called, was responsible for a seismic shift all driven by that sweet subscriber TV money.
Here are the Power 5 Conferences and their 2016 haul.
SEC: $639 million
Pac-12: $488 million
Big Ten: $483 million
ACC: $373 million
Big 12: $313 million
BTN (49 percent stake) is a joint venture with Fox, which owns the rest. It reaches 90 million households nationwide, and is available to an estimated 100 million pay television households.
It's even available on PlayStation Vu.
It wasn't always this way. DirecTV and AT&T Inc. (NYSE: T)'s U-verse were the only major television providers to carry the channel at launch. DISH Network Corp (NASDAQ: DISH) added the channel a week later.
Related Link: Disney Vs. Netflix: Content Is King As Big Media Seeks To Capture Cord-Cutting Consumers
Streaming? That's So 2011
Fast-forward to last July, the Big Ten Network announced they would be available on Hulu and Alphabet Inc (NASDAQ: GOOG) (NASDAQ: GOOGL)'s YouTube TV's online live services.
As Big Media companies such as Disney drags ESPN into online streaming, BTN was into it in 2011. It got into HD well before most other networks.
"There was a perception early on that we looked good," network president Mark Silverman, told the industry journal Broadcasting & Cable.
How Much Do The Players Get Again?
The journal said BTN's revenue is expected to rise 8 percent to $401.1 million this year, according to research company Kagan. Cash flow is forecast at $159.4 million, up 10 percent.
The network has a base of young viewers who aren't cord cutters; they never plugged in in the first place. Silverman told the trade more BTN content is viewed online than on-air.
"You have to recognize that people are watching television differently," Silverman said.
As for Delany, who's opposed to giving players a piece of all that money, he just shrugged off USA Today's report in July that he was getting a $20 million bonus.
"I understand people will make that connection," he told CBS Sports. "I just don't make it."
The connection, that is. Not the money.
________
Image credit: gibbs12dotcom, Flickr
View Comments and Join the Discussion!
Posted-In: Big 10 Big 10 NetworkEntrepreneurship Politics Sports Top Stories Media General Best of Benzinga