Millennials, It's Financial Literacy Month: Here's 20 Top Tips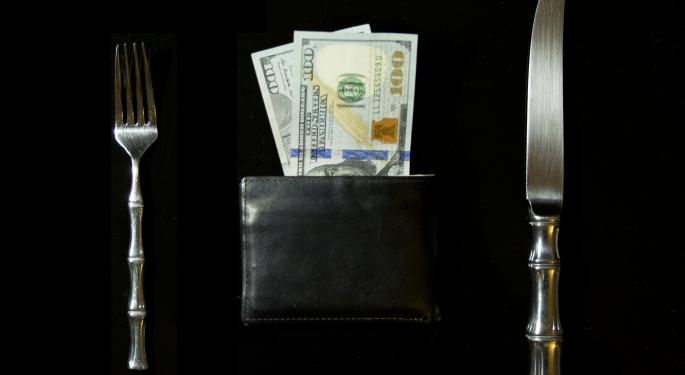 April is Financial Literacy Month, and based on recent research conducted by PricewaterhouseCoopers, LLP, the financial literacy situation in America is severely lacking.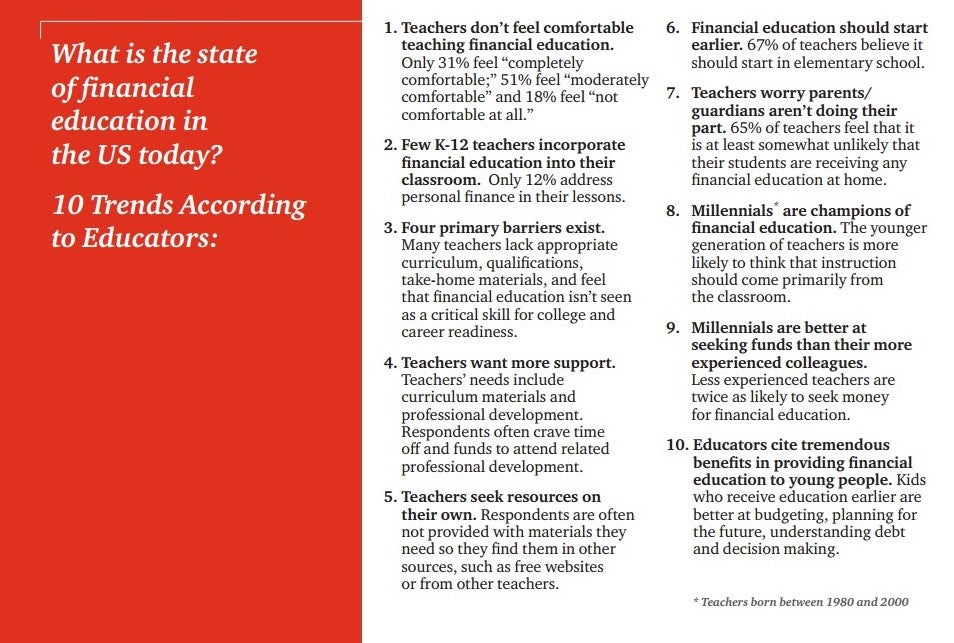 Source: PWC.com, Bridging The Financial Literacy Gap: Empowering Teachers To Support The Next Generation
To celebrate, here are 20 pieces of financial advice geared toward Millennials.
"We need to reach millennials financially in ways they understand – by teaching them about apps that could help manage all of their accounts in once [sic] place, and showing them how to setup online bill pay." –Robert Farrington, Forbes
"While low salaries and high debt levels can certainly be barriers to saving, the key is to create a budget and stick to it." –Gregory Anton, CPA, CGMA, AICPA's National CPA Financial Literacy Commission chair
"Whether you excel or not, however, remember: Technical knowledge about finances if fine. But to succeed, it also helps to have common sense, a bit of skepticism, stick-to-it-iveness and an awareness of your own limitations." –Walter Updegrave, RealDealRetirement.com editor
"Meet with a financial representative for guidance on which investments will work best for you. While all investments carry some level of risk, including the potential loss of principal invested, no investment strategy can guarantee a profit or protect against loss. But there are many options to choose from including stocks, bonds and mutual funds to tailor your investment strategy to your personal financial situation and future goals." –Emily Holbrook, Norhtwestern Mutual young personal market director
"Make getting out of debt a priority." –Andrew Housser, Bills.com co-founder and CEO, Freedom Financial Network, LLC co-CEO
"It's just time to begin to take on the responsibility." –Steve Barr, PricewaterhouseCoopers, LLP partner
"Look, it doesn't matter if your career's just getting off the ground and retirement feels eons away. Waiting even just a decade to invest in your future could cost you millions of dollars. Are you really willing to walk away from that kind of money?" –Dave Ramsey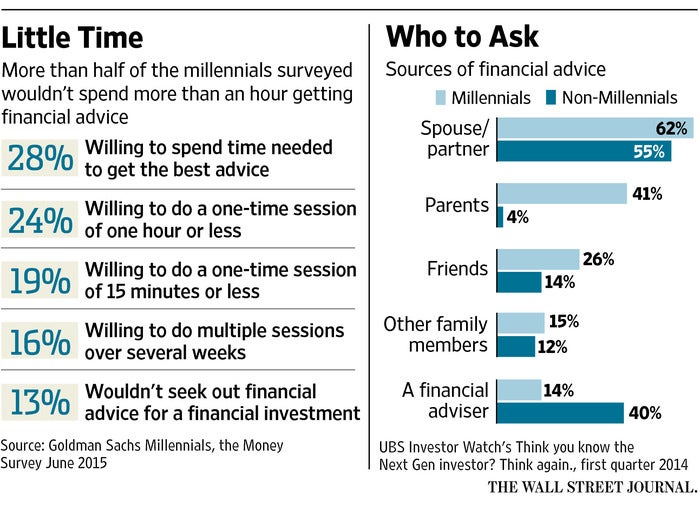 Source: The Wall Street Journal
"But just as important as saving early is saving enough." –Jerry Patterson, The Principal senior vice president of retirement and investor services
"So my call to action for millennials is this: Life is a series of choices no matter how good or bad your starting point. No matter where your starting point, you can learn key personal finance and investment strategies now, perhaps alleviate some of the financial pressure, and start to create the life you want." –Lule Demmissie, TD Ameritrade managing director
"I would encourage investors to focus on the long term and tune out the noise generated by day-to-day market moves." –Ed Perks, CIO, Franklin Templeton Equity
"Young people need regular engagement through multiple channels if they are to be equipped to deal with the challenges they face and provide for their own retirement." –Sadia Cuthbert, Cambridge Judge Business School head of business development
"If you start off on a bad foot, you can easily recover. But the question is, how far down the road do you kick the can?" –Shannon Schuyler, PricewaterhouseCoopers, head of corporate responsibility and chief purpose officer
"For starters, it'll be important to find a (financial) planner who has taken a fiduciary oath to protect your best interests. Without fiduciary duty, your financial advisor could recommend products that are better for their commission than for your bottom line." –Brian Stoffel, The Motley Fool
"Pay yourself first. I'm sure you've heard this cliché many times, but there really is something to it. The idea is to put some money away before you even have a chance to spend it. After all, the money you save is the money you actually get to keep." –Erik Carter, Forbes contributor
"Don't over-extend yourself when you're making big purchases like a home or car." –Scott D. Serfass, Serfass, Phillips & Associates senior partner and financial advisor
"It's not all about retirement planning. Financial planning for millennials includes budgeting, strategizing around student loans and other debt, building savings, tax planning, buying insurance (or not), choosing company benefits and a whole lot more." –Sophia Bera, Gen Y Planning founder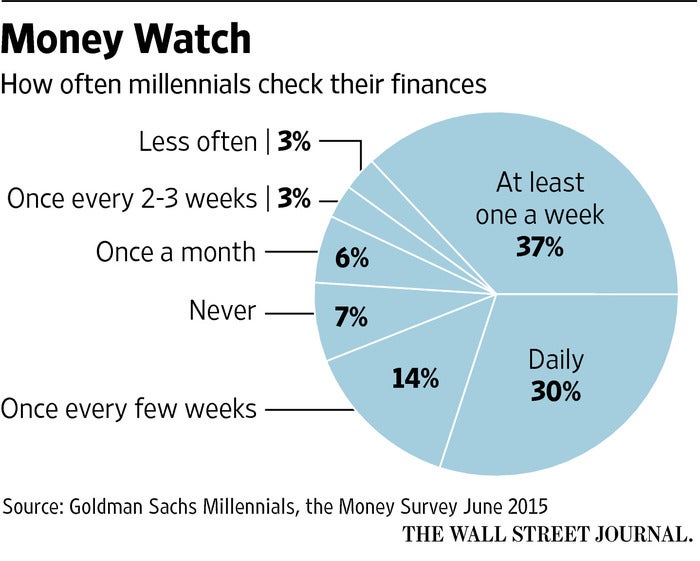 Source: The Wall Street Journal
"The amount of time required to obtain the knowledge to replace the need for a financial advisor would be difficult to find while balancing a career, family, and the other enjoyments of life. One thing Millennials have grasped at an early age is that time is our most valuable asset. Having an advisor to develop a plan, provide accountability, and to educate is well worth the minimal monthly fee that advisors are charging for their services. Millennials, the good news is there are advisors out there who want to help you." –RL Wealth Management
"And while it may seem as though all hope is lost, fear not, Millennials. There are ways to save, build credit and maybe even make a little extra cash to help you get out of your parents' basement, eat more than just ramen noodles and even retire one day." –Stacy Leasca, Elite Daily senior editor
"It's simple – always pay cash. Do not take out a loan to buy a car. And if you have to drive a clunker for more years than you'd like, there are very much worse things in life, and you may incur them if you run into too much debt trying to buy a Beemer when you're 28. Drive that 15-year-old Honda Accord." –William Bernstein, Efficient Frontier Advisors LLC
"Taxes come right off the top of your paycheck and so should savings." –USAA Educational Foundation
Posted-In: Andrew Hoursser Brian Stoffel BudgetingNews Education Events Personal Finance General
View Comments and Join the Discussion!