How The Toys R Us Bankruptcy Will Be Different From KB Toys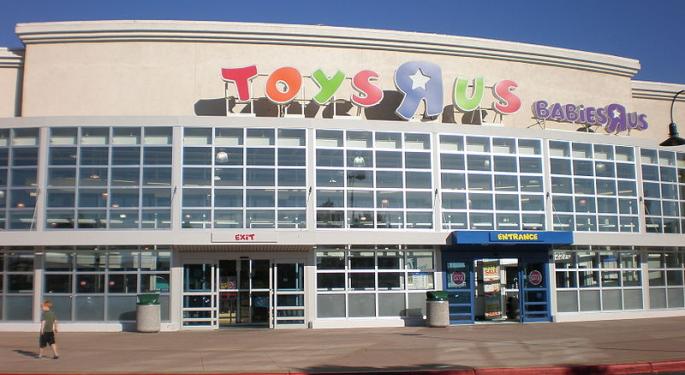 In the 1980s, Toys R Us was gobbling market share in the golden age of brick and mortar. In the 1990s, soaring profits fueled its expansion both in the U.S. and abroad. But on Sept. 19, the once redoubtable retailer filed for Chapter 11 bankruptcy protection, submitting to a heavy debt burden amid the continued struggle to compete with retailers capable of offering lower prices and boasting more modern infrastructures.
Sound familiar?
Toys R Us has fallen victim to a set of circumstances strikingly similar to those once faced by a major competitor, KB Toys, but is it doomed to the face the same fate?
The Case Of KB Toys
Just short of nine years ago, on Dec. 10, 2008, KB Toys filed for bankruptcy and implemented immediate going-out-of business sales, just ahead of what should be any toy seller's busiest time of the year.
In business for 86 years, KB Toys was a primarily mall-based store operator. It had previously filed for bankruptcy in 2004 after the involvement of one-time presidential candidate Mitt Romney's former firm Bain Capital.
Bain infamously loaded KB with millions of dollars in debt during its tenure with the company. While Romney had no operational role in the handling of KB Toys (he'd stepped down in 1999, but remained an investor), he would have certainly handled a portion of the $85 million in dividends KB paid out to Bain, $66 million of which was funded by more bank loans.
What was left of the nation's third biggest toy seller emerged from the 2004 bankruptcy with a plan to close at least 375 stores and cut 3,500 jobs. It would not be enough. Ironically, this was due in large part to pressure applied by none other than Toys R Us.
Toys R Us was a pioneer of the big-box-store concept and became America's premier toy store. KB's stores, being primarily mall based, faced high rents and long leases, limiting their ability to compete on price with Toys R Us. Their stores were tiny, cramped, claustrophobic. Toys R Us locations were high-ceilinged, cavernous destinations with expansive inventory. If a child wanted it, Toys R Us almost certainly had it, and often at a cheaper price.
By 2008, KB was in the midst of clearly desperate "blowout" promotions — like "buy two, get one free" or $25 off Mattel, Inc. (NASDAQ: MAT) toys — leading up to the holiday season. But just two weeks before the biggest toy-centric holiday in the world, sales intended to be doorbusters turned into door-closures.
Related Link: Considering Implications For Hasbro and Mattel From The Toys R Us Bankruptcy
So What Happened To Toys R Us?
What goes around comes around, the saying goes, and this certainly held true for Toys R Us. As UBS analyst Arpine Kocharyan wrote in a recent report, "Increasing reliance on holiday sales, with profitability tied to successful inventory management, shifting of shopping patterns closer to holiday season and pricing pressures of more diversified discount retailers have made it particularly challenging for traditional specialized retail outlets to do well over time."
It began with the pricing pressure of mass merchants like Target Corporation (NYSE: TGT) and Wal-Mart Stores, Inc (NYSE: WMT). These stores could carry a wide variety of toys, but with a model focused more on everyday low prices than periodic discounts. Plus, with a diverse product mix that went beyond toys, these companies could spread their fixed costs across a more ample revenue base, leading to higher margins.
Toys R Us began to look pricey by comparison, even inconvenient. Shoppers can be creatures of habit, after all, relaxing into a pattern of shopping at the same store over and over, and parents had began coming to the discount stores for everything from clothing to groceries. Why not shop for birthday or holiday gifts while they were at it rather than making an "extra" trip to Toys R Us?
But the real harbinger of doom arrived in the form of e-commerce, led by retail industry boogie-man Amazon.com, Inc (NASDAQ: AMZN). Shopping for toys became even easier, even less costly. Toys R Us, for its part, simply failed to do enough to vigorously pursue either a robust digital strategy or a vibrant loyalty program. These difficulties were only compounded when the company was taken private in 2005 by a consortium of private equity firms that included a familiar figure.
Related Link: Toys R Us Bankruptcy: Christmas Comes Early For Walmart, Amazon
The 'Bain' Of An Industry
Fresh from its ignominious investment in KB Toys, Bain was an investor in Toys R Us with partners KKR & Co. (NYSE: KKR) and Vornado Realty Trust (NYSE: VNO), watching their slice of a $1.28 billion equity stake go down the drain in last week's bankruptcy filing (the total deal was valued at $6.6 billion, with each of the purchasing entities holding roughly equal stakes).
Once again, it looks like a load of liabilities is the lasting legacy of Bain's involvement.
Toys R Us carries approximately $5 billion in debt, much of which finds its roots in the leveraged buyout that facilitated its take-private deal. More than $400 million in debt is due to mature next year. It's been costing about $100 million per quarter to service its debt — all money the company couldn't invest in its stores or in building out its online efforts or developing its customer relationship management.
Toys R Us is now seeking to reach terms with its debt holders and other creditors in a bid to defuse that $5 billion debt bomb on its books. To some, the episode represents the latest in a litany of lackluster leveraged buyout results, and revives a conversation about the economic merit of private equity firms that was sparked during the 2012 presidential election cycle by the revelation of Mitt Romney's attachment — albeit tenuous — to the demise of KB Toys.
From Toys To Trains To Video Games ...
Still, Toys R Us may fare better than its erstwhile competitor. Already it's secured $3 billion from its creditors to continue operations. Unlike KB Toys' hasty, unceremonious fade to black just before Christmas, Toys R Us, at present, has no plans to lay off workers (their existing salaries and vacation time will be honored) or close stores while it restructures.
Gift cards are still valid, all warranties will be fulfilled. Even the "Rewards 'R' Us" loyalty program remains viable. In addition, while toy-makers hesitated to send the hottest inventory to KB Toys when things began to look really dire, by all accounts Toys R Us stores are well-stocked going into the holidays, with most industry observers expecting that the likes of Hasbro, Inc (NASDAQ: HAS) and Mattel, will continue to be supportive as long as they believe they'll get paid in the long run (after all, Toys R Us represents around 10 percent of sales for both Mattel and Hasbro, respectively).
Kocharyan, in her recent report, iterates that Toys R Us and KB's Chapter 11 filings may not be comparable. "KB's business essentially went away," she wrote, "while Toys R Us is undergoing a restructuring." More broadly, the analyst doesn't see this news affecting toy industry growth, over time.
Some will root for the toy seller to come through the process intact if for no other reason than it's practically the last of its kind, the only retail shop fully dedicated to letting kids immerse themselves in toys, a physical conduit for imagination, creativity and inspiration in a world where children will increasingly live their lives online. It's still the biggest — and virtually the only — toy store there is.
Related Link: JAKKS Pacific Downgraded On Toys R Us Concerns
______
Image Credit: By BrokenSphere - Own work, CC BY-SA 3.0, via Wikimedia Commons
View Comments and Join the Discussion!
Posted-In: Arpine Kocharyan Bain Capital Mitt RomneyNews Education Legal Top Stories General Best of Benzinga