The 9 Hottest Toys For The 2017 Holidays, Courtesy Of Walmart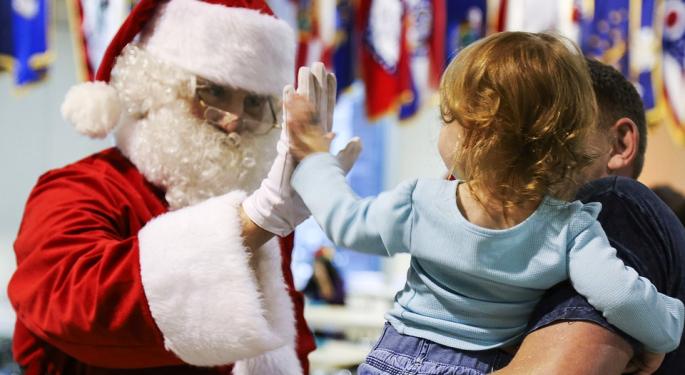 As Mommy trades her Ford Motor Company (NYSE: F) in for a Tesla Inc (NASDAQ: TSLA), little Timmy's taking notes.
This holiday season, he'll pass on the vibrant Big Wheel and instead top his wish list with a sleek-bodied, black and white Huffy Electric Green Machine 24-Volt Battery Powered Ride On Trike.
And instead of that '90s Super Soaker, he'll demand a GPS-enabled Recoil laser tag set with real-time player tracking, 3D positional audio and voice chat.
These are the toys of the 21st century.
Gone are the days of Elefun and Etch A Sketch, and longer gone are the days of domination by classic toymakers. As in every other grown-up industry, ambitious, mission-driven tech startups have threatened the reign of old-school manufacturers, keeping JAKKS Pacific, Inc. (NASDAQ: JAKK) off the Top 10 list altogether.
Here are the year's top products based on Wal-Mart Stores Inc (NYSE: WMT) sales, along with the companies about to boast big holidays.
1. FurReal Friends Roarin' Tyler The Playful Tiger
Hasbro, Inc. (NASDAQ: HAS) tops the charts with its modern stuffed animal, a tiger with more than 100 reactions to touch and sound. Tyler is joined by an inexplicable pet chicken, because why not?
2. Recoil Starter Set
Startup SkyRocket is behind this high-tech version of laser tag. The set includes two RK-45 Spitfire weapons and allows the tracking of up to 16 players.
3. Zoom 'n Crawl Monster
As elementary as ever, Mattel, Inc. (NASDAQ: MAT)'s Fisher Price still works the market with its standard, infant fine-motor games ━ this time with a spooky new theme.
Related Link: Considering Implications For Hasbro And Mattel From The Toys 'R' Us Bankruptcy
4. 'Frozen' Sleigh
Building on the motorized car trend, Walt Disney Co (NYSE: DIS) granted Walmart exclusive rights to a 2.5-mile-per-hour "Frozen" sleigh for aspirant princesses. Despite the brand's universal appeal, the product is inaccessible outside the 3–7 age range.
5. 'Star Wars' Droid Inventor Kit
"Baby's first electric grid" is a fully functioning platform complete with a proximity sensor, motor and control hub. After manufacturing the Droid, engineered by startup littleBits, budding Elon Musks can drive movement with a simple handwave, transport audio messages and ponder the extraordinary concepts of autonomy.
6. Light Command Light-Up Motorized Blaster
Adventure Force markets an automatic foam-dart gun firing a 20-dart round in less than 20 seconds. Commence political debate ... now.
7. Barbie DreamHorse and Doll
It's Mattel's classic product with interactive upgrades. DreamHorse nuzzles into human touch, dances three jigs, and answers questions with nods and neighs.
8. Pop-a-Balls Drop and Pop Ball Pit
VTech Holdings provides Walmart another exclusive offering with an interactive, arcade-like, infant ball pit. Urine stench not included.
9. DC Super Friends Batman Batbot Xtreme
Parents who didn't get enough of the "terrible twos" can fit their toddlers with a chest-high punching bot. The Fisher Price brand of Imaginext turns 3-year-olds into living Rock 'Em Sock 'Em Robots, armed with projectiles, extending wings and a voice changer.
Related Link: Lego To Cut Jobs As First Half-Yearly Sales Decline In A Decade Rattles The Danish Toymaker
Posted-In: holiday sales ToysNews Previews Events Media Trading Ideas General Best of Benzinga
View Comments and Join the Discussion!