What iPhone's Wireless Charging Tech Means For Energous; CEO Says Company Remains 'Completely' On Track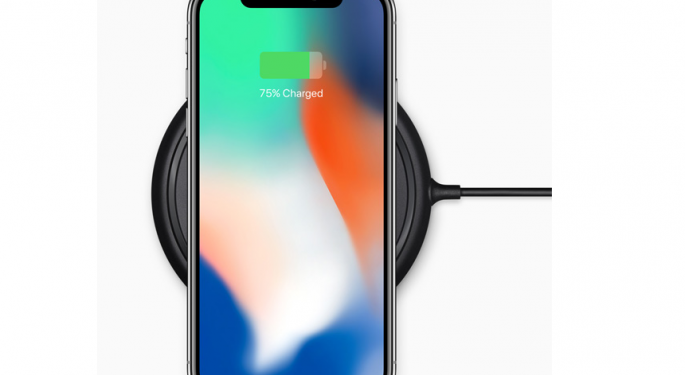 Apple Inc. (NASDAQ: AAPL) unveiled its new iPhone lineup, confirming speculation about the iPhone 8, iPhone 8 Plus and iPhone X featuring wireless charging technology. Just like its main competitor Samsung Electronic, Apple will be using Qi inductive charging.
One group didn't seem particularly happy about the announcement: Energous Corp (NASDAQ: WATT) shareholders.
Since Tuesday, shares of Energous are down more than 10 percent, as the company isn't providing Apple with such wireless charging technology like many anticipated. The stock fell as much as 21 percent intra-day Tuesday and is down 35 percent in the year-to-date period. The company has a market cap of about $240 million.
Still On Track
According to CEO Steve Rizzone, Energous' "situation and vision remain totally and completely the same and on track." He told Benzinga, "The company remains focused on getting FCC approval for its power-at-a-distance technology while continuing to progress its relationship with its 'key strategic partner.'"
Rizzone said Energous still can't reveal this partner, which many expected to be Apple.
Generally speaking, Rizzone sees the announcement of Apple adopting first generation inductive charging solutions as a positive for wireless power overall. "This is providing a lot more visibility into the whole concept of wireless power," he said. "We are very comfortable with our technology."
Having said this, Rizzone classified the move as a "me too response to what's happening out there," pointing out that the mat-based charging for smartphones has been in use for a few years now. So, why aren't all smartphone makers using it?
It can be argued that the adoption rate for these technologies remains relatively low mostly due to the limited utility of its application. The current standard, Qi inductive charging, works with electromagnetic fields — pretty much like electric toothbrushes from 20 years ago — and requires the devices to be placed on the mat in a particular position.
Meanwhile, Energous' current, mat-based technology allows for devices to be placed in any position and orientation for charging.
"In addition, the power difference is dissipating," Rizzone said. "We just announced a high-powered, fast charging capability for devices of up to 10 watts. That's doubling our previous power. And, our technology can also power very small devices, like hearing aids, which Qi chargers can't. But, the biggest differentiator is that our mat technology is compatible with our upcoming power-at-a-distance iterations."
Related: Energous CEO Responds To Short-Seller Allegations, Says 'Their Only Purpose Is To Get Rich'
What To Look For
In parallel with the work done with its "key strategic partner," Energous continues to advance on the integration of its technology with 56 other companies. While Energous already offers an FCC-approved, contact-based charging solution comparable in some ways to the one used in the new iPhones, "the big enchilada," as Rizzone has defined it, "is the first power-at-a-distance transmitter; something that no one else has done." The company expects approval for the short-distance transmitter before the end of this year.
So if Energous has a marketable product, why hasn't it hit the market yet?
"Any decisions for technologies launched this year were likely made in 2016 and 2015; that's how product cycles work," he said, explaining that Energous' WattUp charging technologies were not "fully baked" at the time — although now some of them are.
"So the product releases that you'll see toward the end of this year and the beginning of next year are going to be (for the most part) from very small, very nimble, highly innovative companies that have a short product cycles."
Energous is working with 11 such companies, and expects two of them to release products before the end of 2017. The rest will roll over in 2018, Rizzone said. Product cycles for larger opportunities are a bit longer. Far-field charging technologies are expected to become available to the public in 2019.
__________
Image Credit: Apple
View Comments and Join the Discussion!
Posted-In: iPhone iPhone 8News Top Stories Exclusives Tech Trading Ideas Interview Best of Benzinga