Exclusive: Energous CEO Discusses Partnerships, Selected Due To 'Very Quick Product Cycles'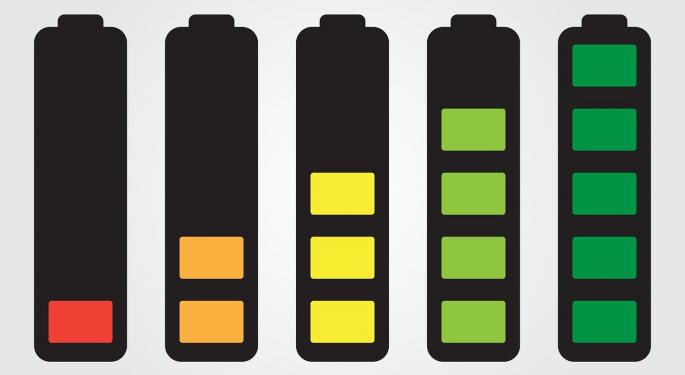 Energous Corp (NASDAQ: WATT) had a great 2016, with its stock posting returns of more than 113 percent. 2017 was off to a fair start as well, but the stock tumbled in the past few days, following negative research reports out of Cooperfield Research and Oppenheimer. Nonetheless, 2017 will be a great year for the company, CEO Stephen Rizzone told Benzinga in a recent conversation.
The CES
A few weeks ago, Energous participated in the CES and presented several products with its wireless-charging technology. After the event, we asked CEO Rizzone to walk us through some of the highlights.
"This was a very, very good CES for us," he said. "It was exceedingly busy. The company has now moved from its formative stages (from invention, from development and commercialization) to the point where we are preparing to ship mass quantities of ICs [integrated circuits; the center of the WattUp charging platform] in conjunction with customers and opportunities."
As many investors know, Energous is a fabless semiconductor company that licenses its antennae designs and its controlling software (used in its systems) to companies willing to incorporate its WattUp technology into their consumer-based and IoT devices. "So, what we showed at CES was the first customers that will be integrating our technology into consumer-based devices," the chief exec pointed out.
"Now, I think it is important to note that these particular partners were specifically selected because of their very quick product cycles," he added.
Selecting The Partnerships
Rizzone moved on to explain how the new partnerships will work.
"We were originally going to be shipping products to the consumer in the first quarter. But, when the Dialog Semiconductor agreement was signed, we made the decision to move all of our operations and all of our back-end silicon operations over to Dialog. So, moving forward, all of the orders for silicon go through us to Dialog, which handles all of the wafer orders, all of the forecasting, all of the inventory, all of the RMAs, all of the shipping, all of the qualifications, and so on and so forth.

"Obviously, that is a very, very big benefit to Energous. It is also a very, very big benefit to our customers because they are assured of an experienced and significant supply chain.

"Rather than start off with an Energous supply chain and have to run it temporarily, we decided to hold off and to wait until we had the Dialog supply chain up and fully operational, and integrated with Energous. This pushed us back a couple months in terms of actually shipping silicon. As a result, the first partners that we selected have very, very quick product cycles and that was very important to us because we want to get this technology out to the consumer as quickly as possible."
Getting The Technology Out
Energous' WattUp technology is being released in four iterations, Rizzone went on — check out how these iterations work following this link to a previous interview we conducted with the chief executive.
Talking about the first iteration, the contact based transmitter, the exec noted, "We have already received FCC approval for that; we have some very, very significant advantages over other types of contact based transmitters in terms of our cost, in terms of our footprint [...] We now have our receiver footprint down to about 4 mm x 4 mm. There is no competitive technology that can get down to that size and also that can get down to the cost, so it has been very well received by our customers."
"The second iteration is going to be our first true power at a distance iteration," he supplemented. "We expect to have these transmitters, which we are calling our midsize or desktop transmitters, in the hands of the consumer before the end of this year. These transmitters will send power out about three feet, in other words, covering your desktop."
The third iteration can charge multiple devices up to 15–18 feet away; the company anticipates this version will hit the market in the first half of 2018. The final iteration integrates a Wi-Fi router and a wire-free power router.
"We are talking to a number of Wi-Fi networking companies now about integrating our wire-free power router with their Wi-Fi router to provide combined Internet and wire-free power in a single device," Rizzone voiced. "It is also important to note that these transmitters also pair, just like cell towers, so it will be possible to implement multiple transmitters in an enterprise application and move freely from one end of a building, one end of a coffee shop, one end of an airport lounge, or from one end of your house to the other and continue to receive a change."
Check back tomorrow for Part 2 of this article, where Rizzone shares a look at the newly announced customers/partners and their products, including Bluetooth trackers, medical diagnosis systems, power dongles, hearing aids and smart ID cards, among others.
View Comments and Join the Discussion!
Posted-In: CES Dialog SemiconductorTopics Top Stories Movers Tech Interview General Best of Benzinga