Exclusive: Energous CEO Responds To Short-Seller Allegations, Says 'Their Only Purpose Is To Get Rich'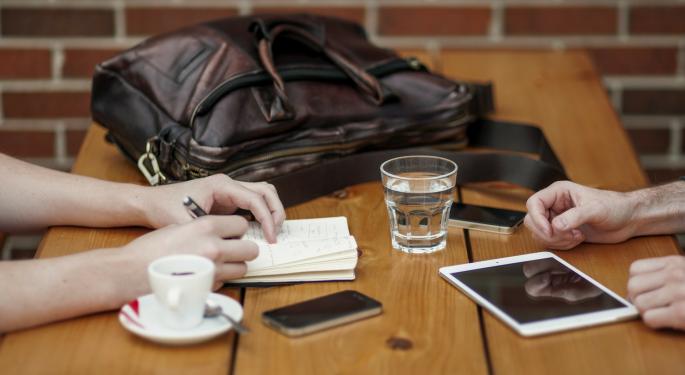 A couple of weeks ago, Benzinga talked with Energous Corp (NASDAQ: WATT)'s CEO Stephen Rizzone, who discussed the company's new partners and its product cycles, and even presented nine wirelessly-charging products that use the WattUp technology.
However, we determined we couldn't just talk about products and partners. We also had to address some more delicate issues, like FCC approval, short-sellers' allegations, etc. So, we asked.
FCC Issues
Energous bears constantly mention trouble with FCC approval of the company's transmitters. So, Benzinga enquired about the status of FCC approval for 3 feet and 15 feet transmitters.
"We have FCC approval for the contact based transmitters that will be shipping in Q2," Rizzone began. "We are on -I think- a very clear path to getting FCC approval for our distance transmitters well before they are expected to hit the market. So, we continue to progress with the FCC."
"To understand it, the process that is being contemplated and put in place is the same process if it is sending power up 6 inches, 3 feet, 6 feet or 15 feet. It is the same testing, the same requirements, so once we get the first FCC approval for power-to-distance it is scalable, assuming that the scaled transmitters meet the same stipulated regulatory requirements," he explicated, adding that the company is pretty convinced that they will, as they "have been specifically designed in such a way."
Having said this, the chief executive supplemented, the FCC is a "very thoughtful and very thorough agency, so you cannot predict time— But, we are quite comfortable in saying that we are well on a track to receive approval well before these power-to-distance transmitters are scheduled to hit the market, and we have had no fundamental walls placed in front of us," he pointed out.
"We have had issues, of course, but we have been able to meet and work with the FCC to resolve these issues. So again, we are quite comfortable with saying that we are going to have FCC approval for power-to-distance later on this year," he concluded.
Benzinga: Some articles out there state that WattUp is not safe for humans and cannot receive FCC approval under current FCC guidance. Could you comment on these claims?
Rizzone: Well, they are absolutely not true. You have to understand the source of these claims. These claims are not being made by altruistic individuals that are out for the good of mankind; they are being made by short-sellers. Short-sellers have one goal, to take money from our investors' pocket and put it into their pocket. That is their only goal.
So, they have no idea as to what we are doing; they have no inside information; they have no inside information at the FCC— All they do -and they are quite good at it- is take enough facts that can be assumed, or that can be gathered from discussions, or from third party sources, or from prior history, like Tesla and RF transmissions 200 years ago, to put together articles that sound convincing, but have no absolutely no basis for fact — none whatsoever.
So, again, we have been working with the FCC for well over a year now and we understand the rules and regulations very, very well. We also have a key strategic partnership that I am sure you are aware of and our key strategic partner has been working and has a tremendous number of FCC approvals. So, between the two of us, our understanding and working relationship with the FCC is very, very good and, as I said, we believe we are on a clear path.
The statements that are being made are false, inaccurate, and their only purpose is to empower and to enrich the short sellers. That is what they are there for.
Short-Sellers & False Claims
"The issue of shorts and short sellers [...] is a very significant issue for us because we have a large short position and we have had numerous articles on SeekingAlpha and so on and so forth— and they have absolutely been proven to be false," Rizzone went on, sharing an example.
"In one of the recent articles, they showed a diagram of a very, very early prototypical transmitter of ours. It had a number of discrete components on it. The claim was, because of all these discrete components, that the technology would never be cost effective for the consumer. This is old, old news," he explained.
"At CES we actually showed, or previewed (we have not made the announcement yet, but we will be making it soon)— we have a fully qualified IC that incorporates all of those discrete components into a single small IC," the exec continued. "That does two things for us. First of all, it substantially, dramatically reduces the cost, and also, it significantly increases our percentage of the bill of material because all of these third-party parts that were used in the first prototypes are now incorporated into a silicon chip that we are providing that we gain margin and revenue for."
"So again, this is just an example of articles that are being put together by very smart people who are very thorough and they take snippets of information, they take old news, they take rumors, they have enough scientific — I don't want to call it facts – but information to cobble together the articles that on the surface are quite compelling, but below the surface, it clearly speaks to what their singular goal is," he voiced.
In conclusion, Rizzone said, "we have been very, very transparent… And, the reality is you do not have a relationship with a key strategic partner like we do -we cannot tell you who it is… you do not have Dialog Semiconductor, a very significant and top tier semiconductor company, entering into the type of partnership – on an exclusive basis, investing $10 million in us, you do not have a 120-year-old company like Jersey Telecom investing $5 million just so they can become a future partner if this was smoke and mirrors."
Posted-In: Long Ideas News Short Ideas Rumors Legal Exclusives Movers Tech Best of Benzinga
View Comments and Join the Discussion!