Retro Tech Is Hot: Polaroid, Old Nintendo, The iPod And Even A CGI Colonel Sanders Make Comebacks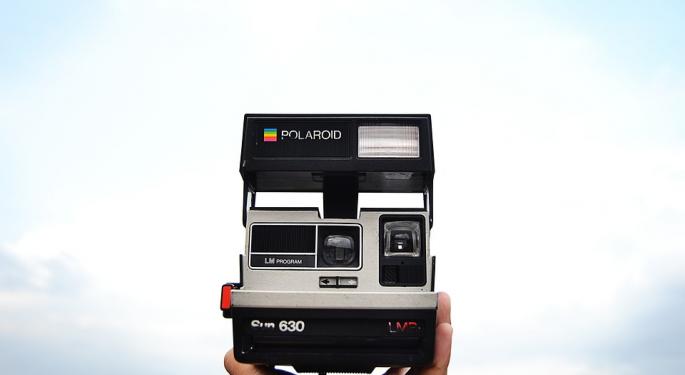 Retro tech is back, if it paradoxically ever went away.
For example: Sales of Apple Inc. (NASDAQ: AAPL)'s iPod shot up 929 percent on Australia's eBay Inc (NASDAQ: EBAY) in the week after the opening there of the movie "Baby Driver," which featured the MP3 player prominently.
Gizmodo's Aussie edition quoted eBay.com.au as saying there were a total of 107,354 product listings after the Edgar Wright-directed flick opened, and sales of the supposedly obsolete MP3 player jumped another 52 percent after Apple announced last week it was discontinuing most versions of the device.
The iPod famously kickstarted the company's resurgence in the 2000s, and the subsequent introduction of the iPhone in 2007 made the iPod iterations redundant.
Wright's movies are big in Britain and Australia, so there's that. But old tech draws the attention of collectors who cash in on cultural icons years after they are no longer available. They could be hoarding iPods with an eye toward making a collectible killing down the road.
Nostalgia is a powerful economic force. Here are another five other things that found life after imminent or actual death.
Vinyl Records
They were pummeled by the eight-track player, the cassette, digital downloads and essentially left for dead, but hip-hop DJs and audiophiles who liked the warmth of analog kept LPs clinging to life. The return to relevance was granted the seal of approval when Sony Corp (ADR) (NYSE: SNE) announced this month it was going to start putting out records on what old-school DJs once called "platters."
Related Link: iPhone Legacies: Six Industries The Smart Phone Hammered
The Waring Blender
Fred Waring introduced the blender to a milkshake-smitten America in the 1930s. The company makes a whole range of consumer and business food-processing products and sells multi-speed blenders for a wide range of prices. But its $159 art deco chrome model was an instant hit when it was re-introduced.
Polaroid Cameras
The smartphone crippled the burgeoning digital camera revolution with its high-quality lenses and motion-stabilizing tech. But for all the obsession with selfies, millennials found there is nothing like having an instant pic come out of the camera and produce something you can actually hold in your hand.
Polaroid cheated death twice, going through bankruptcy two times in the 2000s. While the privately held company is capitalizing on young people's fascination with the retro tech, Fujifilm Sonosite Inc (NASDAQ: SONO) has had even more success in the instant photo market.
Old Nintendo
Pent-up demand for the Nintendo SNES Classic Edition (Nintendo Co., Ltd (ADR) (OTC: NTDOY)), a take on the '90s version complete with retro games, is so profound one writer at Mashable titled his column "I'm going crazy because Nintendo won't hurry up and sell me an SNES Classic already." Relax. It's due out in September.
Colonel Sanders
He died in 1980, but that hasn't stopped the face and founder of KFC (Yum! Brands, Inc. (NYSE: YUM)) chicken from coming back, in the form of nine different actors who have portrayed him in commercials since 2015. At age 65, he borrowed $87, fried some chicken using his own recipe, and sold it door-to-door. At age 88, the founder of Kentucky Fried Chicken (KFC) Empire was a billionaire." The actors who have portrayed him in those commercials include Rob Lowe and George Hamilton and — this is where the tech part comes in — a completely CGI rendition that looked kind of creepy.
View Comments and Join the Discussion!
Posted-In: News Psychology Global Top Stories Tech Media Trading Ideas General Best of Benzinga