Trump Forced To Sign Sanctions Bill Against Russia; Reports Say President And Putin May Have Loopholes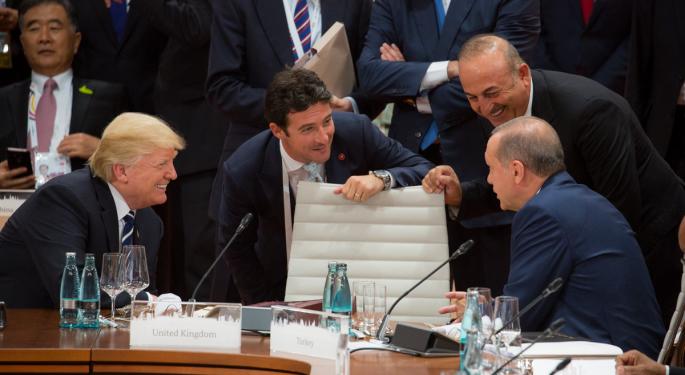 President Donald Trump on Wednesday signed legislation passed overwhelmingly by Congress that slaps Russia with new sanctions and restricts the scandal-plagued president's ability to weaken them.
Under enormous pressure to sign the bill into law while a special prosecutor probes Trump's own ties to the Kremlin, the sanctions are additional punishment for the Kremlin's meddling in last year's presidential election by digging up dirt on Democrat Hillary Clinton.
The sanctions add to moves taken previously by President Barack Obama, who shuttered two Russian compounds in the United States that were used as dachas of sorts for Russian diplomats. They add to sanctions that Obama imposed on the country for its 2014 invasion of the Crimea region of the Ukraine.
What The Sanctions Do
Anticipating that Trump — whose team is the target of several investigations into whether it colluded with the Kremlin to rig the election — might be pressured to sign the sanctions into law, Russian President Vladimir Putin ordered more than 755 American diplomatic personnel out of Russia.
The sanctions represent a new low in relations between the two nuclear superpowers.
The Senate had passed the sanctions by a vote of 98–2 and the House by a margin of 419–2, a rare show of bipartisanship in the face of what is viewed as Russian interference in the U.S. voting process.
Reports out of Washington indicated that Congress did not make the change that Trump wanted: removing the power of Congress to block Trump from easing or restricting the new rules. These reports come amid the signing statements accompanying the sanctions bill by the president, which read in part:
"Since this bill was first introduced, I have expressed my concerns to Congress about the many ways it improperly encroaches on Executive power. ... My Administration has attempted to work with Congress to make this bill better. ... Still, the bill remains seriously flawed, particularly because it encroaches on the executive branchs [sic] authority to negotiate. ... I built a truly great company worth many billions of dollars. That is a big part of the reason I was elected. As President, I can make far better deals with foreign countries than Congress."
A second statement from the president reads in part:
"[T]his legislation is significantly flawed. In its haste to pass this legislation, the Congress included a number of clearly unconstitutional provisions. ... those provisions purport to displace the President's exclusive constitutional authority ... purport to direct my subordinates in the executive branch to undertake certain diplomatic initiatives, in contravention of the President's exclusive constitutional authority to determine the time, scope, and objectives of international negotiations. ... My Administration will give careful and respectful consideration to the preferences expressed by the Congress in these various provisions and will implement them ina [sic] manner consistent with the President's constitutional authority to conduct foreign relations. Finally, my Administration particularly expects the Congress to refrain from using this flawed bill to hinder our important work ... our efforts to address any unintended consequences it may have for American businesses, our friends, or our allies."
The sanctions are economic and attack U.S. dealings with the oil industry, but Reuters was reporting a flaw that would let companies get by.
Reports: Trump, Russia Could Find Ways Around Sanctions
A gap in U.S. sanctions allows Western companies to help Russia develop some of its most challenging oil reserves, and risks undermining the broad aim of the measures, a Reuters investigation found.
The restrictions were meant to prevent Russia countering declining output from conventional wells by tapping these hard-to-recover reserves which require newer extraction techniques like fracking, an area where it relies on Western technology.
But Reuters said Norway's Statoil is helping Kremlin oil giant Rosneft (ROSN.MM) develop unconventional resources while British major BP (BP.L) is considering a similar project.
The so-called signing statements, meanwhile, were obtained by Bloomberg and lay out Trump's concerns about the legislation, including that it encroaches on presidential authority and may hurt U.S. ability to work with allies.
Trump's statements don't signal an intent to dodge the law, but they intend "for his administration to carry out the law in a way consistent with his constitutional authority, language that leaves open some room for interpretation of how the law is executed," the agency reported.
Trump's concerns cover four areas: encroachment on executive authority, unintentional harm to U.S. companies and business, as well as U.S. international partners, and limits on the flexibility of the administration to act in concert with allies in dealing with Russia.
Related link:
Why Russia (And Probably Exxon) Want Trump To Lift Sanctions
_________
Image Credit: By The White House from Washington, DC [Public domain], via Wikimedia Commons
View Comments and Join the Discussion!
Posted-In: News Emerging Markets Eurozone Futures Commodities Politics Events Global Best of Benzinga