Why Russia (And Probably Exxon) Want The U.S. To Lift Economic Sanctions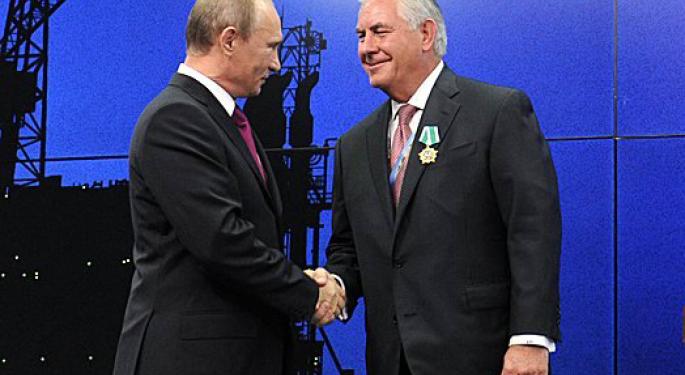 Word that President Donald Trump's son-in-law, Jared Kushner, met with the head of a Russian bank makes now a good time to look at the U.S. economic sanctions meant to punish the Kremlin for its invasion of the Ukraine, and why Moscow would go to great lengths to get them lifted.
A slew of sources told news agencies that, as part of a broader probe into Russian collusion with the Trump election campaign, the FBI is investigating a December meeting between Kushner and Sergey Gorkov, who at the time was head of the state-owned VneshEconomBank (VEB).
That bank was among several sanctioned by the United States and other nations after Russia invaded the Ukraine's Crimea region in March 2014.
Western firms impacted by the sanctions include Ford Motor Company (NYSE: F), McDonald's Corporation (NYSE: MCD) and, perhaps most significantly, Exxon Mobil Corporation (NYSE: XOM), whose former chairman, Rex Tillerson, has close ties o Russian businesses and is now Trump's secretary of state.
The Sanctions Explained
Russia invaded the Ukraine in 2014 and declared the Crimea region as its own.
Through a series of executive orders signed by then-President Barack Obama and put in place by the U.S. Treasury and State Departments, the sanctions:
Declared a national emergency to deal with the threat posed by people who had undermined democracy in Ukraine; threatened the peace, security, stability, sovereignty and territorial integrity of Ukraine; and contributed to the theft of Ukraine's assets.
Singled out the names of individuals and institutions in cahoots with President Vladimir Putin, which included the VEB bank, and denied them access to Western financial markets.
Prohibited exports, imports or investments to or from the Crimea region.
Imposed travel bans on more than a hundred people and froze more than half a billion dollars in targeted assets.
Sanctions Came At Worst Time For Russia
The sanctions, coincidentally, came at a time when oil prices were plunging, crippling Russia's main source of revenue, and leading to the collapse of the ruble.
So, it's not surprising that Russia would like to see the end of sanctions imposed by the United States, as well as the European Union and Japan.
The question that remains is not only whether the Russians helped Trump get elected by hacking into emails about Democratic challenger Hillary Clinton, but whether a web of Trump advisers tried to prepare for the lifting of sanctions before the current president was even inaugurated.
And the spotlight of that part of the probe has fallen on the ultimate insider, a top Trump advisor who was born to real estate wealth and married into even more of it by hooking up with mate Ivanka Trump, both of whom remain — for now — the president's closest confidantes.
Related Links:
Historian Who Picked Trump Presidency Now Forecasts His Impeachment
Former Nixon Library Historian Has A Familiar Feeling About Trump
_____
Image Credit: Kremlin.ru [CC BY 4.0 (http://creativecommons.org/licenses/by/4.0)], via Wikimedia Commons
View Comments and Join the Discussion!
Posted-In: News Emerging Markets Eurozone Futures Commodities Politics Legal Events Best of Benzinga