2017 Politics Cultivate Corporate Hypocrisy: It's Cool To Be An Advocate, But Hard To Be An Activist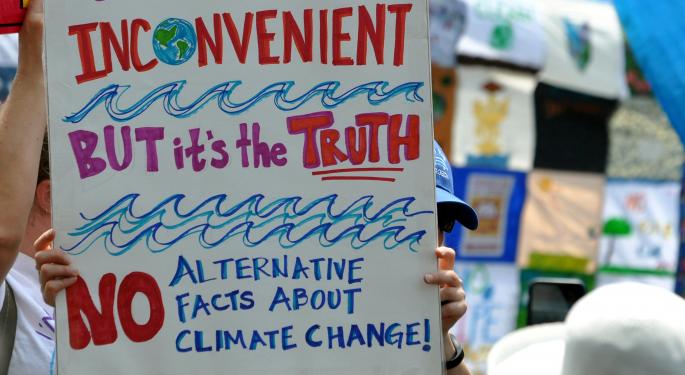 Nobody likes drama — except for the public sycophant, who has undoubtedly seen a convenient opportunity or two in recent political turmoil.
Amid policy controversies and under the pressure of brand boycotts, a few American corporations quickly embraced fashionable causes ━ and the cameras they captivated ━ but ultimately failed to stay engaged.
As media attention waned, they quietly retreated from the front lines and continued with business as usual, which in some instances meant a return to private strategies violating their public stances.
Environmentalism
After the U.S. withdrew from the Paris Climate Accord, several firms protested, including some that had previously resisted Western regulations through developing-world factories.
Twitter Inc (NYSE: TWTR) users specifically called out Nike Inc (NYSE: NKE) for verbally supporting environmental efforts while refusing to transition into wholly innocuous operational strategies. Last July, activist Greenpeace reported Nike's failure to comply with its "Detox" commitment to eliminate hazardous chemicals and PFC emissions from its processes.
Gap Inc (NYSE: GPS) also spoke out in favor of sustainable methods but altogether refused to commit to the Greenpeace Detox movement.
Human Rights
Apple Inc. (NASDAQ: AAPL) wrote in protest of President Donald Trump's initial immigration ban and the repeal of the U.S. conflict minerals law forbidding public companies from using minerals funding human rights abuses in Congo.
"We do this because it's the right thing to do," Apple said in a statement about its minerals compliance.
In spite of its address, though, allegations continued of enduring human rights violations. Apple was exposed in March to contract an iPhone factory whose employees receive unsustainable wages and are pressured into mandatory overtime.
Apple isn't alone in embracing only the convenient or profitable elements of the general human rights campaign.
Levi Strauss & Co. and Uber Technologies verbally protested the immigration ban after the former had yet to address 2015 allegations of Chinese labor exploitation and the latter took fire for fostering a culture of sexism and abuse.
In an era of fake news, unkept promises and unfulfilled campaign rhetoric, engagement and personal/corporate responsibility are easily sparked but not so easily maintained.
Related Links:
Blue-Collar Workers Must Adapt To Survive
Environmental-Minded McDonald's Shareholder Sees Proposals Shot Down At Company's Annual Meeting
________
Image Credit: By Edward Kimmel from Takoma Park, MD - Climate March 0363, CC BY-SA 2.0, via Wikimedia Commons
View Comments and Join the Discussion!
Posted-In: News Education Futures Politics Topics Top Stories Markets General Best of Benzinga