Shoppers Voice Their Support And Displeasure With Retailers Dumping Trump-Related Brands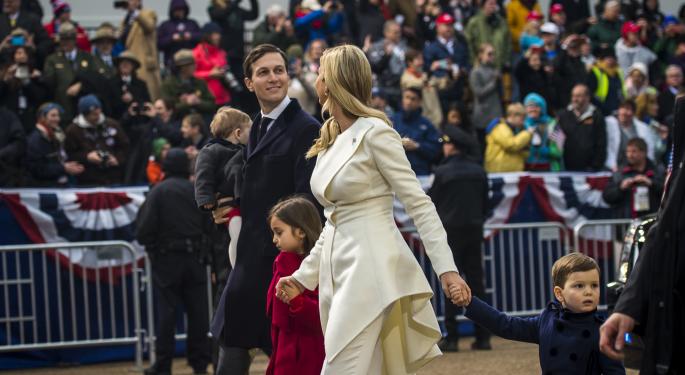 The recent decision by Nordstrom, Inc. (NYSE: JWN) to stop carrying Ivanka Trump line of products has been given a political caolor by the man himself. President Donald Trump said in a tweet, "My daughter Ivanka has been treated so unfairly by @Nordstrom. She is a great person -- always pushing me to do the right thing! Terrible!"
My daughter Ivanka has been treated so unfairly by @Nordstrom. She is a great person -- always pushing me to do the right thing! Terrible!

— Donald J. Trump (@realDonaldTrump) February 8, 2017
Opposition Grows
This was viewed by many as outrageous, as Trump has used his official capacity (the tweet from his personal twitter handle was retweeted by the official @POTUS account later) to condemn a move against his family. White House Press Secretary Sean Spicer defended the action, reasoning that the president has every right to stand up for his family.
This was followed by a direct plug from Kellyanne Conway, a top advisor and counselor to Trump, in which she said during a Fox News interview from the White House briefing room, "[G]o buy Ivanka's stuff." Conway has been "counselled" following this breach of ethics.
Nordstrom is not the only retailer who has had a rethink on Ivanka's products. TJX Companies Inc (NYSE: TJX)'s Marshalls and TJ Maxx have been asked by its parent to reduce visibility of Ivanka Trump's clothing and accessories. A company spokeswoman reportedly clarified Ivanka Trump's products would be moved to general merchandise racks and Ivanka Trump in-store signs were to be thrown away.
A Trump Dump?
On October 11, 2016, a Twitter Inc (NYSE: TWTR) campaign by the name #GrabYourWallet was launched, calling for consumers to boycott shopping at stores doing business with the Trump family. Subsequently, a list of such retailers was released. The movement was started in response to the revelation by the Washington Post of a 2005 "Access Hollywood" video that showed the president making lewd comments about women.
Even after the campaign, Nordstrom said in November 2016 it would carry the Ivanka products as long as it is profitable for them, as it wanted to steer clear of the swirling political controversies. Reports also suggest that the company was already saddled with the Spring Collection of the Ivanka Trump. However, the stance did not help the company, as online sales of the brand between December 2 and December 27 dipped.
Therefore, it is apparent that Norstrom's action of dumping Ivanka products is not linked to its political stance. As outlined by the company defending its action, the move follows the sales of the brand taking a severe hit in the second half of 2016.
How Are Consumers Reacting?
Consumers have reacted to the development in as diverse ways as they can. Even as consumers are voicing their support for the dumping through the #GrabYourWallet campaign, another hashtag #buyIvanka has also been circulating widely. Particularly, those opposing Ivanka products are highlighting the fact that much of the line's products are sourced from China even as Trump is opposing a Chinese supply glut into the United States. Appreciating Nordstrom's announcement, consumers have renewed their allegiance to the retailer.
Here are a few interesting tweets circulated under these trending hashtags:
#Trump can't stop the #grabyourwallett or #grabthembythewallet movements. We WILL bankrupt this morally bankrupt family. #Nordstrom pic.twitter.com/Kv7zL0ZJBA

— AskCharlita_LA (@AskCharlita) February 9, 2017
This was one aimed at Under Armour Inc (NYSE: UA) (NYSE: UAA), which has been pro-Trump, with its CEO calling Trump an asset to the country.
Decisions: Never buy #UnderArmour again, & (if it's even possible) love @StephenCurry30 even more: https://t.co/D1b6ECXkJg #GrabYourWallett pic.twitter.com/Ag03bN4H3V

— Chasing Geekdom (@ChasingGeekdom) February 9, 2017
This one posted under the #BuyIvanka hashtag takes potshot at the Chinese connection of Ivanka's products.
Make America Great Again. #BuyIvanka pic.twitter.com/vME8ILg4cy

— Jason Sparks (@sparksjls) February 9, 2017
Meanwhile, those siding with Ivanka Trump camp have also been vociferous.
The Twitter war between those who oppose the retailers' move and those who applaud them for their bold stance has turned nasty. That said, Twitter, whose user statistics have been souring, can take comfort from this user engagement and hope for some propping up from the feud between both parties.
Image Credit: By DoD photo by U.S. Air Force Staff Sgt. Marianique Santos - https://www.dvidshub.net/image/3114504/obama-hands-over-presidency-trump-58th-presidential-inauguration, Public Domain, via Wikimedia Commons
View Comments and Join the Discussion!
Posted-In: News Politics Events Movers Tech Media Trading Ideas General Best of Benzinga