Environmental-Minded McDonald's Shareholder Sees Proposals Shot Down At Company's Annual Meeting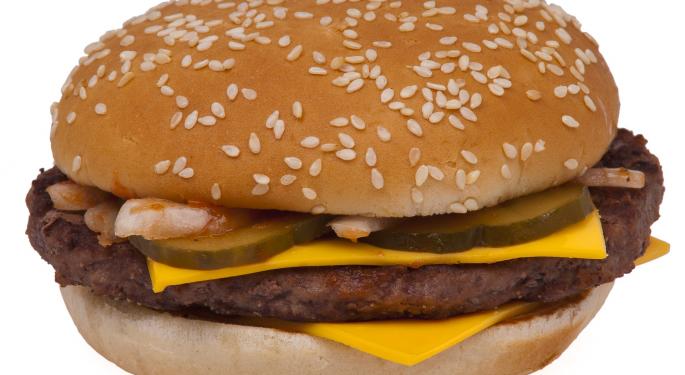 McDonald's Corporation (NYSE: MCD) shareholders have voted down proposals to update the company's policies regarding the use of antibiotics in its meat, to assess the environmental impact of polystyrene foam cups and to release a report on the company's charitable contributions. For environmentalists and supporters of natural food, the votes came as a major disappointment. For investors, they were not surprising. The company recommended shareholders vote against all three proposals.
What's The Beef?
There has been a major movement toward antibiotic-free meat in fast-food restaurants in recent years. While a number of restaurants have switched to antibiotic-free chicken, McDonald's and other restaurants are dragging their heels in switching to antibiotic-free pork and beef. Yum! Brands, Inc. (NYSE: YUM)'s KFC franchise is the latest chain to pledge to switch to antibiotic-free chicken.
A group of nuns called the Benedict Sisters of Boerne, Texas, submitted the shareholder proposal for McDonald's to spell out goals and a timeline for switching to "clean" beef and pork. The company said it runs the risk of disrupting its business and experiencing a meat shortage if it makes the transition too quickly.
Related Link: McDonald's Investor: Ban Antibiotics!
Leaching Polystyrene
A recent study published in Environmental Health found that polystyrene cups may be having a major impact on fast food restaurants' customers' health, according to Mother Jones.
The study found that polystyrene, the resin used in Dow Chemical Co (NYSE: DOW)'s Styrofoam and other similar materials, consistently leach estrogen-like chemicals after exposure to ultraviolet rays or intense steam. Estrogen is the primary female sex hormone and is responsible for controlling a woman's monthly menstrual cycle.
"The company has not shown awareness of the potential for polystyrene waste to create brand risk, or shown evidence of plans to phase out polystyrene packaging globally, or of how to respond to the increasing presence of its plastic packaging in ocean gyres," the shareholder resolution read.
McDonald's agreed to phase-out its use of polystyrene cups at all of its U.S. locations in 2013 following pressure from shareholders, but still uses the material at its international locations.
Posted-In: News Futures Politics Topics Restaurants Events Markets General Best of Benzinga
View Comments and Join the Discussion!