Adding Perspective To Google's $2.7 Billion European Fine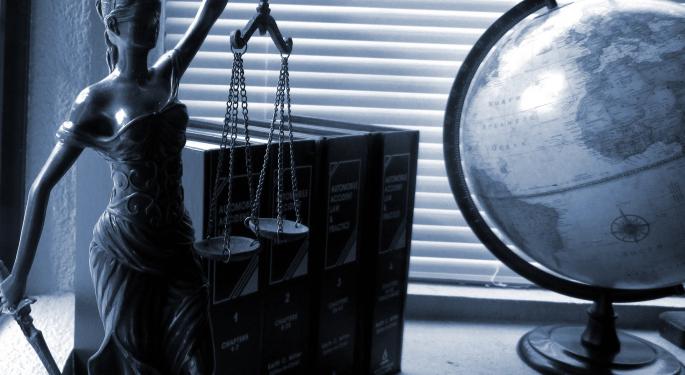 Alphabet Inc (NASDAQ: GOOGL) (NASDAQ: GOOG) was on the receiving end of the European Union's wrath, as the latter fined the search giant a whopping 2.42 billion euros on the pretext of violation of anti-trust rules.
This of course has precedence, so how does this fine stack up against EU's previous regulatory clamp downs?
1. Truck Producers Taken To Task
The EU fined truck makers, including MAN, Volvo, Daimler AG (ADR) (OTC: DDAIY), Iveco and DAF, in 2016 for colluding on truck prices for 17 years. The collective fine ran to a total of 2.93 billion euros, with Daimler alone asked to pay 1.008 billion euros.
2. Intel's CPU Hegemony
Intel Corporation (NASDAQ: INTC) was asked to pay up 1.06 billion euros in 2009 after being found abusing its market dominance in CPUs between 2002 and 2007. In blatant case of anti-trust violation, the company was accused of extending rebates to PC makers to use its CPUs.
3. Microsoft In Violation On Multiple Occasions
The EU has fined Microsoft Corporation (NASDAQ: MSFT) on more than one occasion. The software giant was slapped with a 900-million-euro fine, for charging hefty royalty between 2004 and 2007 to access documentation that would allow non-Microsoft servers to work on Windows computers. A 561-million-euro fine was imposed on Microsoft in 2013 for preventing consumers from having their preferred choice of browsers.
4. Telefonica Pulled Up For Unfair Pricing
The EU fined Spanish telecommunication company Telefonica S.A. (ADR) (NYSE: TEF) 151 million euros for engaging in unfair pricing in the Spanish broadband market.
5. Banks Called Out For Rate Rigging
In 2016, the EU fined JPMorgan Chase & Co. (NYSE: JPM), HSBC Holdings plc (ADR) (NYSE: HSBC) and CREDIT AGRICOLE SA ADR EA REPR 0.5 ORD EUR3.0 (OTC: CRARY) a combined $500 million for manipulating prices of financial products linked to interest rates.
Google Faces EU Ultimatum
The allegation against Google was that it abused its market dominance as a search engine by giving undue advantage to its comparison-shopping service, thereby denying European consumers a genuine choice of services and the full benefits of innovation. The investigation into the company, running for about seven years now, came at the behest of smaller shopping websites and other biggies such as News Corp (NASDAQ: NWS), Axel Springer and Microsoft.
If the company doesn't correct the aberration within 90 days, the EU threatened penalty payments up to 5 percent of its average daily worldwide turnover.
More Serious Repercussions Ahead
The fine per se, may not mean much for the company despite the amount being massive, according to a Bloomberg article, which pointed to Google's $90 billion cash hoard. The penalty announced on non-compliance within 90 days would shave a sizeable portion of the company's ad revenues.
The Bloomberg article also indicated that the company might be stifled further by regulatory scrutiny on its other services such as maps and restaurant reviews.
Though Google said it is reviewing the EU decision and considering an appeal, it has to take action, given that the order issued against it is in the nature of cease-and-desist. This order calling for immediate cessation of activity means Google cannot continue with the action that is being contended even as attornies plead the case.
Related News:
DeVry University Hit With $100 Million FTC Fine Over Misleading Students
Raymond James Downgrades Wells Fargo, $185 Million Fine Might Just Be Tip Of The Iceberg
View Comments and Join the Discussion!
Posted-In: News Education Eurozone Legal Global Markets Tech General Best of Benzinga