7 Instances When Chinese Regulators Cracked The Whip On Internet/Media Firms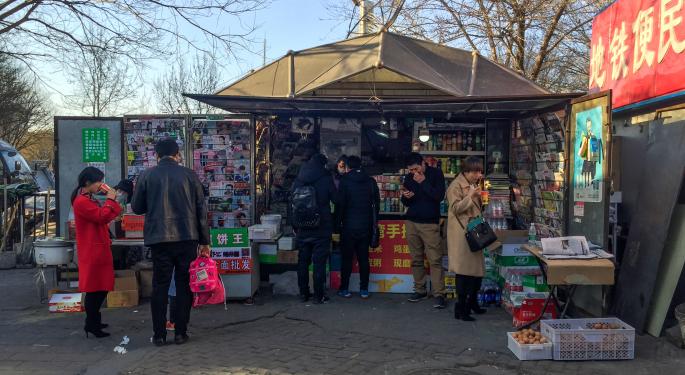 China's authoritarian and communist regime has never shied away from controversies. So, when the nation ordered a few web portals to shut down their audio and video streaming services fearing they carry inflammable political content, it came as a no surprise.
A host of Chinese internet stocks, including Weibo Corp (ADR) (NASDAQ: WB), Momo Inc (ADR) (NASDAQ: MOMO), Phoenix New Media Ltd ADR (NYSE: FENG) and YY Inc (ADR) (NASDAQ: YY) swooned in reaction to the development.
SINA Corp (NASDAQ: SINA), which has a stake in Weibo, also tumbled.
Weibo confirmed that the State Administration of Press, Publication, Radio, Film and Television of the People's Republic of China or SAPPRFT has ordered local authorities to take measures to suspend audio and video services of some internet companies.
This has been done on the pretext of these companies not possessing the required license for transmitting audio/video on the Web and posting certain commentary programs. The government claimed the political content carried by the websites violates state rules and social commentary incited negative opinions, according to Reuters.
This Reuters report quoted a SAPPRFT statement, which said, "This will provide a clean and clear internet space for the wide number of online user."
The companies named by SAPPRFT include Weibo, the Chinese-equivalent of Twitter Inc (NYSE: TWTR), Phoenix New Media and video sharing website AcFun.
Even as the news wreaks havoc on the Chinese internet space, Benzinga looked at instances in the past, when China played spoilsport for some tech/media companies, both homegrown and alien.
1. Google/Facebook Trip Over Chinese Firewall
Alphabet Inc (NASDAQ: GOOGL) (NASDAQ: GOOG)'s consumer facing search engine was shut down in China in 2009, while China blocked Facebook Inc (NASDAQ: FB) in 2010. China claims that these companies show scant respect to Chinese laws. If at all these companies have to gain a foothold in the lucrative Chinese market, they may have to agree to the censorship rules laid down by the government and also help to bring to book, individuals who are perceived as threats to the nation.
2. Apple Plays It Safe
Apple Inc. (NASDAQ: AAPL), which has a huge customer base in China, didn't think it worthwhile to risk its business prospects in China. In January this year, the company removed the New York Times Co (NYSE: NYT) app from its app store in China.
3. Economist And Times Join The Banned
China added the Economist and Times to its banned list in April 2016 after these publications carried cover stories on Chinese President Xi Jinping's growing clout. Apart from their websites, mobile applications that allow downloading of these magazines were also censored.
4. Noose Around The News
In May 2016, China took to task Chinese online news portals for disseminating original news and information in violation of a 2005 internet regulation. These online media have enamored themselves to internet users by their bold and original reporting on several controversial issues such as industrial pollution and tainted milk powder. The move came a year ahead of a conclave of Communist party leaders held once in five years to elect a new set of officials.
5. Banning As A Matter Of Pride
Google's AlphaGo, AI computer program that plays the board game Go, recently edged out World Number One Ke Jie in the first of a series of three games. China issued a diktat to online publishers and broadcasters not to livestream the game. The government saw it as a hurt to the national pride, as Go is one of the cherished games across East Asia, including China.
6. Entertainment News Isn't Spared Either
Celebrity gossip, which is supposed to be the life support of entertainment news, had its life snuffed out recently when the Beijing bureau of the Cyberspace Administration of China told internet companies to help promote core socialist values and refrain from covering sensational juicy celebrity gossips, which it said is a threat to social order. Since then, several blog sites reporting such news have disappeared.
7. Trump At The Receiving End
Even as an intimidating figure as U.S. President Donald Trump could not deter China from censoring his inauguration. Piqued by Trump's threats to renegotiate the trade terms with it, China issued strict orders to media outlets not to carry any live streaming audio/video of the inauguration and instead asked them to limit their coverage to the content generated by the state media, according to the Financial Times.
At Time Of Writing
Weibo was sliding 5.89 percent to $72.43.
Sina was down 4.61 percent at $87.69.
Phoenix New Media shares were off 1.82 percent at $2.70.
YY was down 1.41 percent at $51.58.
Momo was up 0.75 percent at $38.99.
Related Links:
Where You Should Expect To See Effects Of Netflix's Breakthrough In China
RBC's Top 10 Internet Surprises For 2017
_________
Image Credit: By N509FZ (Own work) [CC BY-SA 4.0 (http://creativecommons.org/licenses/by-sa/4.0)], via Wikimedia Commons
Posted-In: ChinaNews Emerging Markets Global Markets Tech Media General Best of Benzinga
View Comments and Join the Discussion!