Jack Ma And UPS CEO David Abney On The China Opportunity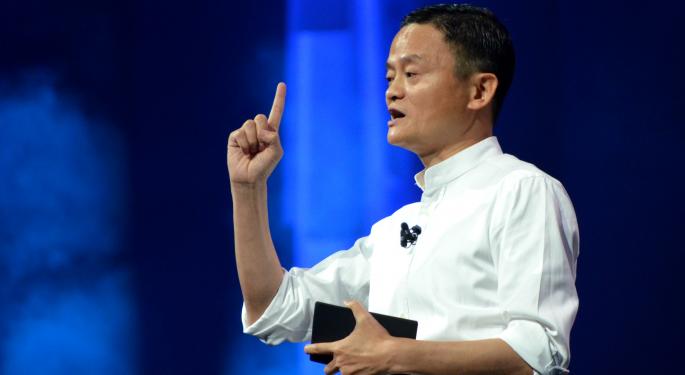 Entrepreneurs are living through a critical time of transition in technology, business and globalization, Alibaba Group Holding Ltd (NYSE: BABA) Executive Chairman Jack Ma said Wednesday in Detroit.
The companies that use the internet well in the coming years "will win," Ma told an audience of 3,000 small business people at Alibaba's Gateway '17 gathering.
"We are in a critical period of technology revolution. In every technology revolution, the first 50 years are critical."
The affable and sometimes humorously self-deprecating 52-year-old billionaire said that while he believes emerging artificial intelligence technology will kill some jobs in the short term, it will create them in the long term.
"Machines will be smarter, but humans are always wiser," Ma said.
The Gateway '17 conference, the first of its kind to be held by Alibaba in the U.S., focuses on connecting American entrepreneurs with the Chinese market.
China's growth will fundamentally change the global economy, Ma said: "China is shifting from exporting to importing. We have 1.4 billion people."
The country's challenges — "we have terrible air, we have terrible water [and] we have terrible soil" — create a need for quality products available for purchase, Ma said.
Alibaba's sales were 11 percent of Chinese retail as a whole in 2016, Ma said. He shared examples of the speed and scope with which the company operates, including shipping 72,000 live lobsters from Canada to China in 72 hours.
On June 18, Alibaba sold 2 million lipsticks in under 10 minutes.
"Everything goes so quick and fast," Ma said.
The executive's leadership advice included focusing on customers and products first, rather than shareholders.
Ma said optimism is a core component of leadership.
"As a leader, you should never complain. If you complain, nobody will follow."
In the next three decades, Ma said entrepreneurs should watch people under 30, small companies and women.
"Women are going to be very powerful in the 21st century," he said.
UPS Turns Its Dragon Around
When Alibaba's Ma met with President Donald Trump before he took office in January, he said 1 million jobs could be created in the U.S. within five years by taking advantage of the Chinese market.
It's doable, David Abney, the CEO of United Parcel Service, Inc. (NYSE: UPS) said at Cobo Center Wednesday.
UPS has operated in China since 1988. "You just cannot ignore China," Abney said, pointing to several metrics that highlight the country's importance:
U.S. exports to China increased 115 percent between 2006 and 2015.
China's middle class is larger than the total American population.
One-third of the world's largest cities are projected to be in China by 2030.
Abney, who started work at UPS when he was 19 and worked his way to the top of the company, said doing business in China requires navigation of challenges such as regulation and trade, cultural and language barriers.
"Our goal is to help small businesses tight on resources navigate the seas of global commerce."
The CEO said UPS' first foray into China was marked by a cultural misunderstanding that could have been prevented with local input.
When the delivery company's first plane in China landed with fanfare, it had a large dragon painted on the side, Abney said — a symbol of power.
The only problem? The dragon was facing backwards.
Related Links:
One Sign Institutions May Be Getting Bullish On Alibaba
JPMorgan Chase's $150 Million Detroit Investment: Repair, Revitalize, Reinvest
________
Image Credit: "As a leader, you should never complain. If you complain, nobody will follow," Alibaba Executive Chairman Jack Ma said during the Gateway '17 conference in Detroit on Wednesday. Photo by Dustin Blitchok.
Posted-In: AlibabaNews Entrepreneurship Events Global Tech Media General Best of Benzinga
View Comments and Join the Discussion!