One Sign Institutions May Be Getting Bullish On Alibaba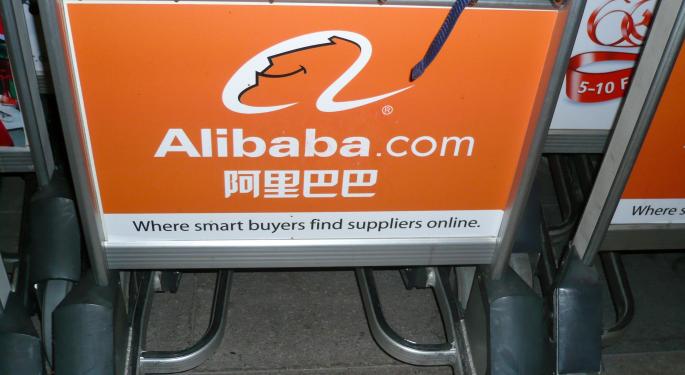 To say that Alibaba Group Holding Ltd (NYSE: BABA)'s 2018 guidance for between 45 and 49 percent revenue growth in 2018 got Wall Street's attention would be an understatement.
Not only did Alibaba's stock initially jump more than 10 percent to new all-time highs on the news earlier this month, it did so on more than 80 million in daily volume, its highest daily volume in more than a year. In fact, Alibaba has now logged nine consecutive trading days of greater than 20 million in daily volume following its guidance announcement, well above its 90-day average daily volume of only 12.9 million.
Related Link: Strategist On Alibaba: This Was A 'Fortunate Accident' For Traders
This type of huge volume spike is often indicative of institutional buying, and recent 13F filings among hedge funds confirm that Alibaba has been a favorite among hedge funds in 2017. In the first quarter alone, hedge funds added a total of $700 million to their net long positions in Alibaba, pumping more money into Alibaba stock than any other U.S.-listed Chinese company. The love for Alibaba is a stark contrast to how these institutional buyers felt about the stock just a year ago, when it was among the most sold Chinese stocks.
If the massive recent volume in Alibaba is any indication, hedge funds and other institutional investors may not be done with Alibaba just yet.
Alibaba founder Jack Ma spoke on Tuesday at the Gateway '17 conference in Detroit and made some lofty predictions about the type of growth that Alibaba has on the horizon.
"By year 2035, we will be the fifth largest economy in the world," Ma said of Alibaba. He also said the company estimates it will reach $1 trillion in gross merchandise sales within three years.
If Alibaba can deliver on those predictions, it's no wonder the stock has captured Wall Street's imagination.
So far, hedge funds' bullish bets on Alibaba have paid off handsomely in 2017. Alibaba stock is now up 58.7 percent year-to-date.
Image: Andy Mitchell, Flickr
Posted-In: Jack MaLong Ideas Hedge Funds Trading Ideas General Best of Benzinga
View Comments and Join the Discussion!