Why Companies Are Willing To Let Trump Take Credit For Previously-Planned Job Creation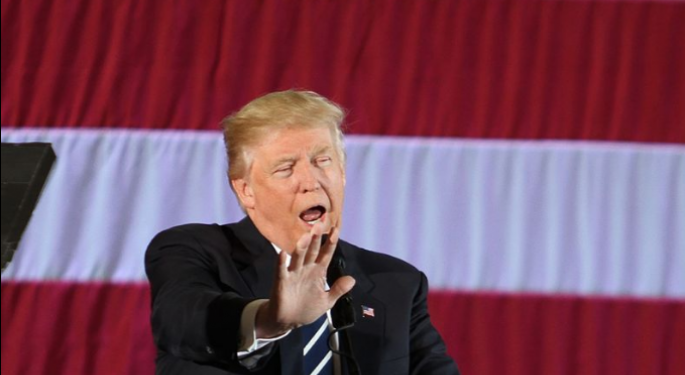 Amazon.com, Inc. (NASDAQ: AMZN) announced Thursday it plans to create 100,000 new jobs in the next 18 months. Despite no indication from Amazon that the decision had anything to do with his proposed policies, President-elect Donald Trump has taken credit for the announcement.
"The president-elect was pleased to play a role in that decision," incoming press secretary Sean Spicer said of the announcement.
Amazon previously created 150,000 jobs from 2011 to 2016.
Without a comment from Amazon management, it's impossible to say whether Trump actually played a role in Amazon's latest expansion plans, but Trump seems to have no reservations taking credit for job creation plans.
Hardly The First Time Trump Takes Credit For Pre-Existing Plans
Trump thanked Fiat Chrysler Automobiles NV (NYSE: FCAU) on Twitter earlier this week after the company announced plans to create 2,000 new U.S. jobs. FCA spokesperson Jodi Tinson later confirmed "this plan was in the works back in 2015."
Some members of the media have also connected Toyota Motor Corp (ADR) (NYSE: TM)'s decision to invest 410 billion in the United States with a scalding tweet Trump send out condemning Toyota just days before.
However, CEO Jim Lentz confirmed that the investment had nothing to do with Trump's tweet.
In December, Trump tweeted that Japan's SoftBank had agreed to invest $50 billion in the United States and create 50,000 U.S. jobs. Trump added that the CEO of SoftBank "said he would never do this had we (Trump) not won the election!"
In reality, SoftBank had formed the $100 billion Vision Fund to invest in emerging technologies back in October of 2016.
Trump also recently met with Alibaba Group Holding Ltd (NYSE: BABA) founder Jack Ma and announced Alibaba plans to create 1 million U.S. jobs in the next five years. "Jack and I are going to do some great things," Trump said following the meeting.
However, the million-job-plan Ma was touting following the meeting sounds eerily similar to the plan Ma wrote about in the Wall Street Journal back in June 2015.
Politico speculates that companies such as Alibaba, Dow Chemical (NYSE: DOW), United Technologies Corporation (NYSE: UTX) and International Business Machines Corp. (NYSE: IBM) are happy to let Trump take credit for their prior expansion plans if it means getting on the President-elect's good side.
Getting On His Good Side
"A growing list of companies [...] have sought to give Trump the credit he seeks for job or investment announcements, hoping their concessions can win them seats at the table as Trump begins crafting policies in health care, education, financial services and technology," Politico's Tony Romm wrote.
Sure enough, shortly after Trump's incoming press secretary's comments, business journalist David Faber commented on the situation, tweeting, "Amazon's PR team uses prodigious, but previously planned hiring to create news event that gets it on right side of @realDonald Trump. Smart!"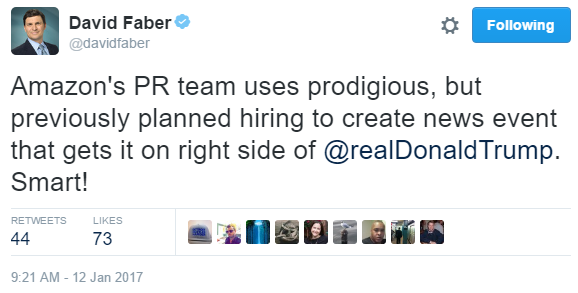 If plans to get on Trump's good side actually work, shareholders of these companies may eventually be handsomely rewarded for all the credit they have handed to Trump in the form of favorable legislative treatment down the line.
Disclosure: The author is long BABA.
Image Credit: Derived from "Geaux_Vote_rally" By Tammy Anthony Baker from Louisiana - LAGOP GOTVR Dec2016 251, CC BY 2.0, via Wikimedia Commons
Posted-In: Donald Trump employment Jack Ma Jim LentzPolitics Top Stories Economics General Best of Benzinga
View Comments and Join the Discussion!