JPMorgan Chase's $150 Million Detroit Investment: Repair, Revitalize, Reinvest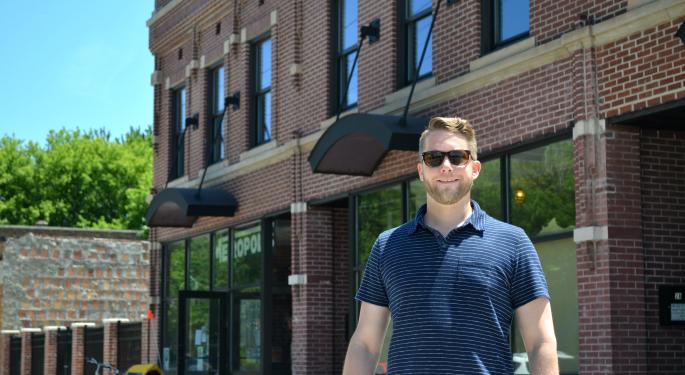 As Detroit goes, so goes JPMorgan Chase & Co. (NYSE: JPM).
The bank's $150 million commitment to post-bankruptcy Detroit — dedicated to community and small business development, workforce readiness and neighborhood revitalization — is a sound investment, said Tosha Tabron, Chase's vice president of global philanthropy.
The goal is to "accelerate and attract additional investment into the city to help it grow" with the bank's dollars, Tabron told Benzinga.
"And as it grew, we knew we would do better as a company as well."
'We've Never Had A Short-Term View'
Chase's commitment to the city, which it increased by $50 million in May, is visible on both sides of Kercheval Avenue, about 4 miles east of downtown.
That's where developer Reimer Priester and his business partners have renovated the Garland building with $1.3 million in financing from Capital Impact Partners, a community development financial institution that's lending $30 million from Chase with an eye toward catalyzing neighborhood development.
Developer Reimer Priester sits on the steps of a historic duplex in Detroit's West Village where a local business, Busted Bra Shop, plans to open a second location. Photo by Dustin Blitchok.
At the 6,900-square-foot Garland building, which has commercial space on its ground floor and apartments upstairs, the restaurant and butcher shop Marrow is scheduled to open by the end of the year.
The previously vacant building would not have been completed without Capital Impact Partners, Priester said. The nonprofit is mandated by the government to lend in underserved areas.
"It goes without saying that without [Chase and Capital Impact Partners], finding $1 million of private financing would have been impossible short of private equity," Priester said.
The developer is working on three turn-of-the-20th-century duplexes a block to the east of the Garland, where a bar, pizza restaurant and bike shop are set to open by summer's end.
Down the street, another duplex with gray, peeling paint that dates to 1912 is being renovated by Priester and his partners. Local retailer Busted Bra Shop is opening its second location in the building this year, he said.
In the still-blighted residential area to the north, Priester owns 100 parcels and is privately financing their development. The first phase includes 40 homes, and Priester said they'll be sold to homeowners, not investors. He's calling the area North Village.
"We've never had a short-term view of our investment in the community," Priester said.
Putting Dollars To Work In Neighborhoods
The North Village development is exactly what Melinda Clemons, the senior loan officer at Capital Impact Partners, hopes to see as the nonprofit makes targeted investments in neighborhoods miles from Detroit's rejuvenated downtown.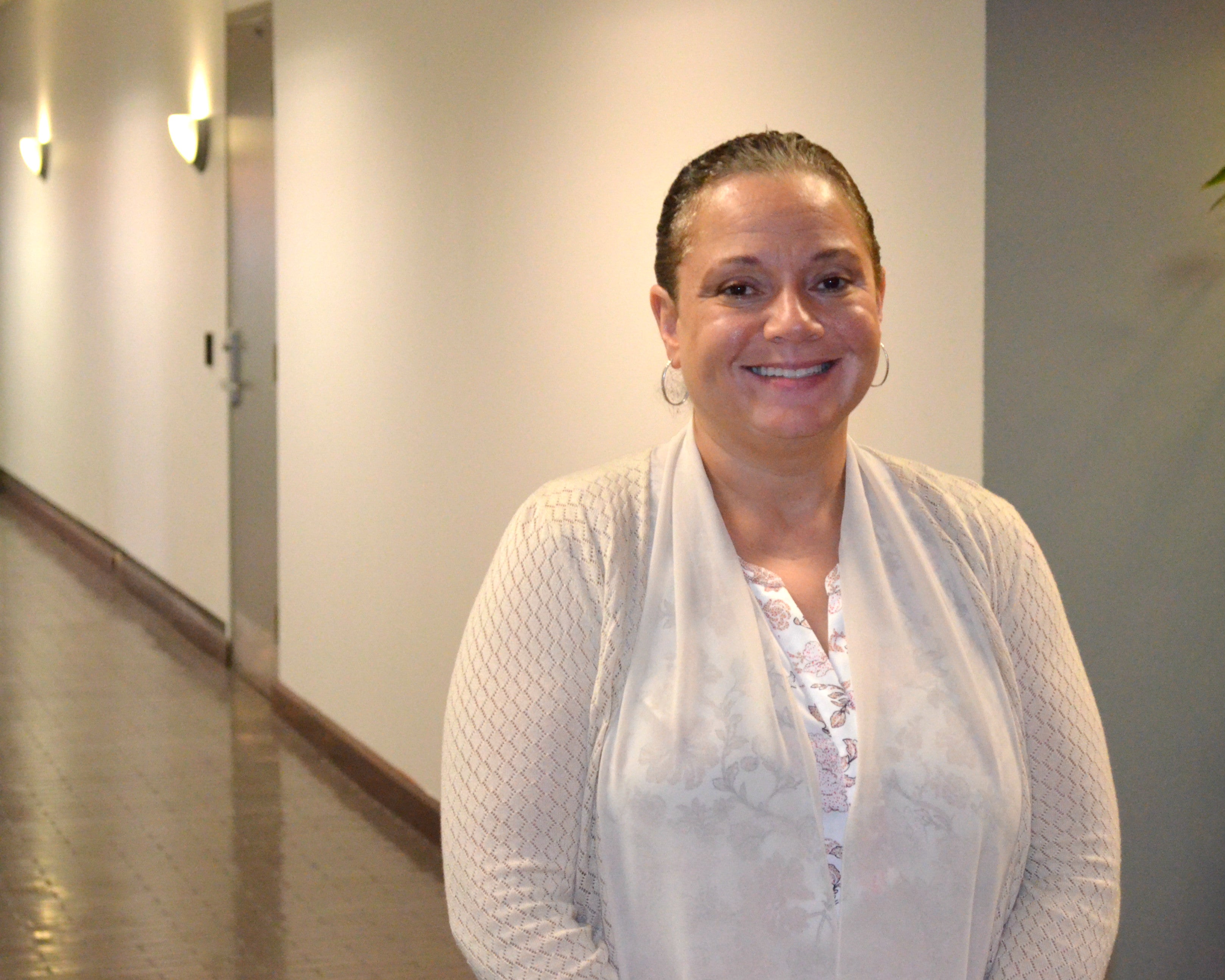 Melinda Clemons, senior loan officer at Capital Impact Partners, at the community development financial institution's office in Detroit's New Center neighborhood. "We're able to take on risk that Chase's stockholder's wouldn't," Clemons says of the nonprofit's lending. Photo by Dustin Blitchok.
Chase lent $30 million at a favorable interest rate to Capital Impact Partners, creating what's called the Detroit Neighborhood Fund. The nonprofit then lends the money to projects that wouldn't otherwise qualify for major bank financing, Clemons said.
Chase receives Community Reinvestment Act credit for its loan to Capital Impact Partners, Clemons said.
Capital Impact Partners is able to use a 120 percent loan-to-value ratio, rather than the traditional 80 percent ratio used by major banks, Clemons said. With Detroit's typically low property appraisals, that can mean the difference between an idea and a ribbon-cutting for a mixed-use project in the city.
"We're able to take on risk that Chase's stockholders wouldn't," said Clemons, a lifelong Detroiter.
The loans are considered higher risk, but Capital Impact Partners requires operating reserves that can cover debt payments if unfavorable circumstances arise.
Chase's Tabron said the partnership with Capital Impact Partners isn't a money-making endeavor, but it's not a donation either.
"It's for us to take a market risk and show other investors you can actually do deals in Detroit with viable companies and they will pay you back," she said. "This is not a charity."
Capital Impact Partners has lent $170 million in Detroit since beginning operations in Detroit, where it opened an office in 2014, Clemons said.
The nonprofit focuses on lending to community-facing developments such as charter schools, federally qualified health centers, sources of healthy food and projects geared toward residents who are 50 and older.
The lender worked in Midtown for five years, where rental returns and cash flow are now high enough that traditional banks are entering the neighborhood, Clemons said.
"We want them to come. Now we can take our dollars and go to [the Livernois and McNichols neighborhood] and West Village," she said. "The goal is that West Village and other neighborhoods will be stabilized like Midtown."
Investments Include Streetcar, Minority Contractors
Other arms of Chase's Detroit investment address specific needs. When the construction of the QLine streetcar hurt traffic for businesses along Woodward Avenue, Chase spent $600,000 on a retention program to support them.
The bank provided $1.5 million toward the construction of the $140-million streetcar line and $13.5 million in New Market Tax Credit Allocations.
The bank established the $6.5-million Entrepreneurs of Color fund for minority-owned small businesses in Detroit after identifying a need for capital in that sector. The fund's work includes loans to both startups and established businesses and minority contractors.
If a contractor bids on work, they can apply for a loan to make the work possible, such as hiring staff or buying inventory, Tabron said. She said the Entrepreneurs of Color fund meets a pent-up demand in Detroit.
"There's a lot of talent. This is a city that has always invented and created," Tabron said.
"There were a lot of companies that had been doing business in the city for decades but just were under capacity. They needed a bit more technical assistance or a little bit more capital or mentorship."
'Leverage, Leverage, Leverage'
Chase's business was thriving, and the bank thought Detroit was "ripe" for investment after it exited a $18 billion municipal bankruptcy in late 2014, Tabron said.
The bank's initial $100 million investment zeroed in on jobs for Detroiters, blight reduction and small business.
"$100 million is not anything to sneeze about, but it's certainly not enough to fix the city [entirely]," Tabron said. "What we're thriving on and what we're trying to do is leverage. Leverage, leverage, leverage."
If a neighborhood has underlying strengths, such as major institutions, housing stock and engaged residents, a capital injection can go a long way, Tabron said.
"All these things weave together."
Related Links:
In The Motor City, Bikes Are In The Vanguard Of Development
The American Dream In One Minute: 'Shark Tank' Casts A Net For Entrepreneurs In Detroit
___________
Image Credit: Developer Reimer Priester and his business partners redeveloped the Garland building on Detroit's east side with a $1.3-million loan from Capital Impact Partners. The project would not have been possible without the nonprofit's lending terms, he says. Photo by Dustin Blitchok.
View Comments and Join the Discussion!
Posted-In: Capital Impact PartnersNews Financing Top Stories Economics Exclusives Interview Real Estate Best of Benzinga