How These 3 Retailers Are Outperforming The Sector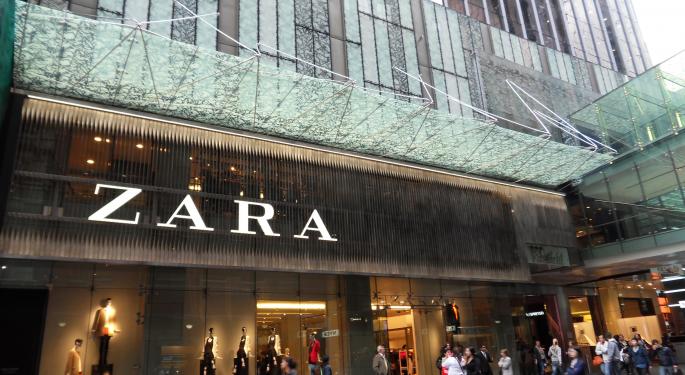 Fashion retailer Zara was profiled by the Wall Street Journal earlier this month, highlighting how the Spanish-traded company has managed to greatly outperform the sector overall.
The company, which trades under its parent Inditex SA (BME: ITX) is up 129 percent over the last five years, compared to the SPDR S&P Retail (EFT) (NYSE: XRT) up 37 percent.
Since the sector peaked on April 10, 2015, Zara is up 16.6 percent while the index is down 21 percent.
Zara's success despite the retail slump was attributed to unique business model. The company receives daily feedback from its stores around the world, which informs a team of 600 designers on what items are or are not selling.
That team then creates new designs that go into production in just days, keeping Zara's consumers happy with ever-changing collections. The model also scales well online, keeping the company on par with consumers' desire for speed and convenience.
In light for Zara's success, here are three other retailers that have stayed above the curve for their own unique reasons.
Home Depot Inc (NYSE: HD)
Home Depot is up more than 200 percent over the last five years and up 36.3 percent since April 10, 2015.
The home improvement store benefits from the very nature of its products. Consumers looking to make permanent changes to their homes, like a new light fixture or granite countertop want to see what they're getting in person before buying.
To this end, people have to go to the store, where they can also ask questions and communicate with sales associates about very specific details much easier than online communications.
It also doesn't hurt that many of products consumers look to Home Depot to buy, like refrigerators and large 2x4s don't translate well to individual shipping.
The company has also invested heavily in its e-commerce business — a fatal flaw of many retailers in which even if shoppers examine items in-store, the choose to buy online for convenience or cheaper prices.
Associates equipped with tablets can order for people right then and there if the item is not in stock.
Home Depot's biggest competitor, Lowe's Companies, Inc. (NYSE: LOW) has also stayed ahead of the sector for similar reasons.
Ulta Beauty Inc (NASDAQ: ULTA)
Ulta shares have risen by 208 percent over the past five years, and are up 95.1 percent since April 10, 2015.
The beauty retailer thrives in an age of Instagram (parent company, NASDAQ: FB)) and Snap Inc (NYSE: SNAP), where consumers seem to be more concerned about appearance online than ever, and makeup only lasts for so long.
But Ulta really derives its outperformance from the full salon services offered by each store. While cosmetics can be easily bought online, e-commerce giants like Amazon.com, Inc. (NASDAQ: AMZN) can't do nails and color hair.
Costco Wholesale Corporation (NASDAQ: COST)
The membership-only warehouse company is up 82.5 percent in the last five years and 10 percent since April 10, 2015.
Costco sells everything from groceries to coffins, all at wholesale prices. The catch it that shoppers have to pay for yearly memberships.
This subscription model is mimicked to a degree by Amazon's Prime service, but the company still doesn't offer prices as low on most products.
Costco also benefits from its gas stations, which customers can get a discount at.
Related Links:
Retail Job Losses: Does This Point Toward Protracted Sectoral Weakness?
Department Store Sector Heats Up As Nordstrom Considers Go-Private Deal
_____
Image Credit: By Mw12310 (Own work) [CC BY-SA 3.0 (http://creativecommons.org/licenses/by-sa/3.0)], via Wikimedia Commons
Posted-In: Zara Wall Street JournalTop Stories Media Trading Ideas Best of Benzinga
View Comments and Join the Discussion!