Exclusive: Michael Phelps Talks Mental Health Awareness, Medibio's Algorithmic Diagnosis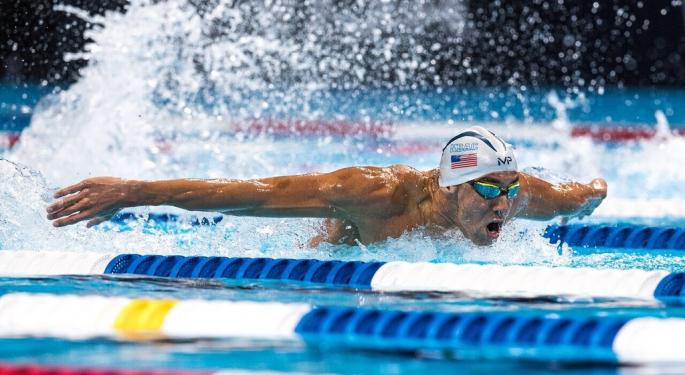 Mental health is a widespread problem that affects us all in some way, but the stigma regarding the issue and treatment still prevents the issue from making significant progress.
Over 350 million people are considered depressed, but only about half of that figure actually goes in to get diagnosed. Of those diagnosed, 70 percent are correctly diagnosed, and of that 70 percent, only 20 percent are optimally treated –- just 7 percent of the depressed population.
One big issue that surrounds mental health diagnosis is the subjectivity of the screening process; a doctor will generally ask several questions regarding a patient's health and well-being. When mental health patient's behavior and feelings vary rapidly, this is often not the best method of diagnosis.
A new company aims to revolutionize this process and provide help to millions in need through a new objective screening technology unlike anything in the market currently.
Algorithmic Diagnosis
MEDIBIO LTD NPV (OTC:MDBIF) was founded based on research conducted in Western Australia, where objective quantitative data is utilized through an algorithm to diagnose exactly what issues a patient is facing.
"Regarding treatment, right now doctors will generally ask a bunch of subjective questions, the DSM-5 is the diagnostic, but there is no objective test to really determine if a patient has a mental illness or not," MediBio CFO Brian Mower told Benzinga. "That is where our technology comes in, to give an objective diagnosis of mental illness."
"Researchers have seen that there is no objective measure out there currently," said Mower. "If we can make an objective measurement and pattern, then we are onto something."
The Challenge
The first challenge when it comes to mental health is a proper diagnosis. Too often have we hear the stories of patients getting the wrong diagnosis and then ultimately the wrong medication, which can have devastating effects.
Medibio has developed a test using biomarkers to help diagnose depression, chronic stress and other disorders, utilizing circadian rhythm, sleep and blood pressure measurements. Studies are show between 86-95 percent accuracy of diagnosis. Medibio expects to submit for 510(K) approval with the FDA in the second quarter of 2018.
Phelps On Board
Medibio's technology has shown so much promise that it attracted Olympic legend Michael Phelps to join the board, aligning with his mission to help spread awareness of mental illness and combat the stigma. Phelps notably battled with mental health issues of his own.
"Growing up as a kid with ADHD, I was constantly bouncing off the wall," Phelps told Benzinga. "I could never sit still. I had teachers telling me I could never amount to anything and that I would never be successful in life."
Nobody Is Perfect
"For me, to open up about my story, hopefully we can have other people open up about their story as well because we know they are out there," said Phelps. "Nobody's perfect, we are all human beings, and we do go through the same things in life. For me for the longest time I could never ask for help, I am trying to encourage people to go out and ask for help."
Athletes that spend so much time and dedication practicing and preparing for their sport, especially an Olympic athlete, are susceptible to depression after competition is over.
"As an Olympic athlete, I can speak for a couple teammates that have gone through depression. You build up for four years, you get to that peak, and two days after the Olympics have started you're done, and then it's like, 'well where do I go from here?' That's where athletes can find themselves in trouble," said Phelps.
Teaming Up
With Phelps being one of the most studied athletes in history from an analytical perspective, it's no wonder he took the same approach to his mental health issues, ultimately teaming up with Medibio to address and understand the issues he was having.
"I have been somebody who has been about stats my whole life, I'm all about numbers. I think it's really cool to see when I have a mild stress level day, all the different varieties of stress, and be able to go back and say, well why was I having this on this day," he said.
"We are able to have a better understanding of what the person needs, where we are able to send that person based off test results that are given. I think that is something that nobody has seen and it is endless opportunity to really be able to pinpoint every single need that everybody has."
Medibio hopes that in teaming with Phelps, the company will raise awareness of this issue and of the technology that could potentially have huge impact on millions of people. It starts with the conquering the stigma of asking for help.
"Athletes are scared to ask for help," Phelps explained. "It took me a long time to finally realize that it's okay to ask for help and it's okay to not be okay. Once I found that out I was able to save my life and make my life exponentially better, that's something that I will forever be thankful for."
'Incredible' Opportunity
Phelps has used his public figure to make an impact and talk about difficult issues that many have not been able to address. Raising awareness and combating the pitfalls of a misdiagnosis have become very important to him following his retirement from competitive swimming.
"I think the biggest thing for me throughout my career, I want to be able to be apart of things that are a passion for me and things that I am interested in. That's literally what I have done throughout my whole entire career. When we first starting having conversations talking about Medibio a year ago, it was something that instantly perked my interest, because it was something I thought I could help with and something I wanted to help with. It's incredible."
Photo credit: Aqua Sphere
View Comments and Join the Discussion!
Posted-In: News Health Care Psychology Sports Top Stories Exclusives Tech Interview Best of Benzinga