Historian Who Picked Trump Presidency Now Forecasts His Impeachment: Second 100 Days More Important Than First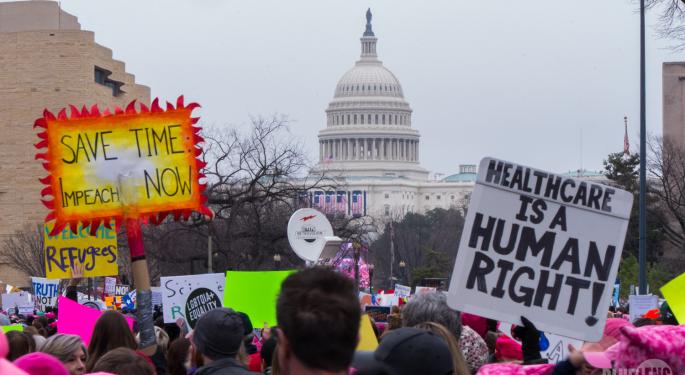 Historian Allan J. Lichtman took serious heat from the Left for predicting Donald Trump would win the presidency. Now, he's hearing it from the Right because he's predicting Trump is hurtling toward impeachment.
He counts the many ways in his latest book, "The Case For Impeachment," (HarperCollins Publishers LLC), which came out in April as Trump closed in on his first 100 days in office, which officially end Saturday.
More crucial, Lichtman said, are the next 100 days. After failing to get legislative traction on core campaign pledges, Trump needs to make gains before myriad investigations into his Russian ties, treatment of women, conflicts of interest and other issues coalesce to kill his presidency.
"I think the next 100 days are more critical than the first 100 days," said Lichtman, history professor at American University.
Promises Unkept
The litany of setbacks:
Attempts to overhaul healthcare? Tabled because of lack of Congressional support.
Promise of $1 trillion in infrastructure? Still no concrete plan.
Immigration reform? Blocked by federal courts.
The wall at the Mexican border? Dropped from the spending bill meant to keep the government running beyond this week.
Tax code overhaul? No action in Congress.
Fix free trade agreements? Softened his stance on China as a currency manipulator and suddenly blamed Canada for flaws with NAFTA. Aides said it would be scrapped, then backtracked.
"He campaigned as a dealmaker and has not gotten anything done," Lichtman said, with the notable exception of getting Neil Gorsuch appointed to the U.S. Supreme Court.
Hurdles Ahead
Meanwhile, the next 100 days are bringing what could be a series of fresh obstacles that could coalesce into a juggernaut, including:
Conflicts of interest: The watchdog group Citizens for Responsibility and Ethics in Washington, or CREW, filed a lawsuit alleging Trump's business holdings violate the Emoluments Clause of the Constitution.
Defamation and treatment of women: Gloria Allred, the Los Angeles lawyer representing Summer Zervos, a contestant on Trump's TV show "The Apprentice" who alleges sexually molested her, wants Trump on the witness stand.
Russian connection: The FBI, the Pentagon and two panels in Congress are investigating team Trump's ties to Russian oligarchs and whether the latter tampered with the U.S. election.
Decisions by courts that have temporarily blocked Trump's attempt to punish cities that provide so-called sanctuary to undocumented immigrants and his ban on travel from mainly Islamic nations in which the Trump administration considers hotbeds of Islamic terrorism.
Pressure from business to overall the tax code, impose tariffs on imports and get started on infrastructure improvements.
Shore up his historically low approval ratings that may tempt Republicans to swap out Trump with his stolidly Christian conservative vice-president, Mike Pence.
The Pence Prerogative
"Pence figures into this significantly," he said. "If Trump becomes a liability, they could turn against him."
Lichtman is the author of 10 books. Using a predictive model and ignoring polls and pundits, he's called the winner of every presidential election since 1984.
Lichtman said Trump's maverick style is reminiscent of that of former President Andrew Johnson, who served from 1865 to 1869 after the assassination of Abraham Lincoln. Johnson was the first American president impeached by the House; his conviction by the Senate fell one vote short.
The Shadow Of Nixon
But Trump hews even closer to former President Richard Nixon, who resigned in 1974 because of abuse of power and cover-up allegations stemming from the Watergate scandal. Though Trump has no experience in public service and Nixon was the quintessential political lifer, Lichtman said the two men share some telling personality traits.
"Both men lack core guiding principles. They see themselves as beset by enemies and beset by the press," he said. "Neither man has respect for American traditions. And both have a proclivity to lie."
Lichtman, often called the predicting professor, writes in his book: "Counting Nixon, one out of every fourteen presidents has faced impeachment. Gamblers have become rich betting on longer odds than that."
Related Links:
100 Days Of Trump: Do Oddsmakers Think He'll Make It A Full Term?
Where Is All The Market Fear?
________
Image Credit: "Trump, Women's March, 2017" By Mark Dixon from Pittsburgh, PA - Trump-WomensMarch_2017-top-1060131, CC BY 2.0, via Wikimedia Commons
View Comments and Join the Discussion!
Posted-In: Allan Lichtman Congress CREW Donald Trump emoluments clausePolitics Top Stories General Best of Benzinga