April Auto Sales See Declines Across The Board: Gas Guzzlers In, Cars Out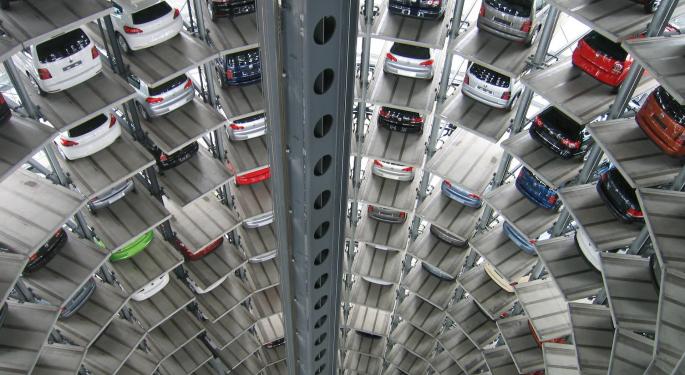 Coming off a record year, automakers were pressured to keep the good show going in 2017. Tidings weren't good in the first three months of the year, as bloated inventory levels and heavy discounting took a toll on the automakers. The lackluster performance continued into April, and the shares of the major automakers are slumping in reaction to the monthly sales results.
The April numbers vouched for a shift in consumer preference for gas guzzling crossovers and trucks, with car sales suffering a backlash.
Muted Industry Forecast
Edmunds estimated sales of 1,431,695 vehicles in April, representing an 8-percent decline from March 2017 and a 4-percent year-over-year drop.
"The industry has been holding its breath to see if the days of peak sales are over, and while Q1 sales managed to remain stable, we're starting to see the slowdown in 2017 we've been anticipating," said Jessica Caldwell, Edmunds executive director of industry analysis.
"Year-over-year declines in monthly sales may become more typical as the year progresses, but there's no reason to be in panic mode. Historically, car sales are still strong."
Meanwhile, TrueCar Inc (NASDAQ: TRUE) said in a PR Newswire release it expects a 3.9 percent year-over-year decline. The company expected April's vehicles sales to come in at a seasonally adjusted annual rate of 17.1 million, down from $17.4 million last year.
Finding some positives, however, the firm noted typically Easter weekend sales are 2-percent lower than average. With Easter falling in April this year as opposed to March last year, the sales drop isn't foreboding trying times. The firm also estimated incentive spending of $3,465 per vehicle, down 2.5 percent from last month, but up 13.9 percent year-over-year.
GM's Down Month
General Motors Company (NYSE: GM) reported April sales of 244,406, down 6 percent year-over-year. However, adjusting for one fewer selling day in April 2017 versus 2016, selling day-adjusted sales were 4 percentage points higher than the reported sales.
Retail sales were down an unadjusted 4 percent compared to an 11-percent decline in fleet sales.
Average transaction prices were about $35,000, up over $600 per unit compared to the first quarter.
The company noted the strength was in crossover vehicles, with Chevrolet, Buick, GMC and Cadillac faring well. The company clarified that crossovers accounted for about one-third of its deliveries.
GM said it expects to end 2017 at essentially the same inventory levels as 2016, on a days' supply basis.
Ford's Car And Trucks Sales Dip
Ford Motor Company (NYSE: F) said its April sales fell 7.2 percent to 214,695, with retail sales down 10.5 percent and fleet sales remaining flat.
Among vehicle categories, car sales slumped 21.2 percent and truck sales fell 4.2 percent while SUV sales rose 1.2 percent.
The company noted that average transaction price rose $1,900 in April, above the average industry increase of $210, fueled by strong demand for high-series Super Duty trucks and diesel powertrains.
Fiat Chrysler's Sales Decline Streak Continues
Fiat Chrysler Automobiles NV (NYSE: FCAU) reported a 7 percent drop in sales to 190,071. Fleet sales, representing 17 percent of the total sales, fell 21 percent, while retail sales, accounting for 83 percent of the sales, were down a more modest 3 percent.
Equally Dismal Months For Foreign Brands
At The Time Of Writing
General Motors shares were sliding 2.98 percent to $33.18.
Ford was receding 3.90 percent to $10.98.
Fiat Chrysler stock was slumping 4.38 percent to $10.91.
Toyota shares were advancing 1.01 percent at $109.39.
Honda Motor was seen slipping 0.72 percent to $28.87.
Nissan was adding 0.47 percent at $19.21.
Volkswagen shares were dipping 0.59 percent to $32.11.
Related Links:
Did Subprime Auto Loans Just Claim Their First Victim In Ally Financial?
Automakers Eye The Finish Line in Sprint To Rollout Driverless Vehicles
Posted-In: April Auto Sales auto salesNews Travel Econ #s Movers Trading Ideas General Best of Benzinga
View Comments and Join the Discussion!