Automakers' March Numbers Deflate Share Prices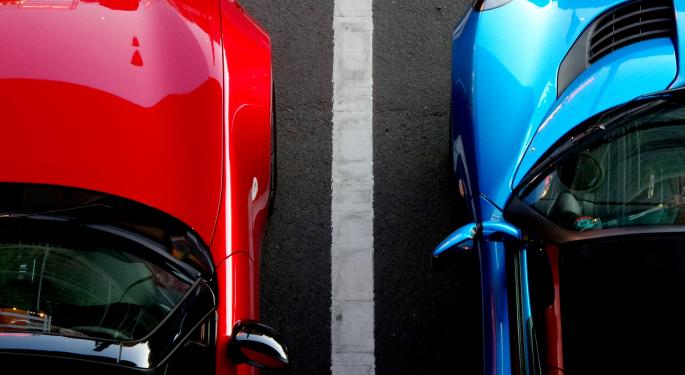 Shares of automakers and auto parts retailers took a hit on Monday amid the release of lackluster March sales data, as car sales took a hit amid consumer preference for SUVs and trucks in a low gas prices environment. The "double-I" concerns, namely incentives and inventories, did not bode well for the companies either.
Among the big three, General Motors Company (NYSE: GM) saw sales growth for March, although the increase was less than expected. Ford Motor Company (NYSE: F)'s and Fiat Chrysler Automobiles NV (NYSE: FCAU) reported sales declines for the month.
Total vehicle sales were, on average, expected to come in at a seasonally adjusted annual rate of 17.4 million units, down from a 17.6-million-unit rate.
In February, auto sales remained flat amid incentive-splurge and the bump up provided by the President's Day holiday weekend.
Analysts Saw Modest March Rise
Forecaster Edmunds.com predicted auto sales rising 2 percent year-over-year in March to 1,609,846 vehicles. Sequentially, sales were up 12 percent. Used car sales were expected to have increased to 3.6 million in March, up from 3.4 million in February.
"If you only look at the sales numbers, it could be tempting to say that the industry is just as strong as it was a year ago," said Jessica Caldwell, Edmunds executive director of industry analysis. "But there are several areas of concern this year lurking just below the surface. Inventories have reached levels not seen in more than a decade, and incentives are rising. We're also seeing an increase in loan terms and indications of a rise in subprime lending, which demonstrate sales aren't coming as easily as they used to."
Meanwhile, JD Power had forecast a 2.4 percent year-over-year increase in March retail sales, with total sales up an estimated 1.6 percent to 1.620 million units.
The firm foresaw a new high in incentive levels for March, expecting it to exceed 10 percent of the MSRP threshold for the ninth consecutive month.
Volume Down And Value Up
ALG estimated 2.2 percent increase in revenues from new vehicles sales to $52 billion in March. This would come on the back of higher than expected average transaction prices despite a 13.4 percent increase in incentive spending.
General Motors
General Motors reported a 2 percent increase in March retail sales to 256,224 units, with its market share rising an estimated 0.4 percentage points to 15.9 percent.
Retail sales rose 5 percent, giving it a 16.1 percent share, up 0.6 percentage points.
Meanwhile, commercial deliveries rose 3 percent, helped by a 67 percent increase in Malibu deliveries and strong pick up and large van sales.
On inventories, GM said it expects inventory levels at the end of 2017 to be same as that in 2016. The company expressed hopes of seeing moderate incentive spending environment going forward due to launches of new crossovers and adjustments to passenger car inventories.
Ford
Ford's monthly sales fell 7.2 percent year-over-year in March to 236,250 vehicles. Fleet sales slumped 16.9 percent and rental sales were down a more modest 1.5 percent. Among categories, a 24.2 percent slump in car sales and a 3.4 percent decline in SUV sales were offset to some extent by a 2.5 percent increase in truck sales.
The company's average transaction pricing rose $1,800 in March.
Fiat Chrysler
Fiat Chrysler reported a 5 percent decline in sales to 199,467 units. Fleet sales, which accounted for 23 percent of the total sales, fell 15 percent, and retail sales slid 1 percent and contributed 77 percent to total sales.
Asian Carmakers
Toyota Motor Corp (ADR) (NYSE: TM)'s March sales fell 2.1 percent to 215,224. With March 2017 having the same selling days as 2016, sales fell 2.1 percent on a daily selling rate basis.
Nissan Motor Co Ltd (ADR) (OTC: NSANY) said it sales rose 3.2 percent in March, helped by a 0.5 percent increase in Nissan Division sales and a 32.6 percent jump in Infiniti sales.
Honda Motor Co Ltd (ADR) (NYSE: HMC)'s March sales fell 0.7 percent to 137,227 vehicles. Acura division sales plunged 21.2 percent, while Honda division sales rose 1.8 percent, propped up by a 12.6 percent increase in Honda trucks.
At Time Of Publication
Fiat Chrysler shares were down 4.85 percent at $10.40.
Ford shares were down 2.45 percent at $11.35.
General Motors shares were down 3.73 percent at $34.04.
Honda shares were down 0.83 percent at $30.01.
Nissan shares were down 0.26 percent at $19.21.
Toyota shares were down 0.45 percent at $108.13.
Related Links:
Trump's Border Tax: Which Auto Makers Are Most At Risk?
View Comments and Join the Discussion!
Posted-In: automakers AutosNews Travel Econ #s Movers Trading Ideas General Best of Benzinga