The Philippines: Land Of Extrajudicial Murders And One Big Trump Tower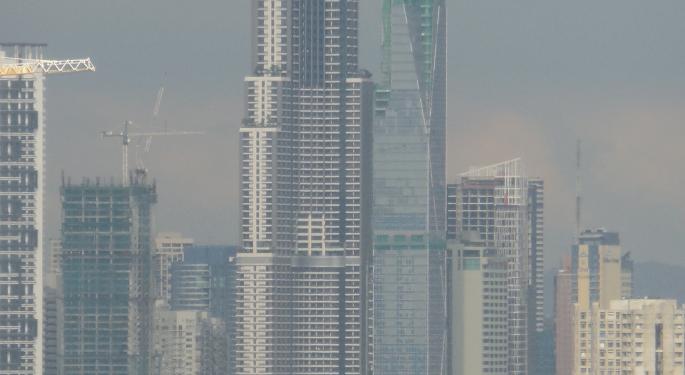 A growth rate that beats China's. An investment-grade rating by Standard & Poors. Roughly $24 billion in trade with the United States and a long history of mostly amicable relations. A Trump Tower in the capital city?
A meeting between President Donald Trump and Philippines President Rodrigo Duterte might seem like a natural thing, if the latter wasn't an alleged mass murderer responsible for the deaths of 7,000 suspected drug users and dealers, including three people he claimed to have killed himself while mayor of Davao City.
Human rights activists and even some officials inside the Trump administration were aghast over the weekend when Trump invited the Filipino strongman to come visit him after a "very friendly conversation" on Saturday.
U.S.-Philippines Ties Long And Strong
The invitation comes after Trump congratulated the authoritarian leader of Turkey, President Recep Tayyip Erdoğan, on winning a referendum to expand his power, and referred to North Korean dictator Kim Jong Un as "a pretty smart cookie" on Sunday.
Trump's expressed admiration for Russian leader Vladimir Putin, accused of overseeing a spate of political assassinations and suppression of the media, is well-documented.
His fascination with Duterte is just the latest twist in the long, complex relationship the United States has had with the Philippines, which has the 35th largest economy in the world and the third-largest among the emerging markets of the Association of Southeast Asian Nations.
The Philippines was named after King Philip II of Spain in the 16th Century and remained a Spanish colony until the Spanish-American War in 1896, when the islands were ceded to the United States.
Its strategic location, flanked by the Pacific Ocean and the South China Sea made it a critical U.S. military base until a 1991 referendum shut down the massive American Naval presence that was a key part of its economy.
Trump's Manila Connection
Trump's warm words for Duterte have increased scrutiny of the Trump family's dealings in the country. The New York Daily News reported Tuesday that a Duterte associate, Jose E.B. Antonio, is close to completing a $150 million downtown building — the Trump Tower Manila — that licensed the Trump name.
Duterte has named Antonio his special envoy to the United States and the tower's website — until Monday night — included testimonials from Trump sons Donald Jr. and Eric, as well as a link to Ivanka Trump's jewelry line, the paper reported.
The paper said both Trump Marks LLC and Ivanka Trump Marks LLC have pending patent applications, according to documents filed with the Philippines government.
Ivanka Trump's pending patents are for her clothing line and were applied for in February and March.
The patent for Trump's name was applied for by Century Properties, his business partner in the country, in December, the paper said.
Trump on Monday defended his invitation to Duterte in an interview with Bloomberg News.
"The Philippines is very important to me strategically and militarily," Trump said.
Related Links:
Former Nixon Library Historian Has Familiar Feeling About Trump
Historian Who Picked Trump Presidency Now Forecasts His Impeachment: Second 100 Days More Important Than First
___________
Image Credit: "Gramercy Residences and Trump Tower Manila, Philippines" By Lawrence Ruiz (Own work) [CC BY-SA 4.0 (http://creativecommons.org/licenses/by-sa/4.0)], via Wikimedia Commons
View Comments and Join the Discussion!
Posted-In: ASANNews Emerging Markets Politics Events Global Markets General Best of Benzinga