Big Bank Investors Shocked By Trump's Break-Up Comment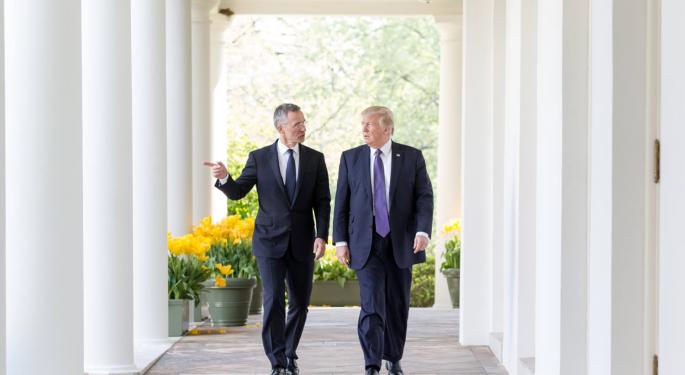 Financial stocks pulled back from session highs and dropped across the board Monday after President Donald Trump revisited a campaign promise to break up big banks into retail and investment segments.
"I'm looking at that right now," Trump told Bloomberg News interview. "There's some people that want to go back to the old system, right? So we're going to look at that."
Glass-Steagall And The 21st Century
The president is specifically considering a 21st-century model of the 1933 Glass-Steagall Act, which was inspired by the 1929 market crash to protect consumers from major risks taken by investment banks. The original law had been repeatedly undermined from the 1960s through the 1980s until it was officially repealed during the Clinton Administration. Some attribute the 2008 financial crisis to its discontinuation.
Recently, its renewal has received bipartisan Congressional support from the likes of Democratic Sen. Elizabeth Warren and Republican Sen. John McCain, as well Treasury Secretary Steven Mnuchin and National Economic Council Director Gary Cohn. The senators reintroduced the bill last month.
"It has been clear for 60 years that separating commercial and investment banking would protect consumers from having to pay for the debts of bad financial practices of Wall Street," Sen. Maria Cantwell, one of four Congressmen introducing the bill, said in an April press release. "We need to reinstate this sharp bright line."
The president's Monday recognition of the effort complicates his expressed interest in rolling back financial regulations allegedly stifling bank lending and subsequent business growth, as the separation of financial practices would prove burdensome to banks.
Wall Street Reacts
Bank of America Corp (NYSE: BAC), Citigroup Inc (NYSE: C), JPMorgan Chase & Co. (NYSE: JPM), Wells Fargo & Co (NYSE: WFC) and Morgan Stanley (NYSE: MS) shares fell on Monday's report, as the Financial Select Sector SPDR Fund (NYSE: XLF) dropped about 0.1 percent.
Nonetheless, the sector fund continued to trade higher on the day and was up 0.55 percent at the time of publication.
Related Links:
7 Things You Need To Know About Dodd-Frank's Potential Replacement
What Will Happen To Dodd-Frank Under A Trump Administration?
________
Image Credit: "President Donald J. Trump and NATO Secretary General Jens Stoltenberg walk along the Colonnade at the White House on Wednesday, April 12, 2017, following an expanded bilateral meeting in Washington, D.C." By Shealah Craighead - Photo of the Day: April 13, 2017 on whitehouse.gov, Public Domain, via Wikimedia Commons
Posted-In: 1933 Glass-Steagall Act BLOOMBERG NEWS Elizabeth WarrenNews Politics Movers Media General Best of Benzinga
View Comments and Join the Discussion!