Gary Cohn, Trump's Top Economic Adviser, Supports Split Of Lending And Investment Banks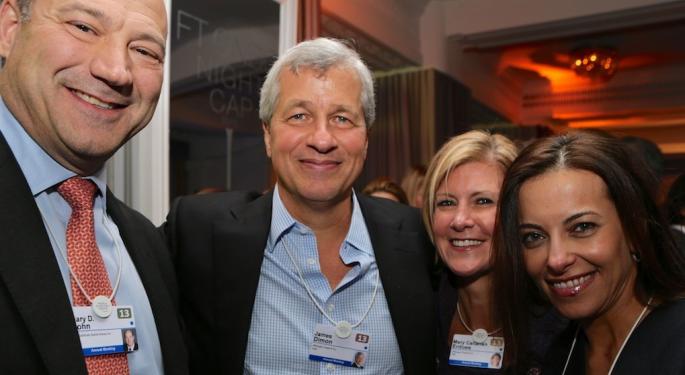 Much of President Donald Trump's campaign was spent pledging to eliminate regulations on U.S. companies. But White House economic advisor and former Goldman Sachs Group Inc (NYSE: GS) COO Gary Cohn surprised senators this week when he indicated he is in favor of bringing back a former banking regulation that could dramatically re-shape the U.S. financial industry.
In a private meeting this week, Cohn reportedly echoed Trump's willingness to bring back the Glass-Steagall Act, a law created during the Great Depression to separate investment banking activity from traditional bank lending activity.
Act 2, Scene 1: Glass-Steagall Act
The Glass-Steagall Act was repealed in 1999, leading to a major banking consolidation. Less than 10 years later, traditional banks that had been expanding into investment banking, including Citigroup Inc (NYSE: C), Bank of American Corp (NYSE: BAC) and JPMorgan Chase & Co (NYSE: JPM), were deemed "too big to fail" during the U.S. financial crisis of 2008. These banks end up receiving hundreds of billions of dollars in taxpayer bailouts.
The return of Glass-Steagall could be a rare opportunity for bipartisan politics in Washington. Republican Senator John McCain has previously worked with Democratic Senator Elizabeth Warren on a piece of proposed legislation called the "21st Century Glass-Steagall Act."
While the return of the Glass-Steagall Act could be a major headache for big banks, it may help eliminate some of the ties between Wall Street investment banks and Main Street lending banks that created the systemic risk back in 2008. Opponents of Glass-Steagall argue that smaller U.S. banks would be put at a disadvantage when competing with international megabanks.
Investors don't seem particularly concerned about Glass-Steagall at the moment. The Financial Select Sector SPDR Fund (NYSE: XLF) is up 0.7 percent, and all of the big bank stocks are up modestly on the day.
Related Links:
If Trump Plans To Pivot From Healthcare To Tax Reform, He May Want To Tell Congress...
Trump Says He'll 'Spend A Lot Of Money' On Schools, Despite Promising Billions In Education Cuts __________ Image Credit: By Financial Times - Gary Cohn, president and COO, Goldman Sachs; James Dimon, chairman, president and CEO, JP Morgan; Mary Callahan Erdoes, CEO, JP Morgan Asset Management; Dina Habib Powell, global head of corporate engagement, Goldman Sachs, CC BY 2.0, via Wikimedia Commons
Posted-In: Donald Trump Elizabeth Warren Gary Cohn Glass-SteagallPolitics Top Stories Economics General Best of Benzinga
View Comments and Join the Discussion!