What Will Happen To Dodd-Frank Under A Trump Administration?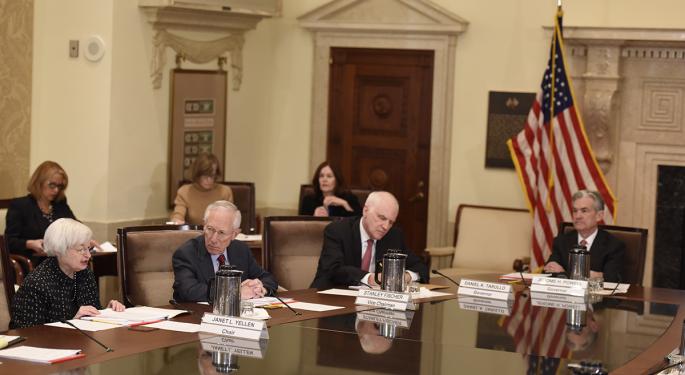 Gregory Fleming is a senior research scholar in law at Yale Law School and was a guest on CNBC's "Squawk Box" segment on Thursday to offer his expertise on financial regulation.
Fleming pointed out that financial stocks rallied on Wednesday, and part of the gain was attributed to the prospect of a repeal or roll-back of the Dodd-Frank Wall Street Reform and Consumer Protection Act. He noted that there are many aspects of the regulation that can either be fine-tuned and re-worked, which are ultimately good for business.
Fleming added that the Volcker Rule was implemented to target specific problems during the financial crisis, and it has since overreached.
"The regulatory framework coming out of something like the credit crisis clearly is going to be comprehensive," he continued. "There is a lot the government is going to put into place as a result of popular backlash. And then what happens, and this is true historically, eight or 12 years later there is the move to start and look at it again and re-work it and peal it back."
Federal Reserve Is Late To The Party
Switching over to the Federal Reserve and an interest rate hike, Fleming pointed out that while many of Trump's economic and fiscal policies will spur growth, most of the gains will be done against the backdrop of a later cycle economy where interest rates should have already been raised.
He added that the economic growth from Trump's policy will "run against" higher interest rates and the fact that the bullish economic cycle is at year seven or eight.
"The Fed has been late and the rate cycle is late," he concluded.
Image Credit:
Board discusses Dodd-Frank amendments to emergency lending authority under FR Act: www.federalreserve.gov/newsevents/press/bcreg/20151130a.htmBy Federalreserve (D810018) [Public domain], via Wikimedia Commons
View Comments and Join the Discussion!
Posted-In: CNBCPolitics Topics Legal Economics Federal Reserve Media General Best of Benzinga