If Gender Confirmation Becomes A Legal Human Right, Which Corporations Could Benefit?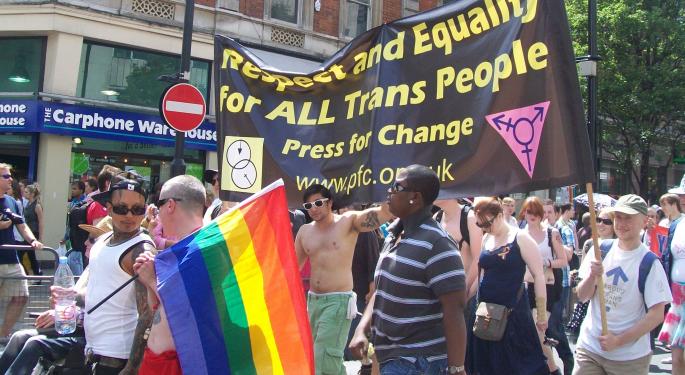 Prisons aren't known to be frivolous in spending tax dollars on inmate luxuries. Basic rights and necessities are generally accommodated, but privileges aren't guaranteed.
So when the state of California opted in January to pay for a convicted killer's sex reassignment (also referred to as gender confrimation) surgery, the priority was politically meaningful.
The budget approval of expensive medical therapies such as transition surgery may now set a precedent for consideration of transgender therapy as a human right, and, if legislation secures that premise, the perspective could have great economic impact.
Private Prisons
The decision of California to fund sex reassignment surgery laid groundwork for activists campaigning for specific treatments for transgender inmates, but, going forward, it may not have much of an effect on private prison operations.
If the federal government decides to fund surgeries or other extensive therapies for inmates, The GEO Group Inc (NYSE: GEO) and Corecivic Inc (NYSE: CXW) wouldn't dip into their own funds for treatments. A GEO Group representative told Benzinga the government generally takes care of inmate health care.
Health Insurance Firms
In recent years, state and federal regulations — and voluntary measures by insurers — have secured transgender-related health coverage for many enrollees. According to the Human Rights Campaign, nine states and the District of Columbia ban insurance exclusions, Medicare covers hormone replacement therapy and gender confirmation surgeries, and certain Medicaid programs offer transition-related care. The Department of Health and Human Services (HHS) is also considering regulation to prevent private discrimination.
But as of yet, it's legal for American insurers to exclude transgender care and for employers to opt out of plans accommodating sex reassignment therapies. Healthcare.gov reports many plans exclude services related to transitioning.
For example, Aetna Inc (NYSE: AET), CIGNA Corporation (NYSE: CI) and Anthem Inc (NYSE: ANTM) cover specific male-to-female and female-to-male procedures only when medically necessary. "Necessity" is determined based on referrals from mental health professionals and documented gender dysphoria, and even when approved, many elements of sex reassignment, such as breast augmentation and voice modification surgery, are considered cosmetic and outside coverage.
Social activists are pushing for change, though. Last year, a Texas court and the HHS required UnitedHealth Group Inc (NYSE: UNH) to cover sex reassignment surgery under a Medicare Advantage plan.
If such treatments are ruled human rights, insurance agencies could be pressured to expand coverage for cosmetic procedures, and businesses could be required to provide transgender-inclusive coverage. As of 2015, two-thirds of Fortune 500 companies didn't offer such plans.
Pharmaceuticals
Depending on the laws of health coverage, certain pharmaceutical and biotech companies could profit from sales spikes. Transitions often require hormone replacement therapies that include testosterone or estrogen, HRT to stunt body hair growth, progesterone to encourage breast development and cyproterone acetate to reduce testosterone levels.
Pfizer Inc. (NYSE: PFE), Endo International plc - Ordinary Shares (NASDAQ: ENDP), AbbVie Inc (NYSE: ABBV) and Eli Lilly and Co (NYSE: LLY) could be poised to benefit from rising demands in hormonal products.
______
Image Credit: "Pride London, 3 July 2010." By AnemoneProjectors (talk) - Respect and Equality for All Trans PeopleUploaded by MaybeMaybeMaybe, CC BY-SA 2.0, via Wikimedia Commons
View Comments and Join the Discussion!
Posted-In: Department of Health and Human Services private prisonsEducation Health Care Politics Top Stories Trading Ideas General Best of Benzinga