How Private Prisons Are Responding To Transgender Activism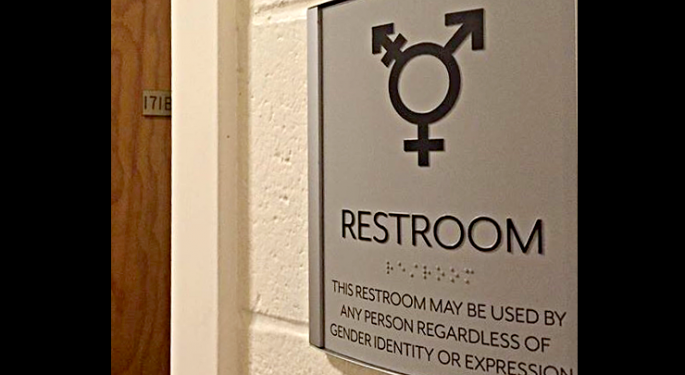 The United States has seen a lot of recent overlap in stories involving transgendered and incarcerated communities.
In January, there was both the pardoning of Chelsea Manning and the first state-funded gender reassignment surgery for an American inmate. In February, a New Hampshire prison debated new policies for its small transgender population, Delaware strengthened its protections for transgender populations and female inmates in Texas filed complaints against biologically male transgender inmates sharing their showers and bathrooms.
Despite the increase in controversy and activism pertaining to transgender inmates, private prison companies contracted by the federal government are generally unconcerned.
Transgender Policy In Private Prisons
It's because they have little say in such policy.
Particularly regarding the precedented funding of transgender operations, a spokesperson for The GEO Group Inc (NYSE: GEO) said the federal government makes those calls, and the privately run facilities do not lobby for particular actions.
"As a matter of long-standing policy, our company does not take a position on or advocate for or against any specific criminal justice, sentencing or immigration policy," GEO Representative Pablo Paez told Benzinga.
Corecivic Inc (NYSE: CXW) was unavailable for comment.
Related Link: Prison Stocks Spike After DoJ Reverses Obama's Decision On Private Prisons
Spokespeople from various federal departments had little to offer regarding official government policy on gender reassignment surgeries. The Bureau of Prisons only issued its Transgender Offender Manual on Jan. 18, and it does not touch on the topic.
"Decisions regarding the necessity of inmate surgery are made on a case-by-case basis, whether the inmate is in a privately managed prison or Bureau-operated facility," a Federal Bureau of Prisons representative told Benzinga.
Still, the Bureau asserted vague provision of "safe, secure and humane housing to all inmates regardless of their gender or gender identity."
Gender In Private Prisons
Among U.S. private prisons, gender in general is not an issue demanding much thought — particularly because the facilities cater to a single demographic.
As of March 2, the Bureau of Prisons maintained 21,392 inmates, or 11 percent of the total federal inmate population, in privately managed facilities — and all were male. The Bureau's 12,690 female inmates were detained in public facilities.
Incarceration Costs By Gender
Recent data shows that, on average, it costs about $23,123 per year to house a male inmate in a privately managed prison, but if female inmates were added to the mix, that figure would rise substantially.
The government does not track detention costs by demographic, but a report breaking down the State of Wisconsin's incarceration costs revealed a great price disparity between genders. In fiscal year 2014, the state spent about $32,395 per male and $39,724 per female.
For more educational content, click here.
Image Credit: By sarahmirk - Own work, CC BY-SA 4.0, via Wikimedia Commons
Posted-In: Chelsea ManningEducation Politics Psychology Topics Top Stories Trading Ideas General Best of Benzinga
View Comments and Join the Discussion!